Xiaomi has just made new additions to its smartphone lineup in India. To be precise, the new smartphone is launched in the 'Redmi by Xiaomi' lineup. Talking about smartphones, they are the Redmi Y3 and Redmi 7. A few years back, Xiaomi launched its Redmi Y series which was supposed to have selfie-centric phones. On the other hand, the Redmi 7 is a budget version of the Redmi Note 7.
As with its reputation, the Redmi Y3 does come with an outstanding selfie camera, at least on paper. The device has a 32MP selfie camera at the front inside its notch. Redmi 7, on the other hand, is most similar to the Redmi Y3 apart from its processor, selfie camera and price. Xiaomi's new smartphones start in India for a price of Rs. 7,999.
Redmi Y3 & Redmi 7 launched by Xiaomi in India with 'Dot' notch and Dual Rear cameras
As far as the similarities between Redmi Y3 and Redmi 7 are concerned, there are a lot of them. In fact, the Redmi Y3 was expected to be a 'Pro' version of Redmi 7 before the launch took place. However, Xiaomi decided to separate them into two different lineups. For starters, we have a 'Dot' notch or waterdrop notch at the front on both the devices. There are dual rear cameras on both the smartphones too.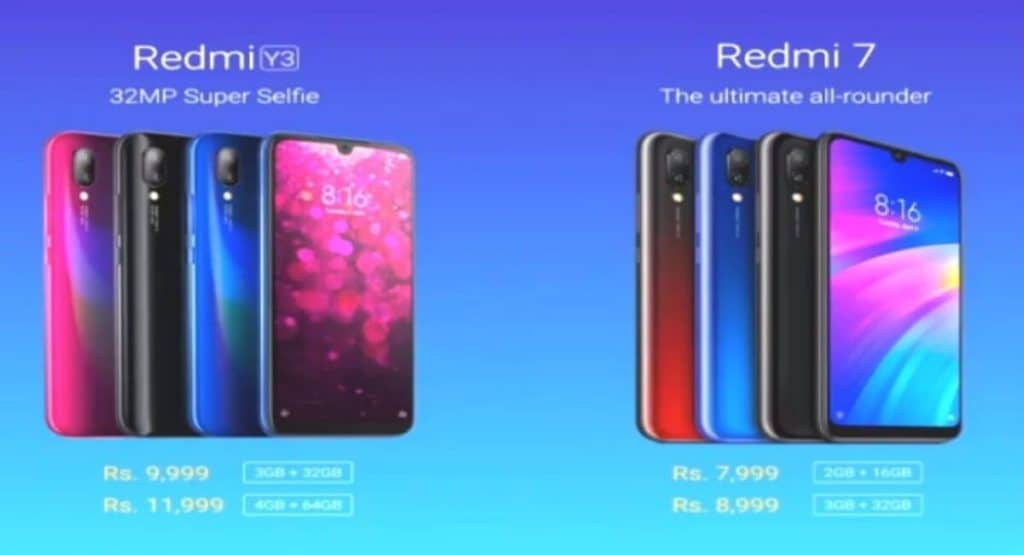 The design of both the smartphones is also very similar. We get gradient back panel on Redmi 7 whereas the Redmi Y3 has a non-gradient back panel. Also, the display bezels on Redmi 7 are noticeably slightly larger than the Redmi Y3.
On the Redmi Y3, we get a 6.26-inch LCD display with HD+ resolution. This is exactly the same as Redmi 7's display which has an identical 6.26-inch LCD display. We get waterdrop notch and Gorilla Glass 5 protection on both the smartphones.
Also, the processors on both these smartphones are the same as well. Redmi Y3 and Redmi 7 are powered by the same Qualcomm Snapdragon 632 processor. However, you get 2/3GB RAM options on Redmi 7 and 3/4GB RAM options on Redmi Y3. On Redmi 7, you only get 32GB of internal storage whereas Redmi Y3 has 32/64GB storage options.
The battery on both these devices is also same, a 4000 mAh non-removable pack. You get micro USB on both the devices and no USB Type-C support. However, the real change is seen in the device's camera. Redmi Y3 obviously has better cameras which are 12MP+2MP at the back and 32MP at the front. Although the Redmi 7 too has a 12MP+2MP at the rear,  its front camera is just an 8MP shooter.
Redmi Y3 Specifications
6.26-inch HD+ LCD display
Snapdragon 632 processor
3/4 GB RAM
32/64 GB internal storage
12 MP+2 MP rear camera
32MP front camera
4000 mAh battery
MIUI 10
Starts at Rs. 9,999
Redmi 7 Specifications
6.26-inch HD+ LCD display
Snapdragon 632 processor
2/3 GB RAM
32 GB internal storage
12 MP+2 MP rear camera
8 MP front camera
4000 mAh battery
MIUI 10
Starts at Rs. 7,999