What we think about
Wondershare Video Editor
If you are looking for a best video editor, have a look at Wondershare video editor which is available for Windows and MAC. Using this video editor you can add Hollywood like video effects, picture in picture, Starting and ending titles and lots more.
Ever wondered if you can get one of the best video editors for free? If you ever did, then the answer is YES. I'm here today with a review of Wondershare Video Editor which helps you to edit your videos with ease. There are a lot of free Photo Editing softwares available in the market on almost all Operating Systems. But, when it comes to video editing softwares, there are quite a few comparatively.
And getting the best video editor that suits all your needs is a hectic task. Wondershare video editor, which we are about to review, is one of the best video editing softwares parked for free and is also easy to use. In this post here, you get the process of Installing Wondershare Video Editor on your PC, Features of Wondershare Video Editor, other products offered by Wondershare solutions, etc. Let's get started.
Installing Wondershare Video Editor
Installing Wondershare Video editor is quite easy. Follow the below steps to install Wondershare Video Editor on your Laptop/PC.
Download Wondershare Video Editing Software.
 Once the file is downloaded, click on it to start the installation process. You can find a new window for the installation process as shown below.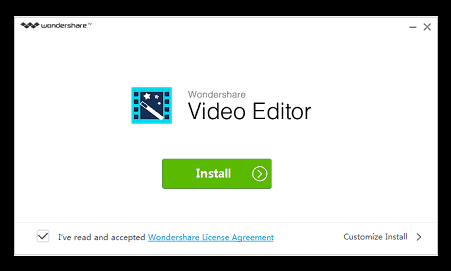 You can straight away install the software on default Local Disk C, or you can change the installation location by clicking on Customize Install.
Once you click on "Customize Install", you can find a window similar to the one shown below, where you can change the location for the software to install.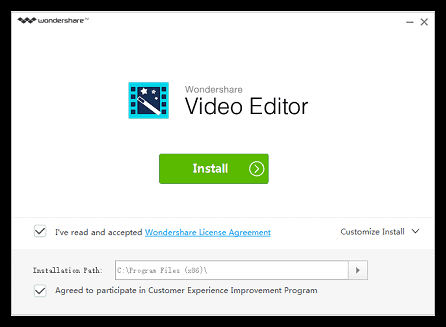 Once you chose the path, Click on 'Install' and then you can get a cuppa before it gets completely installed on your PC.
Now, it's time to unveil the features available in Wondershare Video Editor.
Using Wondershare Video Editor
The Wondershare solutions are a combination of several softwares & features like Video Editor, Video Converter, Recovering iPhone data, Download Online Videos, Managing Mobile devices, and many more. The below image shows the products offered by Wondershare Solutions.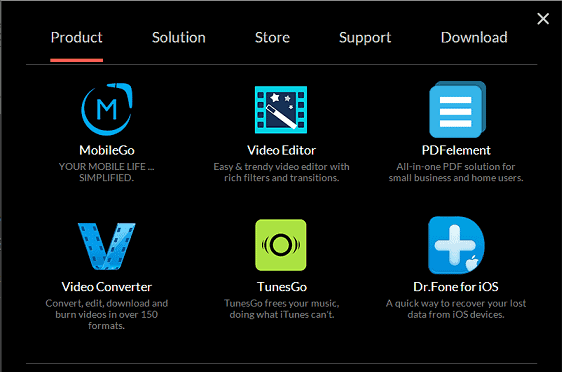 Okay, now let's get back to Video Editor. There is a wide range of features offered by Wondershare Video Editor. Once the software is completely installed, you can find an elegant home screen beautifully carved to attract every user creating a positive impression at the very first step.
There are a few video editing softwares, where there are a number of features available but are very complex to use and identify that they're available for us. Wondershare is an exception to such kinds. With an elegant presence and User-Friendly Interface, it creates a positive opinion on its first sight.
Bonus: Convert PDF files to Word, Excel, and PowerPoint
Getting Deep Into The Editing Options
You have two modes available to edit your videos using Wondershare Video Editor. Once you open this software, you can see a screen similar to the below image.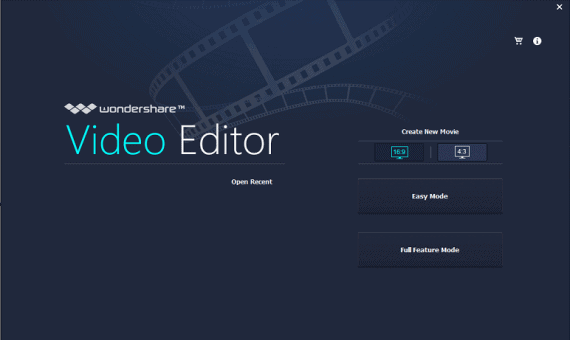 I've chosen 16:9 as my Laptop screen size exactly fits it. You can choose accordingly.

The main thing we need to focus on here is on the two modes available for editing videos: Easy Mode & Full Feature Mode.
Easy Mode is the best to choose if you're a beginner or have no experience in editing videos.
Ever used Movie Maker on Windows? If you ever did, that experience is more than enough to go for Full Feature Mode in Wondershare Video Editor.

Below are the images attached: 1. Easy Mode & 2. Full Feature Mode. You can have a glimpse at the options available in this software.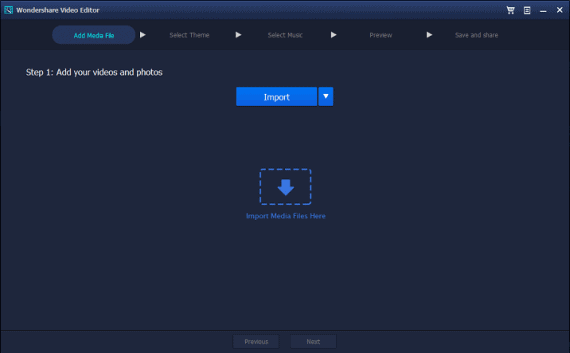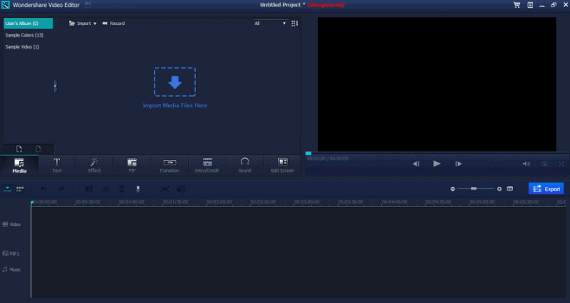 We tried editing a few videos using all the available options on this software and found it to be one of the best ever available video editing softwares on the web.
Advantages Of Wondershare Video Editor
There are quite a few advantages of using Wondershare video editing software. A few of them we found are listed below.
The interface is simple and user-friendly: as you can see on the screenshots produced above.
The software is light and does not occupy more space on your HDD.
The conversion rate is fast enough. It usually takes less time to save all the edits you have made to your video compared to any other video editing softwares.
The software comes absolutely free.
Adjustable video frame: 16:9 & 4:3 frames.
Adding special effects is made easy.
Also Read: 7 Best Online Receipt Generators
Disadvantages Of Wondershare Video Editor
This is the only con I noticed while using Wondershare Video Editor and hope they will add it in future updates.
Cannot insert/add Logo or Watermark to your video. Some users might desperately need this feature to avoid someone stealing their video and projecting it as their own work on the WEB.
Wondershare Video Editor Pro Version
Along with the Free version of this best video editor software, there is also a Premium version and you can get the following extra features:
Free lifetime updates
Free technical support
Export and save videos without watermark.
Wodershare quoted different prices for Windows and MAC users as follows
Windows: $19.95/year and $39.9 for a lifetime license  
MAC: $29.95/year and $39.9 for a lifetime license
Round Up | Best Video Editor
Wondershare video editor for MAC and Windows helps you to edit your personal or short-film videos easily with Hollywood effects. If you are a gadget reviewer, this best video editor suits you as it has a lot of options like zoom in and picture in picture, etc. Let us know if you know any other video editors you recommend and we'll like to review them too.
What we think about
Wondershare Video Editor