If you ever had to unzip files or compress them, you would have heard of WinZip. WinZip is a great replacement for the default in-built compression done by the File Explorer, File Managers, or Finder. But if you want a little more, you might be looking for the best WinZip alternatives for your device.
WinZip is available for Windows, macOS, iOS, iPadOS, and Android. It can uncompress all sorts of files and can compress them at the same time while protecting sensitive information. But WinZip has its disadvantages too and there are many alternatives for WinZip. In this guide, we'll show you the best WinZip alternatives out there.
Top WinZip Alternatives to Give a Try
We have installed and tried plenty of compression softwares on multiple platforms to manage large files and compared them with WinZip.
After thoroughly testing them, we have hand-picked 9 of the best file compression softwares that are better than WinZip.
1. WinRAR
After WinZip's popularity lowered, WinRAR took its place as the most common file archiver and a compression utility. WinRAR is one of the best WinZip alternatives that you can find right now. They are similar in many ways and the performance of WinRAR gets is almost the same as you can find on WinZip.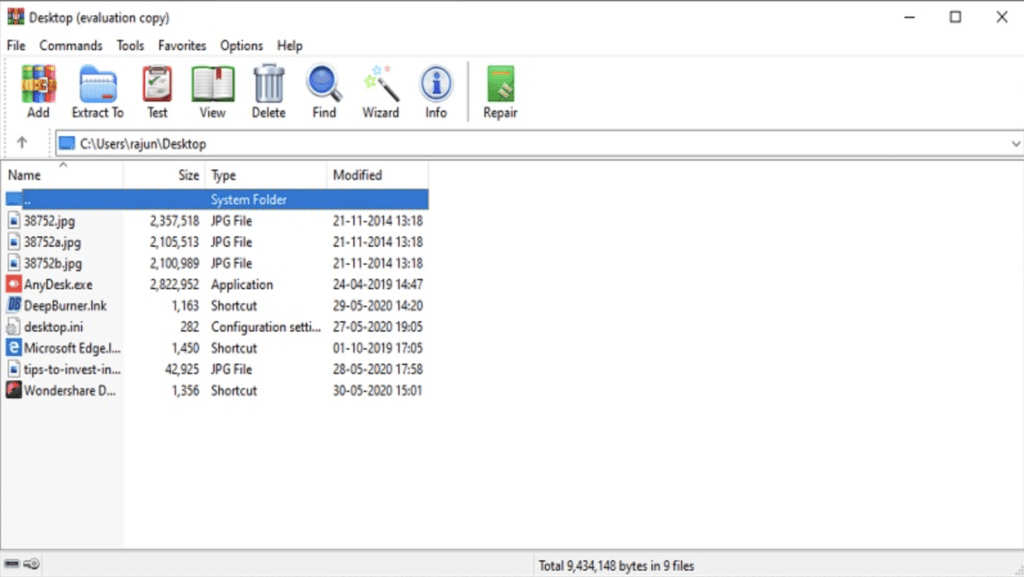 WinRAR can extract all kinds of files like ZIP, RAR, ISO, JAR, TAR, 7z, GZip, UUE, and many others. The list goes beyond what WinZip could achieve.
WinRAR works on all major platforms, similar to WinZip. WinRAR offers a 40-day trial and thereafter you'll be prompted to pay, but you can still continue to use it for free.
Key Features: Compresses and Extract all kinds of files, Similar performance to WinZip, 40-day free trial but can be used free
Availability: Windows, macOS, Linux, Android, and FreeBSD
2. Bandizip
Bandizip is another compression tool alternative to WinZip that comes with good processing speeds. The software is completely free to use, but there are paid options available with more advanced features. It supports multiple formats like 7Zip, Zip, RAR, TAR, TGZ, and more. With multi-core compression, it can compress files faster than the native File Explorer on Windows or Finder on Mac.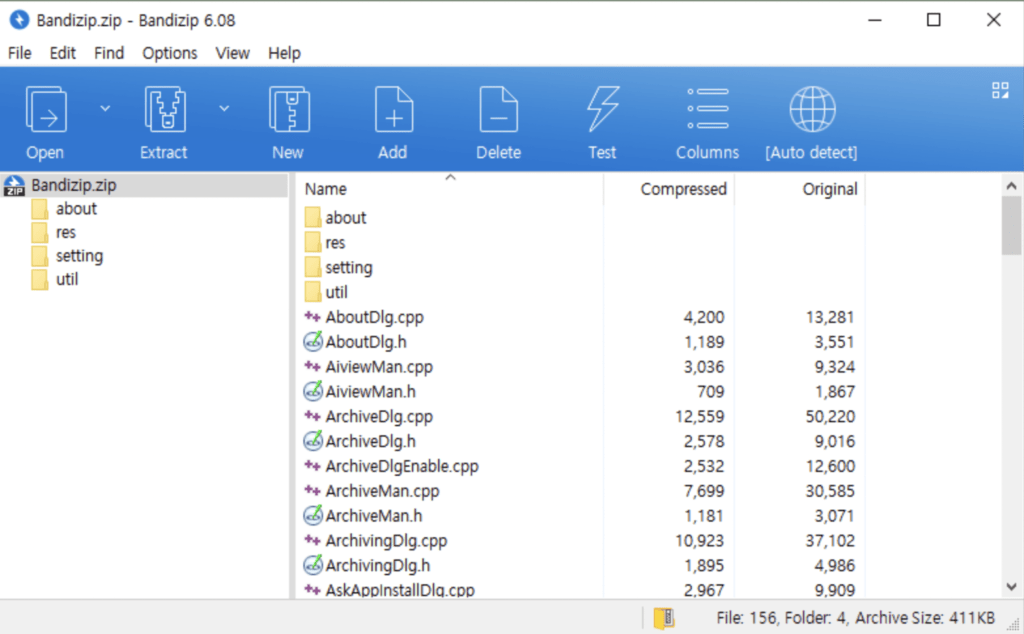 It comes with advanced features like password recovery, password manager, archive repair, image previews in archive, and many more.
In addition to these, it comes with an anti-virus scanner that scans for potential malware or viruses on the archives before extracting them.
BandiZip's performance directly depends on the configuration of your PC. If you have a PC/Mac with a better configuration, you get better compression speeds.
This software also supports 256-bit encryption and supports ZipCrypto for the best protection. Bandizip is available on Windows and macOS (Apple Silicon as well).
Key Features: Compresses and Extract all kinds of files, Multi-Core leveraged compression, Anti-virus scanning, Password Recovery & Manager, Repair archives
Availability: Windows, macOS
3. PeaZip
PeaZip is another file compression software that is more of a streamlined version of the 7Zip archive manager. It's an open-source alternative to WinZip. In addition to common file formats like ZIP, RAR, TAR, ISO, PeaZip also supports least used file formats like PAQ or DEB.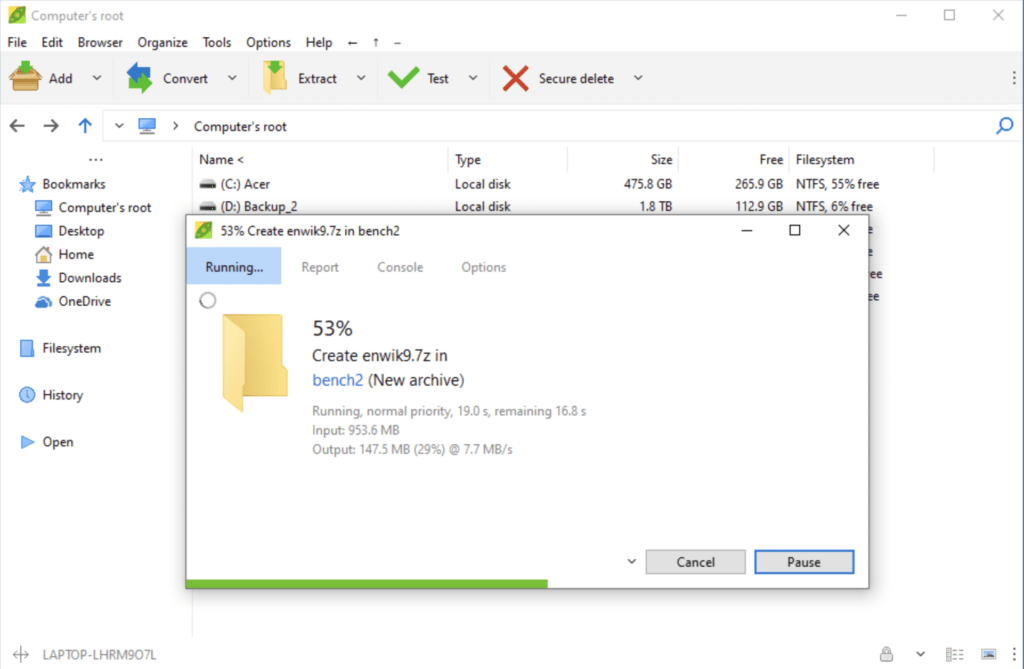 It can easily unpack/repackage files in around 180 formats. PeaZip also comes with advanced features like archive repairing, converting different compression formats, crop/rotate images and others.
The support for platforms is limited with PeaZip. Unlike WinZip, it is only limited to Windows and Linux. Apart from compression and decompression, it comes with 256-bit encryption, two-factor authentication, and even a dedicated password manager.
PeaZip is completely free to use and works with both 32-bit platforms and 64-bit platforms.
Key Features: Compresses and Extract all kinds of files, Open-Source, Repair Archives, 256-bit Encryption, Password Manager, 2-Factor Authentication support
Availability: Windows, and Linux
4. 7-zip (Open Source)
7-zip truly deserves a spot on this list of the best WinZip alternatives. It is an open-source platform and makes it more of a reason to be loved by everyone. The high-ratio compression is everyone's favorite among all.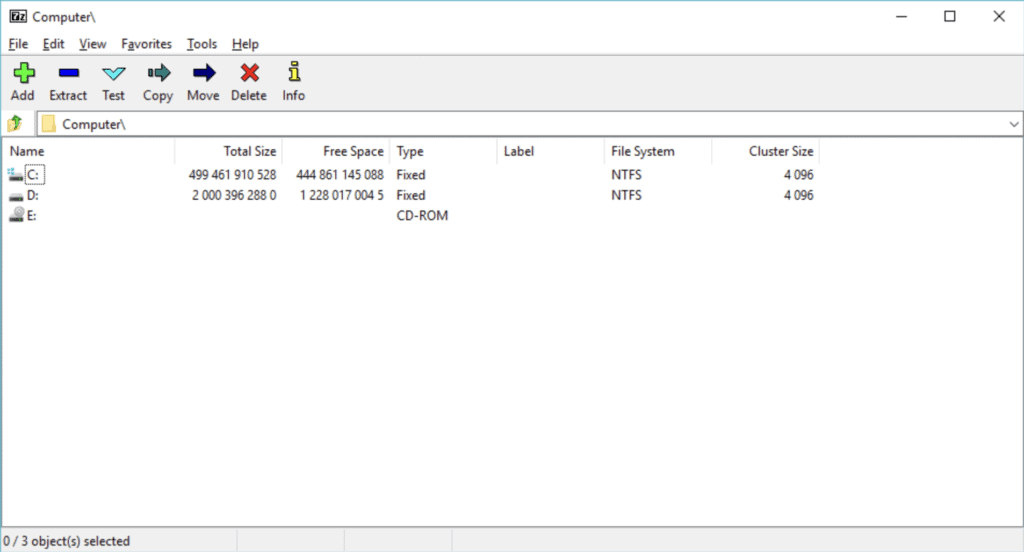 If you compare it to WinZip or WinRAR, it offers 10% better compression than the others. However, if you choose to use its native 7z format to compress files, then it can offer better compression up to 70%, which is significantly higher compared to the other software out there.
It can extract different file formats like 7z, ZIP, TAR, RAR, TGZ, and other major file formats. In addition to that, it comes with AES-256 encryption for 7z and ZIP files.
Moreover, it is well integrated with Windows Powershell and comes with a File Explorer of its own. It's cross-platform software and thus you don't need to worry about the availability on your device.
Key Features: Compression/Decompression of all kinds of formats, 256-bit Encryption, Better compression over other softwares
Availability: Windows, macOS, Linux, ReactOS, and FreeBSD
5. B1 Free Archiver
B1 Archiver is another free archiver on this list. It comes with a professional-looking interface. It supports a ton of formats like the 7z, ZIP, RAR, XPI, JAR, and many others.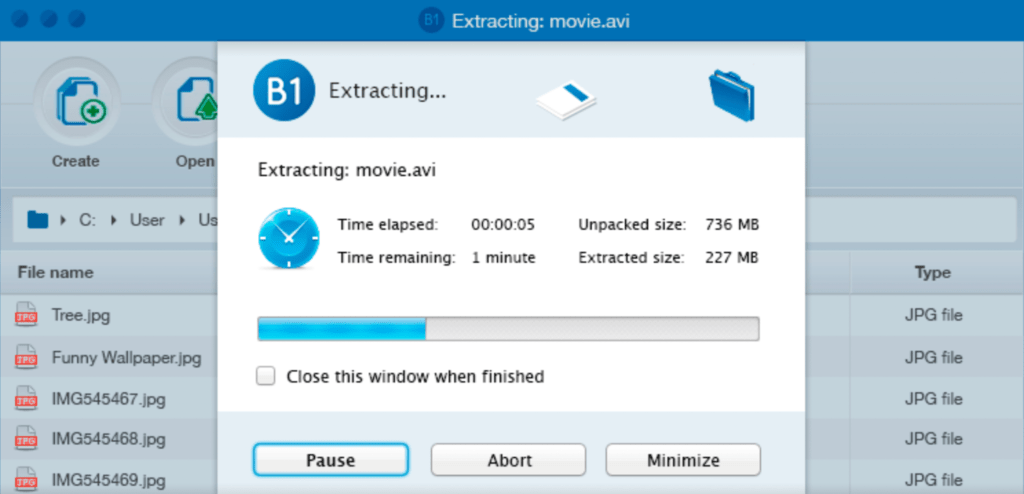 The best part about the B1 Free Archiver is that it works both offline as standalone software or you can save up space on your computer and use the online tool.
The online tool is the best option since you don't have to be dependent upon the platform.
Since it's free, you should be aware of the adware while installing it. It tries to install adware software when going through the installation. Be careful, and decline the offers from the adware. Other than that, this archiver does the job perfectly.
Key Features: Compression/Decompression of all kinds of formats, Offline/Online Availability, Free to use
Availability: Windows, macOS, Linux, and Android
6. Hamster Zip Archiver 4
Hamster Zip Archive 4 is an archive software that also doubles as an alternative to WinZip. It has better compression ratios compared to WinZip, and also offers twice the performance over its competitors.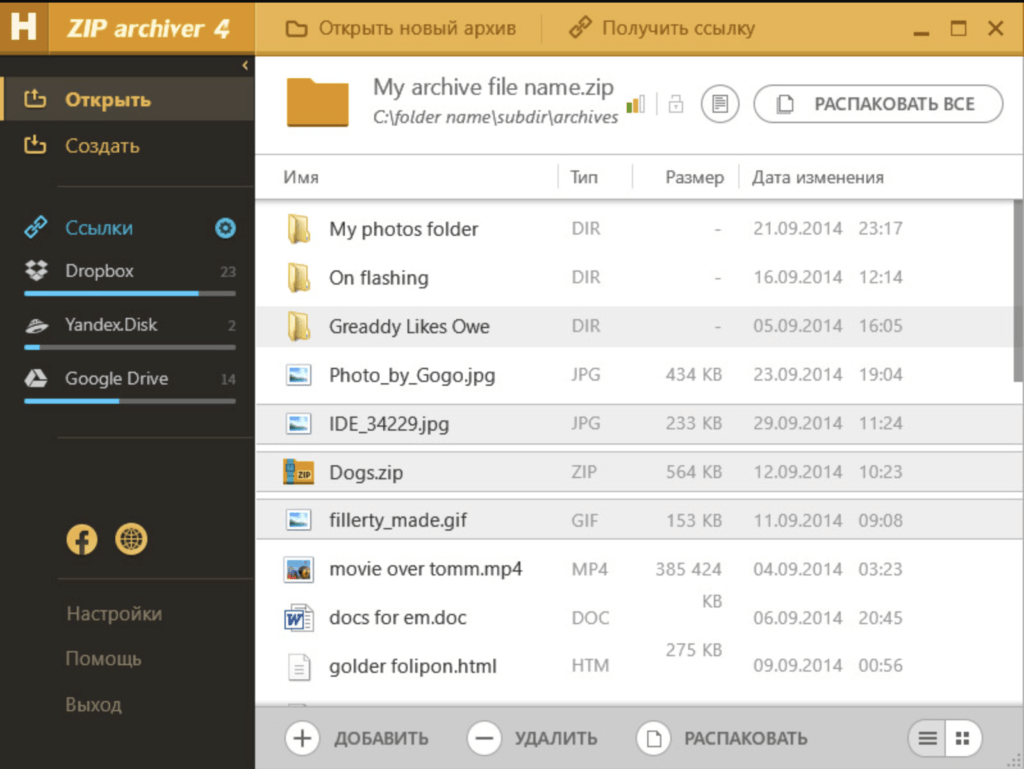 In addition to all these, you can create an archive and also password-protect it if you wish to, just like others. But what makes it different is that you can share the archives with anyone using a shareable link.
It supports popular formats such as 7Zip, ZIP, RAR, TAR, XZ, and many others. It has similar features to that of 7-Zip.
As a result, if you want all the features of 7Zip while having a great UI, you can get it with Hamster Zip Archiver 4.
Key Features: User-Friendly, File-Sharing, High compression ratio, Supports popular formats
Availability: Windows 10, 8, 8.1, and 7
7. The Unarchiver
If you're looking for one of the best WinZip alternatives on macOS, then you can take a look at The Unarchiver. The Unarchiver is available on the App Store and does support a variety of file formats like 7z, RAR, ZIP, Gzip, and many others.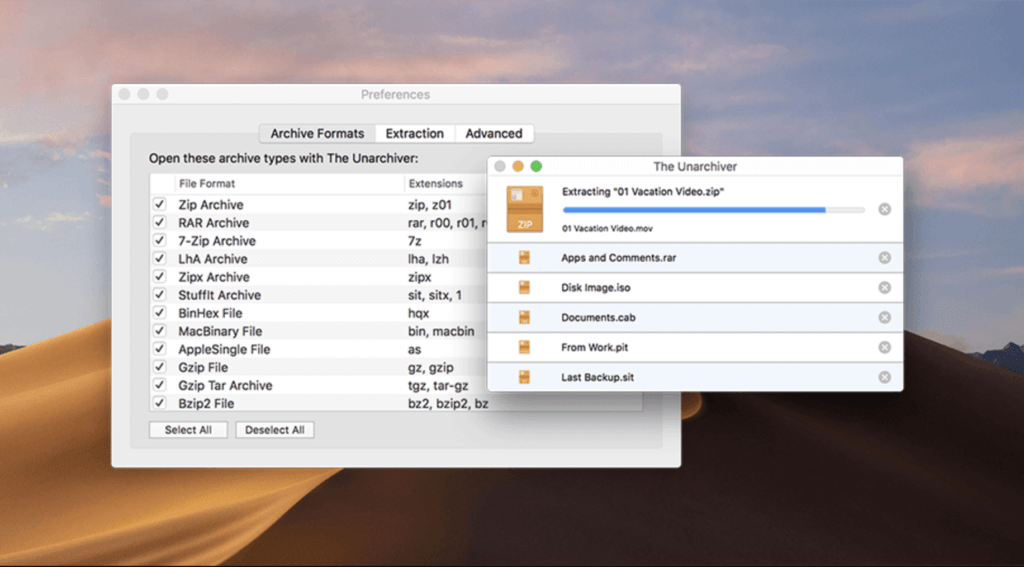 It's easy to install compared to other archive utilities available on macOS. The best part is that it is completely free and doesn't host any adware. If you have archive files saved with Latin letters, It can still open them up for you with ease.
The Unarchiver supports new and old formats, along with those which are probably unused as well. The only thing it lacks is that it's not cross-platform and hence, you'll need a Mac to install it.
Key Features: Compression/Decompression of all kinds of formats, Easy & Quick installation, Free to use
Availability: macOS
8. ZIP Extractor (Browser Extension)
ZIP Extractor is an Edge/Chrome extension that lets you extract compressed files from your PC/Google Drive to your Google Drive. Since it's an online solution, you don't need to download any additional software to your computer.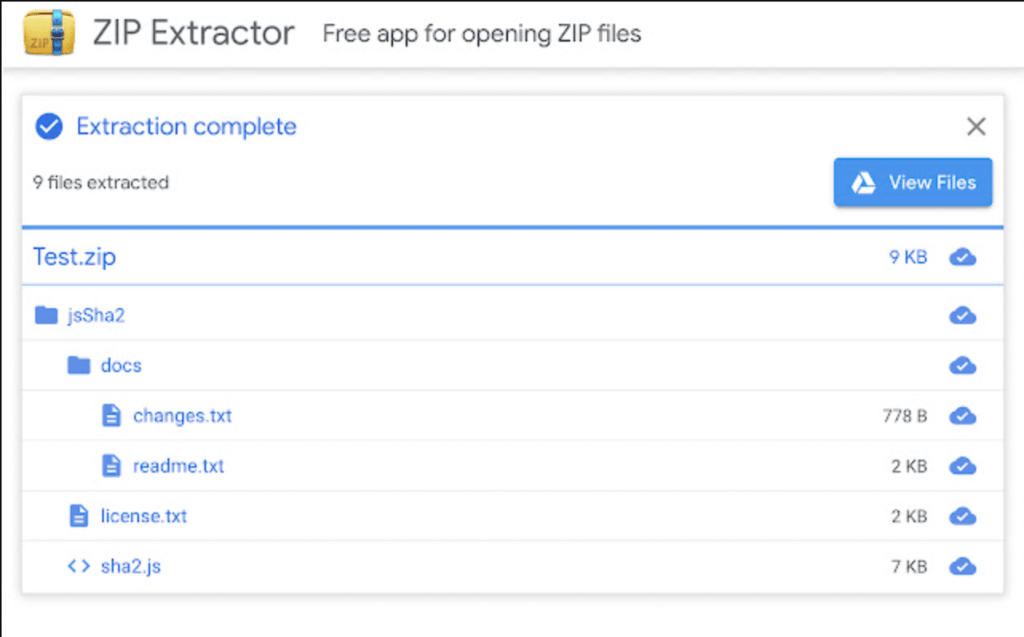 Since everything happens on the browser, the user interface is simple and easy to use. ZIP Extractor supports multiple formats. However, everything you extract will go straight into your Google Drive, and not onto your PC.
You can however share those files with ease and also you can extract multiple files at the same time. This won't put much load on your CPU but will do the job for you.
Key Features: Compression/Decompression of all kinds of formats, Requires Chromium-based Browser, Free to use, Uploads Extracted Files to Google Drive
Availability: Windows, macOS, and Linux via Chrome and Edge Extension
9. Solid Explorer File Manager for Android
Solid File Explorer doesn't need a special introduction. It's not a direct WinZip alternative, but one of the best file managers for Android. However, it also performs the task of an archive utility. The Solid Explorer File Manager lets you compress and decompress files on Android without the need for an additional app.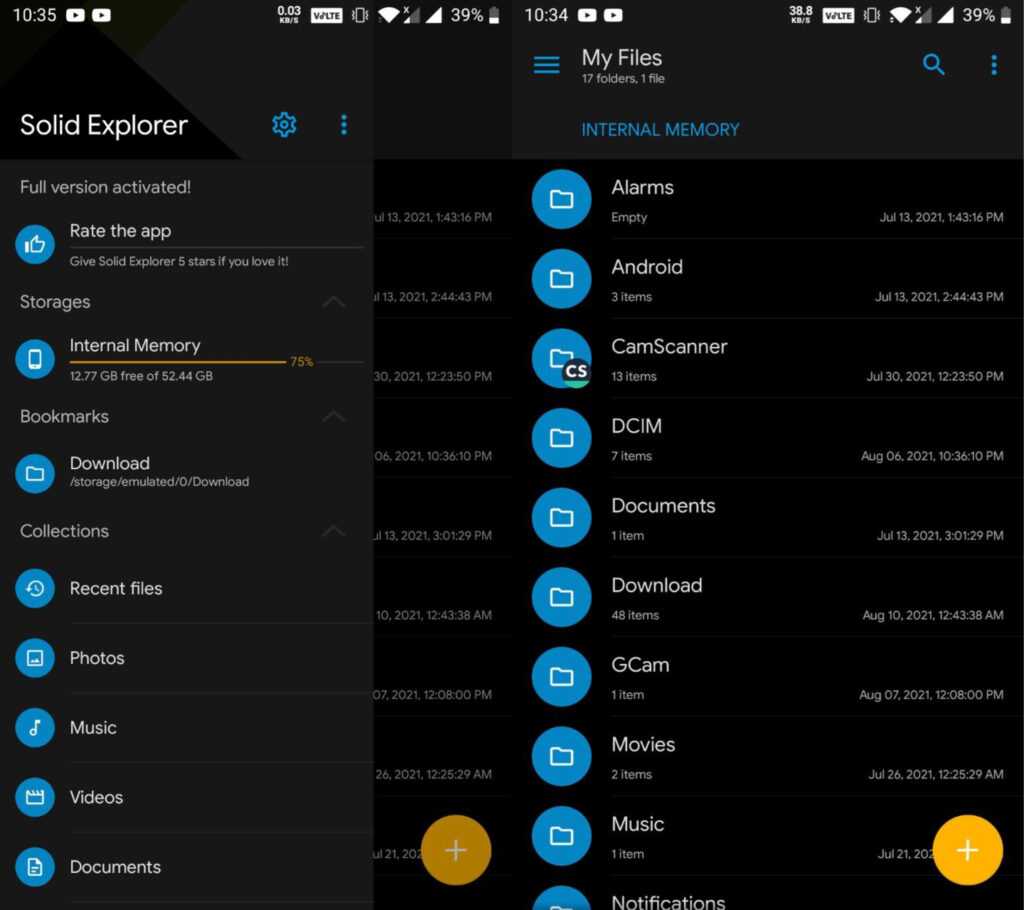 It supports popular compression file formats like ZIP, RAR, TAR, and others. It does its job but you shouldn't expect much from a file explorer, especially the advanced features that other Archive utilities provided on this list.
Even though it lacks features, it still does the work of two apps in a single one. So it's best to appreciate Solid Explorer File Manager on Android.
Key Features: Compression/Decompression in File Explorer, Free to use and Paid version also available
Availability: Android
Also Read: 8 Best Free Video Compression Software for Windows and Mac
Choosing a WinZip Alternative for your Usage
These were the best WinZip alternatives that perform similar to WinZip in terms of usage and performance; sometimes even better than WinZip. Although WinZip is not completely free, this list includes free alternatives to WinZip.
If it comes to our preference, we would choose WinRAR or PeaZip for Windows over any other WinZip alternatives. For macOS, The Unarchiver is a clear winner. For those who don't like installing third-party tools, the ZIP Extractor browser extension is the one. And finally for Android, Solid Explorer is undoubtedly the best choice. If you have any suggestions or queries regarding WinZip alternatives, make sure to leave them in the comments below.