Microsoft has unveiled Windows 11, its next updated version of the operating system through a virtual event. The new version of Windows has made its debut; after nearly six years as Windows 10 came in 2015.
Besides, Microsoft has not revealed a specific date on when the OS will be ready to install. There was a leaked ISO of the upcoming OS and many users have installed it and experienced the new features and transitions of the new Windows.
The CEO of Microsoft, Satya Nadella has said the new Windows Update is its "next generation" of Windows.
The main highlighting features that you can notice are the new wallpapers; that change according to the light and dark themes. Microsoft has even updated the Start menu and shifted the taskbar icons in the middle (the position can be configured) which makes the UI more focused. The aesthetics of the Windows is totally changed with new backgrounds and other nifty features.
Windows 11 Features and Improvements
The first and foremost detail you can witness while booting up to the updated Windows is the new animation and sounds. Then, the screen comes with a new interface that features the new Start menu in the center; and transparent background all around the interface. The UI features rounded corners across the operating system; which gives it an appealing look to the user's eyes.
The new Start menu has no live tiles like the Windows 10 and features recent and app suggestions. Even the gesture's array. The search functionality is the same that works similar to Windows 10 and the icon is provided right beside the start button. Furthermore, users get new multitasking options such as Swap layouts. These layouts provide different types of ways that you can arrange the windows as per your work requirement.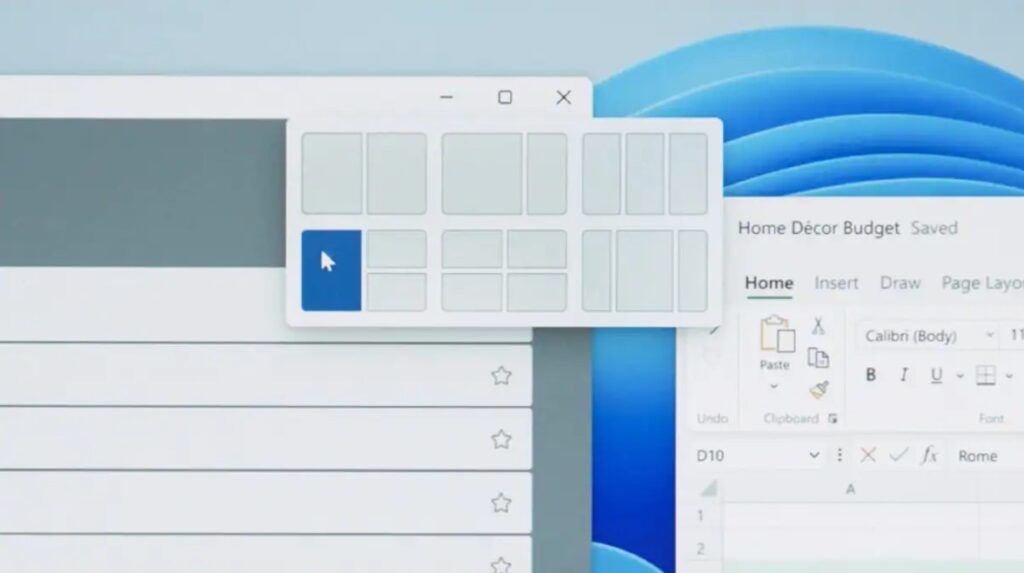 Apart from these, the new updated Windows is deemed to deliver 40% more performance when compared to previous generations. The Microsoft Teams app is directly integrated into the OS which gives users to call and chat; with their friends and family directly from the desktop page.
Widgets app is a new overhaul for Windows 11; which gives quick information of weather and local news with a simple gesture on the left.
System Requirement and Availability
The Windows 11 will run on PCs that have at least a 64-bit x86 or ARM processor, along with 4GB of RAM and 64GB of storage. Some of the major chipset brands, that are already working with Microsoft for the update are AMD, Intel, and Qualcomm. Besides, few laptops and computer manufacturing brands have promised to bring the update for free on their devices. The sale of the new Windows 11 license is expected by the end of 2021 or early 2022.