Our smartphones come with some utility apps that allow us to easily manage essential tasks on the phone. However, as you may have noticed, these default apps are very basic in nature and offer limited functionality.
One such utility default application is a video player app, which allows you to watch all of your device's videos while offline. This video player app has limited functionality and is primarily limited to its literal meaning.
We can't expect smartphone manufacturers to release a dedicated and versatile default video player app anytime soon, which is why there are so many external video player apps on the play store. These external apps are highly competitive and strive to provide users with the best possible experience.
If you watch a lot of video content for entertainment or education purposes, we recommend installing a professional video player app that works both offline and online and becomes your go-to app for all multimedia needs.
From the team of award-winning developers comes a top-notch video player Rocks HD Video Player app. This HD Video Player app lets you experience the luxury of watching videos like never before. As the name of the app suggests, you can watch high-resolution videos like HD, Full HD, 4K, and 8K.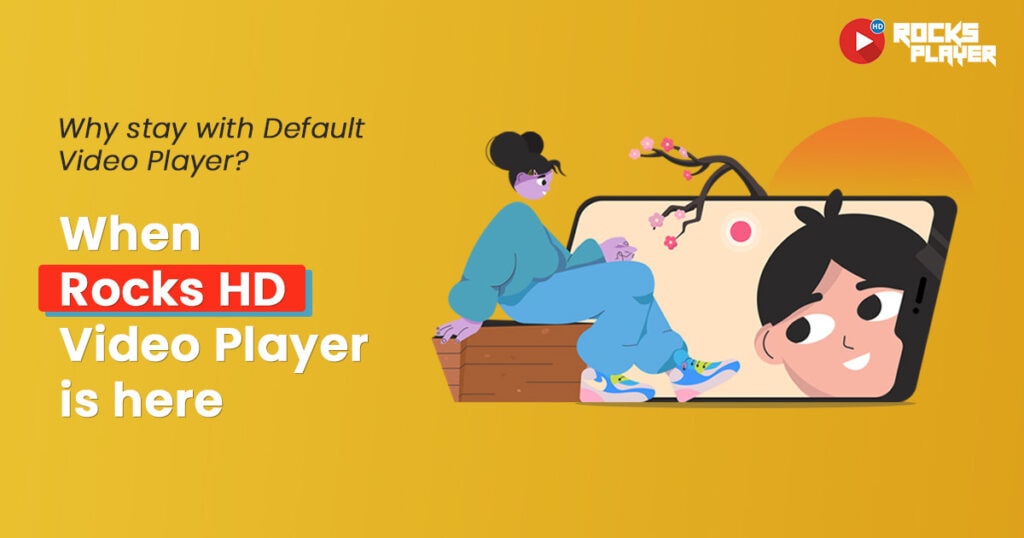 Rocks HD Video Player app's premium features go beyond simple video playback functionality, meeting your entertainment needs with just one app while leaving you spoiled for more. The app also supports all formats of videos and music files.
Why choose Rocks HD Video Player over Default Video Player?
Rocks Player promises a matchless video-viewing experience every time. Let's find out how.
1. User-Friendly Interface
The Rocks HD Video Player app has simple icons and options on the homepage for easy navigation. The app's simple and easy user interface is best suited for all age groups of Android users, and it features butter-smooth gesture control functionality that allows you to control sound, brightness, forward, and rewind functions.
2. Online & Offline Subtitles
You can use this video player app to search for and download free subtitles in any language for your movies and videos. You can also activate an offline subtitle file from your device's storage. Moreover, the app allows you to change the size and color of the subtitle to your liking.
The Rocks HD Video Player also supports dual audio, allowing you to select different language audio for your movies and web series. If your video is encoded with a dual audio track, you can use Rocks HD Video Player to enable it.
3. Floating and Background Player
Floating windows are small screens within the large screen of your phone. This floating player is pinned to one corner of the display from where you can drag and make it float anywhere on the screen.
A background player, on the other hand, plays your videos in the background as an audio file, allowing you to listen to them without having to look at the video itself on the screen.
Both floating and background players allow you to multitask on your phone without sacrificing entertainment value.
4. Multiple Language Support
Rocks HD Video Player can be accessed in more than 30 languages in the world. So, there isn't any language barrier between you and your favorite app, the user interface of the app lets you understand all options and functions in your native language.
You can choose Hindi, Korean, Deutsche, Afrikaans, Magyar, Portuguese, and many more languages, while English remains the app's default language.
Furthermore, you can watch trending videos from any region of the world online. Easily choose your country from the settings menu, and the app will display country-specific online videos from all genres, including sports, news, films, animals, music, games, and much more.
You can even download videos from social media platforms using the Rocks HD Video Player app. Simply enter the video's URL into the app browser and press the download button.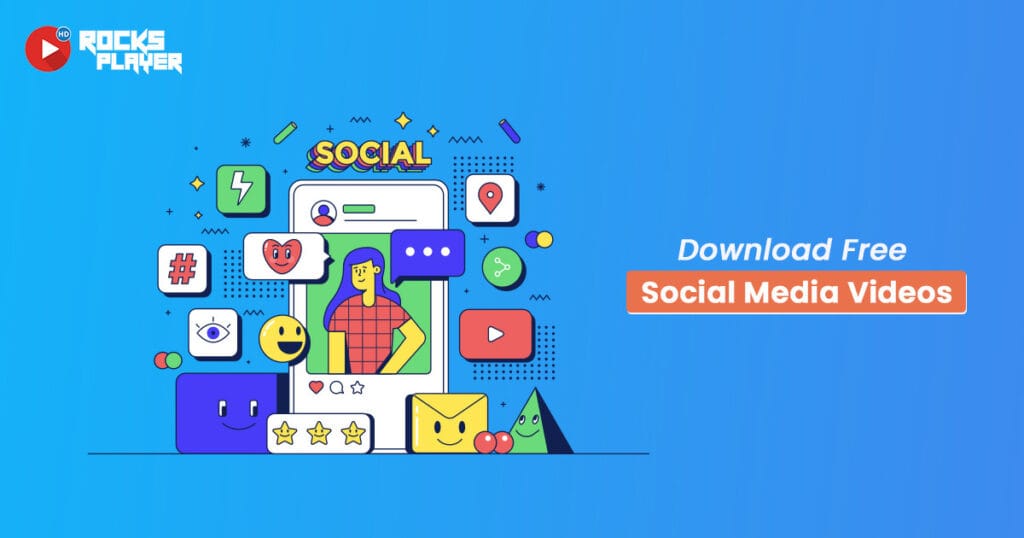 This function will let you download videos, reels, and photos from IG, FB, Vimeo, Dailymotion, and more. The app even saves your WA status automatically in the app from where you can download them and store them in the local storage of your device.
6. Great Aesthetics
This professional video player isn't boring to look at, unlike your default video player app that has a static layout, color scheme, and redundant graphics, the Rocks HD Video Player app has eye-catching icons and graphics, and pictures for all options which please your eyes and elevate the overall look and feel of the app.
To improve aesthetics even further, the app includes a chic and mysterious dark mode theme, giving your app a premium and formal appearance. Additionally, you can select from various themes for your players and the entire app.
You can even personalize the app themes with images from your phone's gallery. Flat, gradient, and premium themes are available to match your style and mood.
7. Duplicate Filter
This is the most recent update to the Rocks HD Video Player app. Specifically designed to remove duplicate media files such as videos, photos, and music files.
This useful feature assists you in managing the storage space on your device by displaying all duplicate files that are taking up space that could be used for other important files. This feature allows you to choose whether or not to delete these duplicate files in order to free up space on your device.
8. Trending Online Videos
Last but not least, this is the most popular feature of the Rocks HD Video Player because it allows you to browse through online videos similar to YouTube. However, this app has different categories based on various genres.
With a single click, you can watch trending artists' song videos, listen to podcasts, influencers, or stand-up comedians. Playlists for global artists, Billboard chart-topping songs, country-specific music, and festive special edition videos are also available.
Whoa! That was a lot in just one app! No wonder this is a versatile and feature-packed app. We were only getting started with its benefits! Once you start using the app there is no looking back to the default video player.
Your Takeaway!
Thank you for sticking with us this far, we hope you enjoyed reading the article and getting to know the Rocks HD Video Player app better.
We discovered in the article how default video players are just there for name's sake and lack functionalities that can be easily found in external and video player apps. We recommended the Rocks HD Video Player app to match your level of smarts. The amazing display of AI on this app is worth experiencing.
Features like simple UI, subtitle support, smooth gesture control, themes, multiple language support, floating video player, background video player, duplicate filter, online trending videos from all over the world and so much more.
Still not convinced about changing your default video player? Then download this free app for yourself and experience the difference. You can find more information about the app on the Rocks Player's official website.