WhatsApp has cloned Snapchat's ephemeral status feature about three weeks ago. Not everyone was happy to update the app for having it. A lot of users complained about not having their favorite text-based status.
Facebook had integrated the same feature to Messenger on Thursday, hinting that they are not going to stop cloning Snapchat's features. So, old status lovers had to contain themselves with the new disappearing one.
But the new beta version points to the possibility of having the old type status back in action.
WhatsApp to Bring Back the Old Text Status, but to a New Place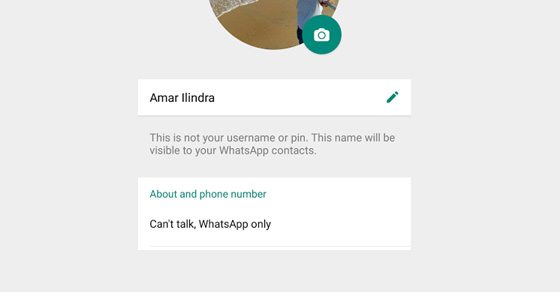 As you read earlier, the comeback of old status doesn't reflect on the stable version of WhatsApp. You have to install the latest beta version (2.17.95). An appropriate APK file or enrolling for the beta program will do the trick. (Not getting the text-based status back, even being a beta tester? Don't worry! WhatsApp didn't distribute it to all).
Even though the purpose and look of the text-based status on the beta version remain the same, the way of updating it is different. Lately, you could update the status straight from the Settings panel. Now, it needs two extra steps.
First, you should tap the three dots on the top-right corner and choose Settings. Touch your photo to get an additional screen. There, you can see a new option named About and phone number, under which the feature sits. Just like in the past, they provide you with pre-filled short statuses or you can enter custom ones, which won't disappear in 24 hours.
Also Read:- Facebook Started Testing Reactions and Dislike Button on Messenger
Are you not a fan of disappearing WhatsApp status? Unfortunately, you will have to tolerate it as long as you use the app, it seems. Even with the old text-based status's comeback, the new one remains there on the interface with a dedicated tab as usual.
WhatsApp implemented a few design changes on the new beta version. The video calling has got a dedicated button on the chat screen next to voice call. And, it eliminates two taps needed for video calling anyone in your contacts.
The attachment button (video calling button replaced it)  has now got a spot next to the text box.  All the options work and look the same. But the text box (where you type your message) is rounded, contrary to the rectangular shape WhatsApp followed since long.
As of now, the update is available for Android and Windows beta version users. There is no official news about when they roll out the same to the stable version.
If you are an Android (or Windows) user, never hesitate to embrace the old glory of text statuses.