We all thought at least once for a facility to recall sent messages on WhatsApp to avoid unnecessary fuss in the communication. They haven't released any such feature until now, giving no hope for the people, who always misplace messages.
But the Facebook helmed social messaging titan will soon release a new feature to revoke the wrongly sent messages within a period of five minutes.
You can soon Undo Sent Messages on WhatsApp Messenger
Several chatting applications already allow us to recall the messages we send. WhatsApp wasn't soon in implementing the feature on their platform till the beginning of 2017.  According to the news we heard, the company started testing the message revoking feature from the starting of this year.
There were speculations about this new feature on WhatsApp ever since the platform became popular. Yet, the news circulated recently as a new report went live with believable screenshots at wabetainfo. It says the unsend feature is present on the beta version of the application, but the developers haven't enabled that for the users.
The official WhatsApp team hasn't responded to the report and for the same reason, we don't know when the message unsending makes its way to the stable version of the application. Given the option came to the beta version gives us hopes to see the same on the stable version.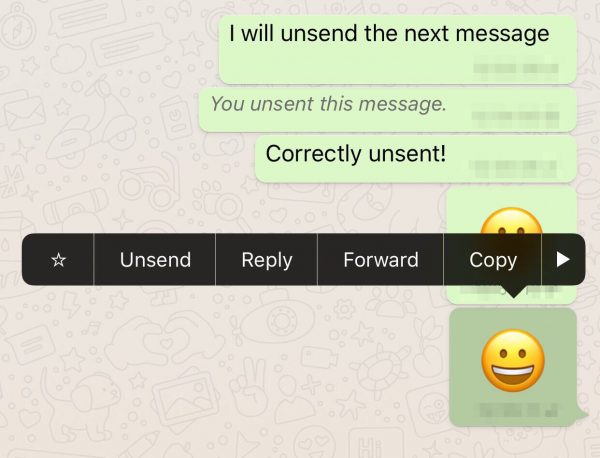 If the functioning of the feature stays the same as that of the beta version, you only have to long tap on the message you want to revoke, choose options, and finally hit Recall/Unsend (As per the screenshots, Recall is for Android and Unsend for iOS). You can't avail the feature for more than five minutes after sending a message.
Also Read:- Don't Fall into this 'Subscription Expired' WhatsApp Scam
The same tipster also tweeted that the messaging recalling feature gets remotely enabled in the future updates (2.17.30 or higher). Even he doesn't know the exact version of the app, to which it gets added.
Along with the much needed revoking messages functionality, WhatsApp will get a series of new features with the upcoming updates. They are working on a feature to update your friends and relatives when you change your number. Moreover, the live location sharing may come to the platform anytime soon. We also hear the news about the contacts tab on iOS (went missing in an update) arriving back to its original position. If you use WhatsApp web more often than the mobile app, you will be happy to know that you can change the status from the web (not now, but soon in the future).