WhatsApp on Tuesday evening started sending an in-app notification. The notification informs about the latest update of its terms and privacy policy. The latest update will come into effect on February 8, 2021. The notification has been sent to both Android and iOS users.
WhatsApp New Terms and Privacy Policy
The notification mentioned the key updates about how the company processes its user's data and their commitment to privacy. It has also added how it processes your data for safety, security, and integrity, and added more direct links to user settings, Help Center articles, and how you can manage your information.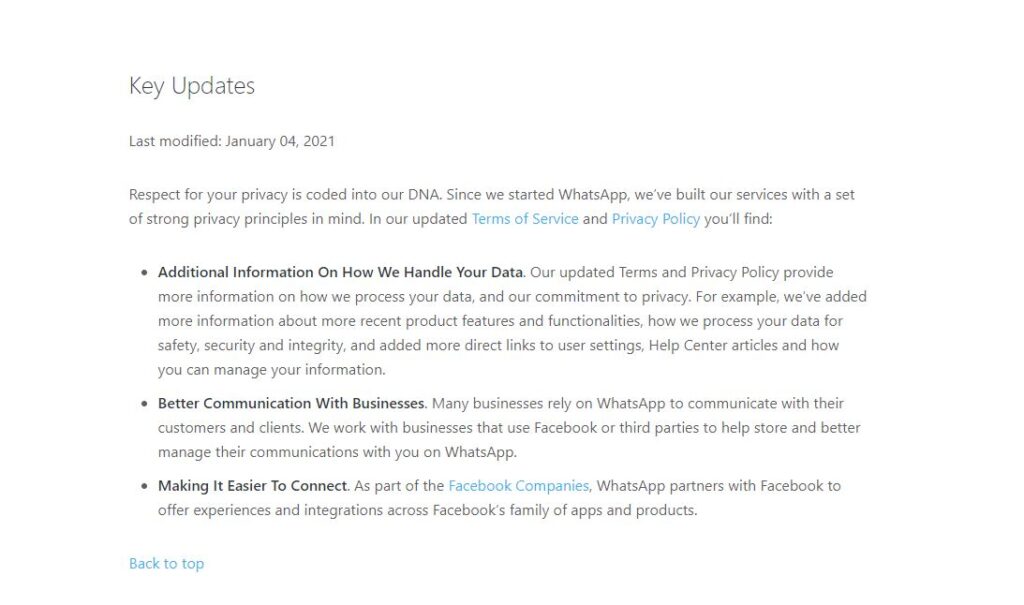 Moreover, there are new sections including Transactions and Payments Data and how businesses can use Facebook hosted services to store and manage their WhatsApp chats and how the company partners with Facebook. If you don't know Facebook is the parent company of WhatsApp and it offers integrations across the Facebook family of apps.
The updated terms of service reads,
We may use the information we receive from them, and they may use the information we share with them, to help operate, provide, improve, understand, customize, support, and market our Services and their offerings, including the Facebook Company Products.
As mentioned above, the new terms and privacy policy will come into effect on February 8, 2021. Users will be required to accept the updates to continue using WhatsApp on their devices to continue enjoying the service from the company.
Those users who don't accept these changes will not be able to use social media platforms.
What If You Disagree?
If you are wondering, is there any option to skip the update, in case you don't want to accept the changes? The answer is Yes, the terms and privacy policy pop-up notification has two options to choose Agree and Not Now.
Users can skip this for now, but remember after February 8, 2021, users will have to agree with the latest update, or else you can delete WhatsApp by going to Settings > Account > Delete My Account.
Additional Information
Lastly, the platform also explained the amount of data the app collects automatically. This includes users' activity on the app, their service settings, their interactions with other WhatsApp users, the time and duration of their activities on WhatsApp, log files, as well as performance reports and logs.