WhatsApp Chat Migration has been a long-awaited feature from the messaging service app. There are many users across the world using WhatsApp for everyday messaging and calling. Besides, users that frequently migrate from Android to iOS and iOS to Android face a lot of difficulties to transfer their chats. This has become a big issue for the past couple of years as many people are using cross-platform devices.
Although, WhatsApp users rely on some of the third-party applications to transfer chats including Media files. Besides, the messaging service has claimed that using these third-party applications for transferring your WhatsApp data violates their Terms of Service. Even then, users from iOS and Android totally depend on these third-party apps for chat migration.
New WhatsApp Chat Migration Feature
WhatsApp has now listened to its users and has started testing the chat migration option for cross-platforms. A WhatsApp platform tester, WABetaInfo has reported that the messaging platform is already testing the Chat History Migration feature for both Android and iOS Operating Systems. The platform has even shown out a screenshot of this feature. The screenshot was found by some people that have stumbled upon new updates from WhatsApp.
Although, the time of arrival for this long-awaited feature from WhatsApp is not known. The main issue that WhatsApp is facing for cross-platform chat transfer is due to "difference in data formats". In Android, the messaging service uses the Google Drive application for backups. On contrary, the iOS mobile operating system for iPhones uses iCloud to store their chat and media backups.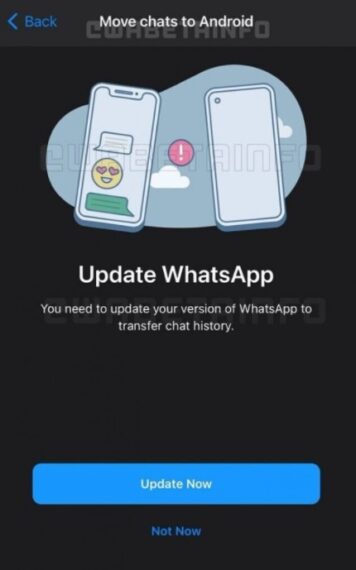 There are some other updates too, that WhatsApp is bringing in for users. There is a feature on cards where you will not require to keep their phones connected to the internet when using WhatsApp Web.
Other messaging services, such as Telegram don't need your device to stay online for using the web version. But, WhatsApp does require you to keep it connected till the time use the Web version. This feature will come in handy for many users after its arrival.
These new features from WhatsApp will help the users for even more connectivity. The status of the features mentioned above and is still in development. These features are compulsory in contemporary times as many users change their devices or use the messaging service on desktops. Although, the users that update their WhatsApp application, be it Android or iOS or TestFlight will be able to use these features as early as possible.