You might have already become a fan of Facebook's colored text status, appeared on the platform last year. The company wants to extend the same feature to WhatsApp too.
Over the last few months, we have been seeing many features getting rolled out to WhatsApp. The last significant update that brought stories to the platform received a lot of criticism. Why because it was the copy-cat version of the same feature from Snapchat. Still, a majority of users updated the app and started using the feature.
WhatsApp will soon Get Coloured Text Status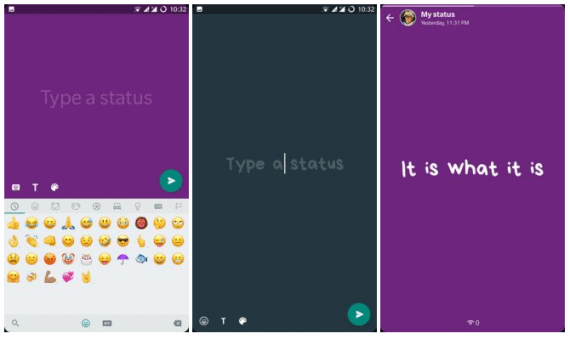 You can post colored status updates on Facebook via the Android app and the desktop browser. And, it is impossible to get the feature on the mobile version of the website.
As every new feature comes, Android enthusiasts first spotted the colored text status on WhatsApp beta.  But the company has come up with a server side switch to enable it for a selected group of beta users. So, you may not be able to see it even though you are using the latest version of WhatsApp beta.
The feature first spotted on beta version 2.17.291. And, as you read above, not everybody can get their hands on it. On the activated devices, a pen button leads you to create a colored text status. One should access the status screen, as usual, to get the specific button, though.
Once you tap the pen button, you will get a screen to choose the font style, background color, and the color of the text as well. You can also add emojis to the status. As you finish making changes, you can hit the green arrow button to publish it and your contacts start seeing your colored text status. WhatsApp already has a privacy option for you to choose the visibility of your statuses between the contacts saved on your phone. So, you can set the privacy settings in the way you want if you like to hide the update from anyone in your contact list.
Also Read:- WhatsApp may Get Picture-in-Picture Mode for Video Calling on Android O
WhatsApp has introduced the stories (or the media status) feature back in February.  It went on to achieve more than 250 million daily active users.
We don't know when they will bring the feature to the stable app version. If you are impatient, you can sign up for the beta version and check whether it reaches you. In case you don't get it via the beta program, you can download the APK file separately and sideload the app.
As far as iOS platform is concerned, we have no idea whether they plan to bring it or not.