WhatsApp for free messaging, Viber for video calls, Telegram for secret chats, Skype for grandpa. Why clog your phone memory, if you can pick only ONE messaging app that fits all your needs?
In a case you are a startup owner, you may also utilize messengers to establish contact with your audience. Businesses often make an Instagram/Facebook page and promote their product via direct messages. Another step may be the creation of Telegram channel. You can also give it a try as social media and messaging apps are free to use. If you succeed, you might make your own website and start more comprehensive promotion.
Regardless of your initial intent, you've already selected two finalists and now sway between WhatsApp and Telegram. The chips are down, let's make the final choice.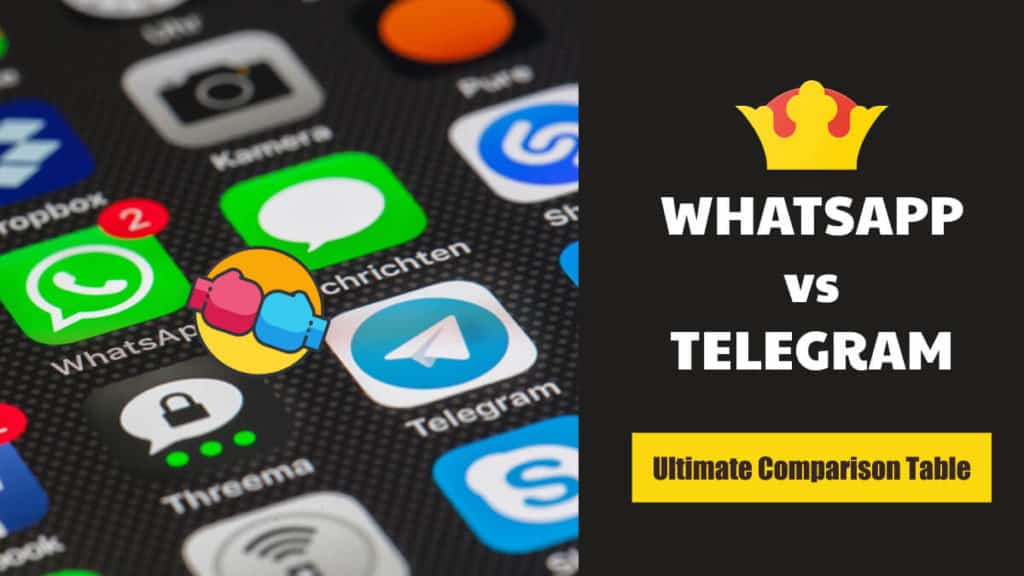 WhatsApp — a Pioneer in the Messaging Niche
When messaging apps were in their infancy, WhatsApp had almost monopolized the market. Being released at the beginning of 2009, it quickly became the choice of millions.
Nowadays, the app holds the strongest position, regardless of numerous rivals snapping at its heels. As of October 2018, WhatsApp is still the most popular Messaging app with 1.5B of monthly users.
The broadest reach is one of the app's advantages. Moreover, It can fully replace Skype and Viber as it offers voice messages and video calls. Smart replies, media sharing, broadcasting, and some other features also increase WhatsApp's competitiveness.
However, WhatsApp lacks some functionality offered by its major rivals. It's very hard to back up your chat if you're about to change your mobile number or buy a new smartphone. Some users also complain that WhatsApp eats up a lot of storage space on their devices, what can be critical if you own a smartphone with only 8 or 16 GB available. Also, you won't be able to edit your messages. Finally, no stickers unless you install third-party apps separately.
Telegram — a Messenger with a Focus on Security
If you are looking for a more lightweight messaging app with all features we lack in Whatsapp (or you simply can't wait to send stickers of your face), Telegram can be your option. Even though the app is ranked 9th among most popular messengers and has only 200M of monthly users, it's claimed to be the safest and the fastest messaging solution available on the market.
We haven't tried to reverse engineer Telegram or test its response speed, but there are things we know for sure. First, you will be able to share files up to 1.5 GB instead of just up to 16 MB in WhatsApp. This means you can use Telegram as your additional cloud drive for photos, audios, or even short videos.
Second, Telegram is king when it comes to group conversations. Just imagine: it's possible to create supergroups with up to 100,000 members. Third, you can edit or delete delivered messages within the next 48 hours (WhatsApp has only a delete option available within 51 minutes after delivery). And probably the best feature of Telegram is channels.
Telegram vs. WhatsApp: Differences Visualized
To make all differences between WhatsApp and Telegram more visible, we compiled this feature-by-feature comparison table.
| Feature | WhatsApp | Telegram |
| --- | --- | --- |
| Group conversations | Up to 256 participants | Up to 200 participants (supergroups — up to 100,000 participants) |
| Files and media sending | Up to 16 MB | Up to 1.5 GB |
| Chatbots | Available since 2018, but are way less sophisticated than those offered by Telegram and Facebook Messenger. | Available |
| Stickers | Yes (with third-party applications) | Yes |
| Status update | Yes | Yes, but called "Bio" |
| End-to-End encryption | Yes | On request in "secret chats" |
| Message editing | No | Available within 48 hours |
| Message delete | Available within 51 minutes | Available within 48 hours |
| In-app browser | No | Yes |
| Passcode | No (Fingerprint authentication is coming soon) | Yes |
| Channels | No | Yes |
| Open API | No | Yes |
| Phone and video calls | Both available | Only phone calls |
| Simultaneous access | No | Yes, it's possible to open the app on 2 or more devices at the same time. |
| Customization | No | Yes |
| Chats | Can't be transmitted to other device or number. | Fully portable, as they are stored on the cloud server. |
| Usernames | No | Yes |
| App's size | 135 MB | 140 MB |
Apart from this, it's worth to discuss a security issue. As you could know, WhatsApp belongs to Facebook, which is known for massive data breaches like the one happened in September and involved 50M users or the notorious Cambridge-Analytica scandal. Those incidents shattered the user's confidence in the app.
Telegram, on the contrary, is more of an independent product. Its creator, Pavel Durov, refused to transmit messenger's encryption keys to Russian authorities, so they could decode the messages sent users. As the result, Telegram was blocked in Russia and is currently available only via VPN.
Conclusion
Telegram is a better solution for enterprises as it offers chatbots and public channels. Also, it is the best fit if you seek the messenger with solid file sending capabilities, larger groups, and more freedom with message editing. (We know stickers are your 1st priority anyway!)
If you have a wide circle of contacts, stick to WhatsApp. Almost everybody is on WhatsApp, so that won't be a problem to follow up with new acquaintances. Moreover, WhatsApp is the choice of those who can't live without a video call feature.