Right from the starting days of the internet, there had been many attempts to scam people. The latest addition to the row of scams demands money from people to continue using WhatsApp.
Several internet users all around the web are getting a particular message in the last few days stating the expiry of WhatsApp subscription and the need for paying money not to let it happen. No doubt it is a scam!
Scammers are in Action with the New WhatsApp Scam
The WannaCry ransomware has created one hell of a hoax even by obstructing the smooth functioning of a network in a hospital hub. Now that it seems to have stopped the threat, a new one (not much dangerous, though) has entered the stage.
If you have been using WhatsApp since long, you may remember it used to charge a small annual fee after the free usage of a year. They have removed the fee years ago and kept it free to install and use ever since.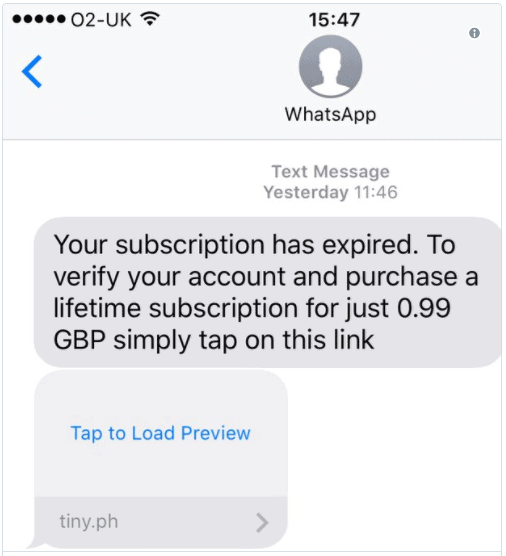 The new scam starts the work when you get a text message from a contact that resembles to be owned by WhatsApp itself. The SMS states "Your subscription has expired. To verify your account and purchase a lifetime subscription for just 0.99 GBP simply tap on this link".
What do you do if you get it? Unlike ransomware, the text message doesn't directly encrypt your files and call for the money, neither does it harm you in any other possible manner. So, you don't have to worry when you receive such a message. Yet we recommend you not keeping the same text on your phone given the chance that other people may click the link when you hand over the phone to them.
What if you accidentally click on the link (that's a shortened link, mind you!)? Provided the nature of the message, you will get a form to insert your credentials and send them the 0.99 GBP right away. Don't take this lightly because the amount is too small for you to even worry about losing it. They will grab the access to your bank account or whatever mean you use for the financial transaction. Once it happens, you know what will follow.
Considering the popularity of the social messaging platform, we sense the arrival of many more scams in future. So did the WhatsApp team. Hence, they have given out three ways a sneaker can behave.
The sender claims to be affiliated with WhatsApp.
The message content includes instructions to forward the message.
The message claims you can avoid punishment, like account suspension, if you forward the message.
The message content includes a reward or gift from WhatsApp or another person.
Whenever you get a message that comes under any of the above three categories, you must warn yourself before acting upon their instructions.