Popular social messaging app WhatsApp constantly updating its app, adding new features to provide users with a smooth messaging experience. The company is testing a lot of features including testing to spot fake news.
The WhatsApp is world's one of the most used social messaging apps, with more than 2 billion users globally. People blindly trust those messages what they get on the platform, without even checking them. The upcoming feature will come handy to those who don't prefer checking the news in an Internet browser.
The online Social media company is testing advanced search features for long now, where users can search about the forwarded message on the web from the chat. As you can see in the screenshot shared below, this will be shown as WhatsApp labels message that has been frequently forwarded at the top of the text.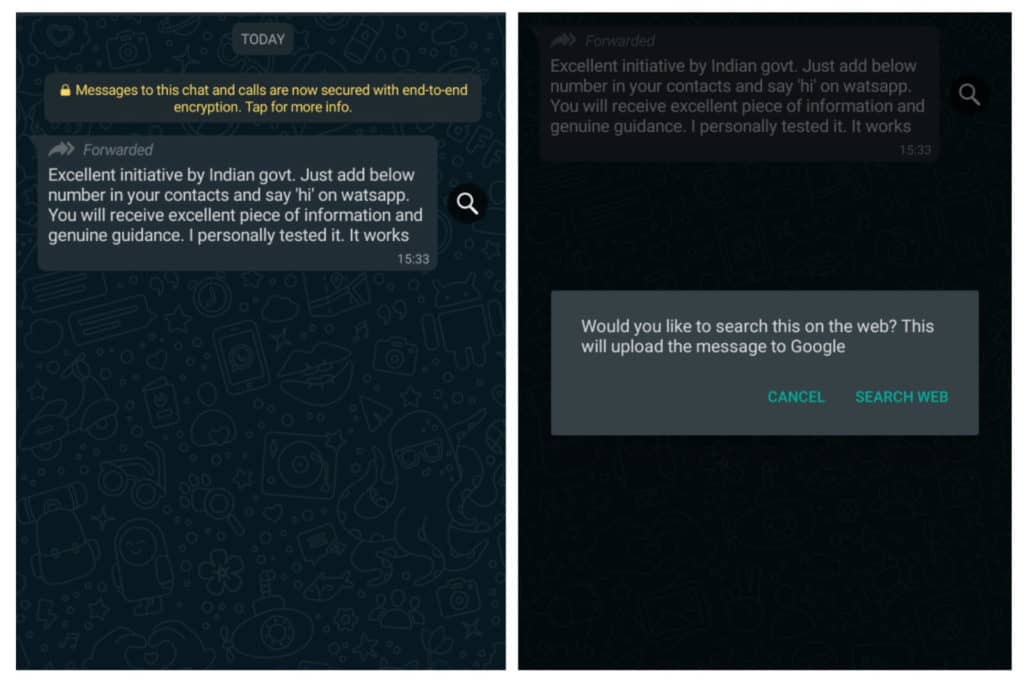 How the upcoming feature works
The feature is yet to roll out official, but when it will you can spot whether the news is fake or real. When you'll receive a message with a forward tag, you'll get a new search icon to check the news.
When you click on the search icon it will ask you "Would you like to search this on the web?. This will upload the message to Google?" After tapping the icon, it will ask if you want to upload the message on Google or you can cancel it. However, the feature only works with texts currently.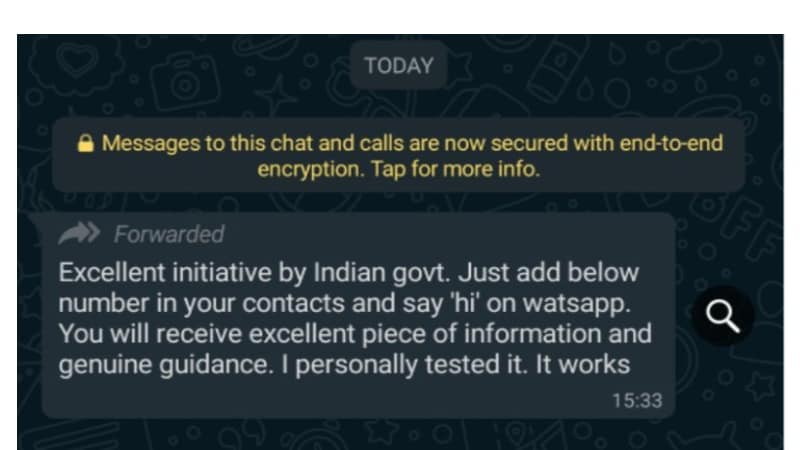 The company said to TechCrunch,
We are working on new features to help empower users to find out more information about the messages they receive that have been forwarded many times. This feature is currently in testing, and we look forward to rolling it out in the near future.
To recall you, the Indian Government recently launched MyGov Corona Helpdesk. The Helpdesk Chatbot is to stop, people, from spreading fake news and to spread awareness about the Corona Virus. You can read more about this initiative here.
Social media companies are adding new features to help people to fight with coronavirus. Recently, Instagram launched the Co-Watching feature and new stickers. The Co-Watching feature will help people stay connected virtually while maintaining social distance during the coronavirus outbreak.
For now, the WhatsApp feature is available for beta users on Android not sure about ios. But the feature will roll out for everyone soon.