WhatsApp has been constantly evolving as an instant messaging platform. Under the helm of Mark Zuckerberg, the application has got several new small and big features. We have reported the last one, which notifies the users of the forwarded messages.
About a couple of days ago, the company globally rolled out a new feature. If you are a group admin, you can use it to restrict members from sending messages.
WhatsApp Now Lets Group Admins Restrict Messages in Groups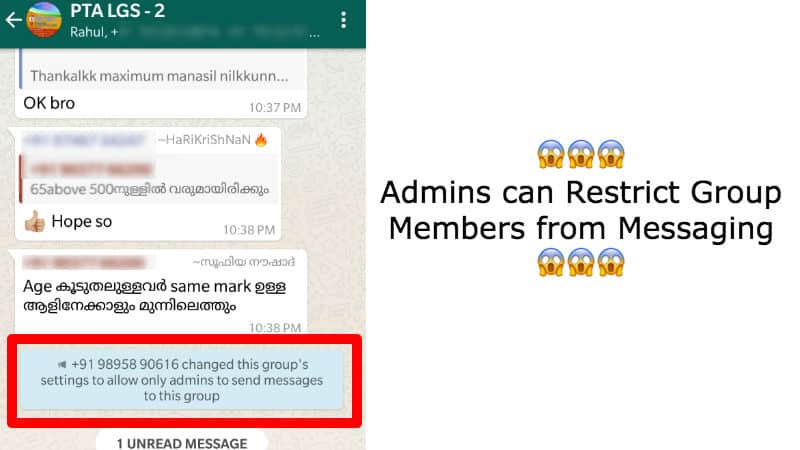 We are constantly covering all the new changes WhatsApp makes; be it live location sharing, text statuses, or voice record locking. Unlike most of the other subtle features, the new one is going to be useful for many.
As you read earlier, when an admin changes the new setting, you cannot send messages inside the group as a regular member. On the other hand, you will not face any issues if you are an admin of the group. The feature came to the beta version of the application about a week before. Maybe the wide popularity of the same is what triggered the developers to bring it to the stable version.
The new Send Messages option is available on version 2.18.70 on iPhone and 2.18.201 on Android as well. You can update your application to the latest version and check for it. In order to see the new option live in action, you have to open a group (where you are an admin). Tap on the three-dots-button on the top-right corner and choose Group info. Once you are there, you need to go with Group settings. There you will have it!
Tap on Send messages option and you see two choices; All participants and Only admins. If you select the latter, no regular members of your group can send messages inside the group. You will see another option, which helps you decide whether or not the members can edit the group info.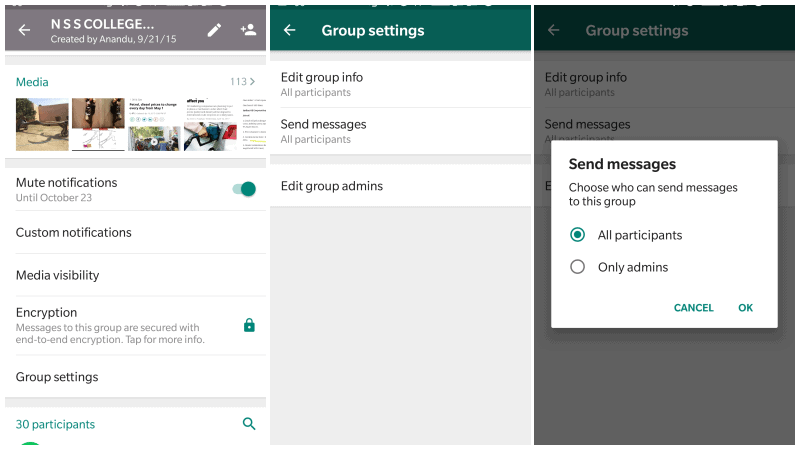 You can access the new settings even if there are multiple admins in the group. The message restrictions are actually a useful feature. For example, when you have a group for a specific purpose and members deviate from the same, you can restrict everyone but admins. If WhatsApp rolled out an option to specifically restrict an individual, it would have been amazing.
Users can access the new options from WhatsApp Web as well. Over the last few months, the company takes care of the Web version too, when it comes to new features.
What do you think about the new feature? Do you want WhatsApp to add any other option to the platform?