TL;DR – If you receive any message related to WhatsApp Gold. Ignore it and don't forward the message. Also, ask the sender to stop forwarding it and create the awareness.
WhatsApp has taken various steps recently for user's privacy and security. This can be seen from the company's implementation of end-to-end encryption. However, there is a growing problem of fake messages going viral on WhatsApp. This problem is particularly huge for countries such as India. In India, there is less awareness regarding fake news among tribal and rural users.
Therefore, WhatsApp has started to create advertisements for not spreading fake news in India. In spite of this, there is a viral message spreading on WhatsApp recently which is malware. This message claims that you can get exclusive perks and benefits by downloading something called as 'WhatsApp Gold'. Now, the message is not entirely new and the same message went viral in 2016 too. Once again, the message has started to go viral and we are here to tell you everything about it.
'WhatsApp Gold': Why you should not forward this viral message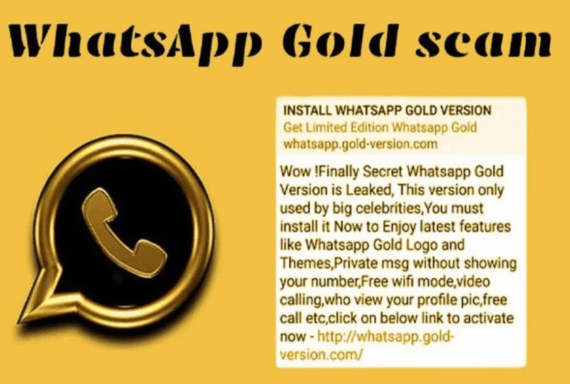 Talking about the viral message that is doing the rounds on WhatsApp, it tells the user to download a service called WhatsApp Gold. On downloading it, you get some hidden exclusive benefits claims the message.
Now, we should let you know that there is no such service as 'WhatsApp Gold'. This is clearly a fake message and moreover, it is a malware too. Because the message tells you to download 'WhatsApp Gold' and that link downloads a virus on to your device.
A similar thing happened in 2016 when the message told users to download a WhatsApp update via download link. However, it is to be noted that WhatsApp updates are available via Play Store or App Store only and not through third-party. We also have the entire message about WhatsApp Gold which is making the rounds so that you can be aware and avoid this message.
Today the radio was talking about WhatsApp Gold and it is true. There is a video that will be released tomorrow on WhatsApp and is called Martinelli. Do not open it. Enter your phone and nothing you do will fix it. Spread the message if you know someone. If you receive a message to update Whatsapp Gold Do not open it! They just announced that the virus is serious. Send it to everyone.
Well, there is no video named Martinelli which is releasing anytime soon. Also, there is nothing called WhatsApp Gold too so you do not have to worry about it. Just make sure to not download any WhatsApp updates outside of your Play Store or App Store and you are safe.
If you don't know WhatsApp is rolling dark mode for it's Android & iOS mobile applications and soon we might also notice Ads inside WhatsApp status. Make sure you update the app regularly to enjoy the new features immediately once they are pushed to the public. Alternatively, you can also participate in the Beta program to try the new features before everyone else receive it. Being said that, you must understand the beta version of WhatsApp may not be stable every time.