WhatsApp developers are keen in continuously bringing new features to the platform. As soon as they go live, we report it here. You might have already read about the upcoming message forwarding limit, voice record locking, location sharing, and much more from here.
The latest feature to the platform is only available to the iPhone users, by which one can use the digital assistant Siri to send text messages to groups.
You can Now Send Group Messages Using Siri on WhatsApp for iPhone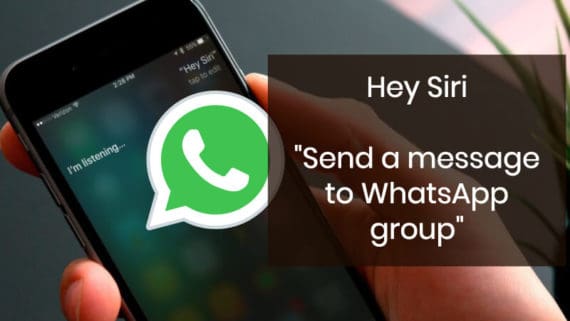 If you constantly follow the news about new features on WhatsApp, you know iPhone doesn't always get them before Android. On the contrary to the convention, the latest one made its way to iOS first.
The famous website WABetaInfo has spotted the WhatsApp group messaging support for Siri on version 2.18.80 for iPhone. In case you are an iOS user who wants to experience this feature, you can just update the application to the latest version.
So, how can you send a text message to a group without even typing a letter? First, you have to activate the digital assistant to hear your command by saying 'hey Siri'. Once done, the command you should say is 'send a message to WhatsApp group (group name)'. You must replace (group name) with the name of the group, to which you want to send the message.
As you have selected the group, now record the content of the message and ask Siri to send it in the form of text. If you prefer this way, you don't have to type anything. WhatsApp brought the same feature for messaging individuals earlier.
Another important feature this update brings to the table is the peek and pop gesture. When you receive an image or a GIF, you can see a preview of it on the notification pane. Before the update, you should have open the app and manually downloaded the image to see it. The updated peek and pop gesture will only work on iPhone 6S and later.
The new update for iOS weighs 160+ MB in size and you will get access to the new set of features only if you are using iOS 10 and later.
We have reported earlier about the efforts WhatsApp makes to fight fake news. In a separate report, we came to know that they might introduce a new feature called suspicious link detection. It will warn the user if the received link is spammy or suspicious by any nature.
They also announced the Indian users will face a limit of up to five chats for simultaneous message forwarding.