WhatsApp has been testing the message revoking (delete for everyone as they call it) among selected users. Though most of their features make the way to all the beta testers, the new one didn't do so. The Facebook-helmed instant messaging app even allowed some stable version users to have the new feature before the official announcement.
Delete for everyone is the most wanted feature on WhatsApp. Earlier we couldn't recall a message if sent to a wrong chat. But now that the revoke facility is here, you can quickly delete the message from a group or individual chat.
WhatsApp is Rolling out Delete for Everyone to All Users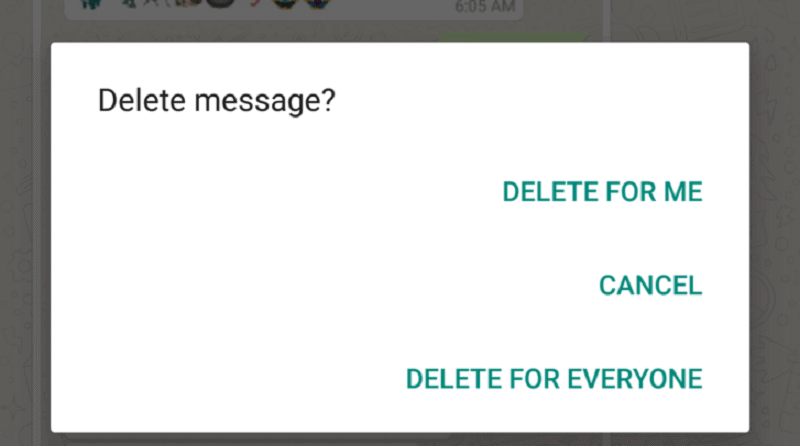 If you want to get the new feature, you will have to use the latest version of the app. Irrespective of the platform you use (Android, iOS, or Windows), you can get the delete for everyone option on the application.
Once you delete a sent message, the recipient will see a "This message was deleted" notice that notifies them of the action you took.
As you read earlier, you must use the latest WhatsApp version. The procedure of deleting a message from the entire platform is as follows. Go to the contact or group, select the message you want to delete, hit the trash icon on the top, and finally choose Delete for everyone. The notable fact about the new feature is it stays active only for the first seven minutes. That means you can't recall a message seven minutes after sending it.
Also Read:- WhatsApp to Launch Group Voice and Video Calls Officially Very Soon
On the contrary to many reports say, the person on the receiving end shouldn't have to use the latest version of the app for this feature to work. We have tested it out and even successfully erased messages from old version users at the receiving end.
We already have the regular delete option, which wipes the message from the sender's phone only. That old option is still here but under a new name. If you want to delete a message you send, only from your phone, select the message, hit the trash icon and choose Delete for me instead.
What if you don't get the feature on your phone? You just have to visit the official app store and update WhatsApp to its latest version. That will do the trick.
The users have been anticipating the feature since long and many reports came out claiming the official roll out in the past as well. However, it is only now WhatsApp officially announced the availability of Delete for everyone option for all.