WhatsApp Chat Transfer feature was in plans for a long time and the messaging service has finally given the support; and roll-out details at the Samsung Z-Series launch event.
The chat migration feature for both the operating systems of different mobiles has finally arrived from WhatsApp. Although, the Samsung Galaxy devices are the only Android smartphone that supports this feature as of now.
WhatsApp has evolved into the most preferred messaging application around the globe; that now even supports voice and video calling as standard.
The service is providing many other useful features such as Group Calling, Multi-Device Support, View Once, and Disappearing messages in recent times. But, many people face difficulties while transferring their chats from iOS to Android and vice versa.
WhatsApp Chat Transfer for iOS to Android
The feature was made available to Beta testing users of WhatsApp and now the feature is readily available on Samsung devices to make use of.
The new Chat Transfer feature will only work from iOS to Android and not the other way around which is the one thing to keep in mind. Besides, WhatsApp has prioritized only a few things to transfer with the help of this feature.
The feature can transfer certain aspects of your WhatsApp data such as account information, profile photos, personal chats; group chats, previous chats, media, and user settings.
However, you cannot transfer the call logs on your application or the visible names of your chats in the application. The messaging service has released a post on their blog about the new feature.
There's a catch for the Android users, where they cannot transfer chats of the iPhone to the Samsung Galaxy devices that are already set up. Samsung users must factory reset their Galaxy device to use this transfer feature.
Furthermore, the chat transfer feature requires a USB Type-C to a lightning cable; which makes the process totally a physical thing.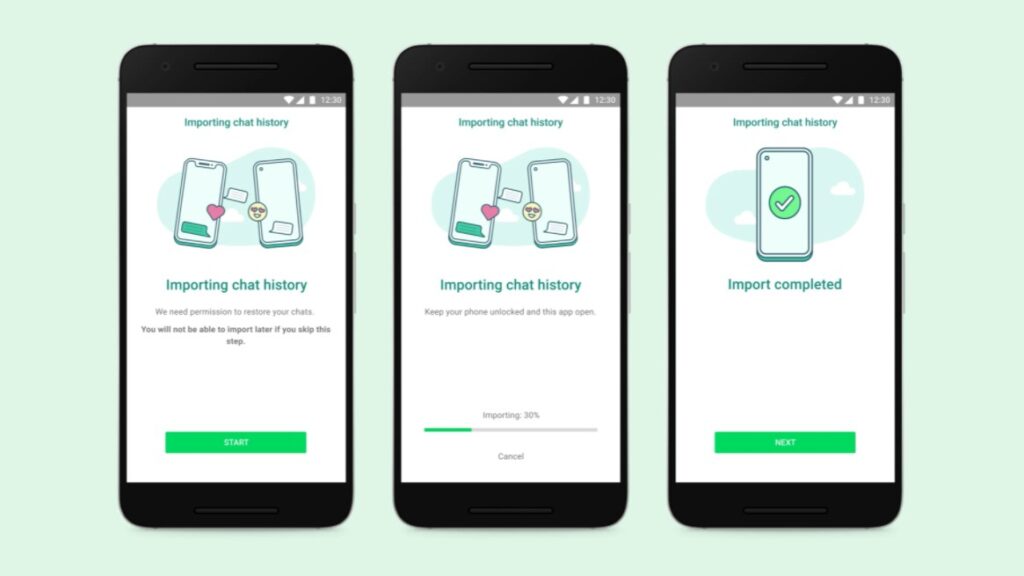 The Samsung Galaxy users for transferring the chats should use the Samsung Smart Switch application that shows a setup guide for the transfer. The application shows a QR code on the Samsung device and the code should be scanned with the iPhone's camera. After the scanning, a new screen pops up showing a start button and then users can proceed with the transfer process.
The WhatsApp Chat Transfer feature is readily available for iOS users that have a version of 2.21.160.17 or higher and; the Android users need to have a 2.21.16.20 or higher version on the Samsung device. There are some key points to keep in mind such as users need to use the same number; that they have on the old iPhone for transferring chats on the new Samsung device.