Are you unable to upgrade to the latest iOS 15 or unable to install new apps? Is the reason full storage? Often, Apple users come across this issue where installing apps or upgrades becomes difficult.
Sure, you must have tried to free up iPhone's storage by deleting a few apps, music, videos, etc. You have deleted everything that you don't need but still, the device warns about the low storage space. Now, you head to the settings of the device storage to see it is full. Unfortunately, most of it is grouped under 'Other'.
For most Apple users, the Other storage is a mystery yet to be resolved. The same problem is seen on both iPhone and Mac devices. If you are not aware, the Other can expand and take up 50 GB or more space sometimes. Your iPhone or Mac is almost useless if you can't install new apps or click amazing pictures, right?
We are sure you must have a lot of questions like – What is Other in iPhone or Mac storage? Can I clear Other files safely?
Don't worry, In this article will be helping you understand completely about Other Storage. Let's dive in.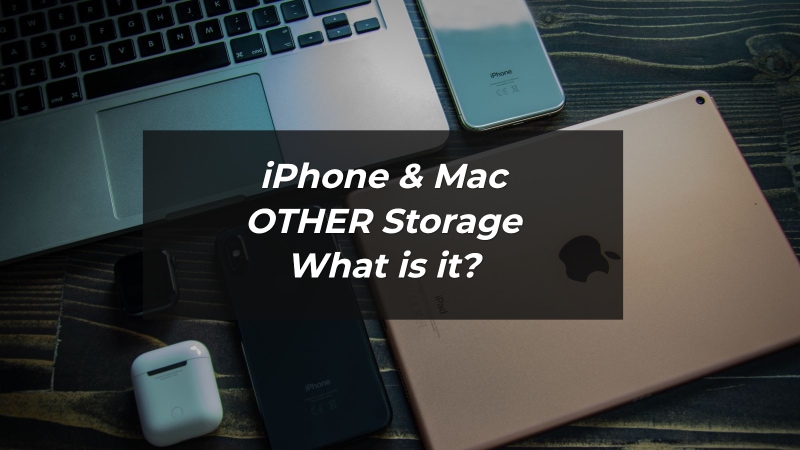 What is Other in iPhone Storage?
Often, iPhone users come across the message "Storage Almost Full". Then, they are kept wondering the reason for insufficient space. Checking the storage sections leads to the discovery of the Other section.
Apple doesn't define Other System Data in detail. It simply states that this data includes logs, caches, and other recourses that the device is using at the present.
Logs are records of all the actions/events that the iPhone witnesses. For instance, your phone is connected to a Bluetooth device. Instantly, a new line is appended into a log file to record this information.
These log files usually do not take up much space. You will find them occupying a few megabytes. However, it is the cache memory that can occupy a large amount of space in the Other storage.
For instance, you are streaming movies on your iPhone. Here, the device starts downloading content as much as possible. It is to ensure that there is minimum buffering when you see the movie. The content that gets downloaded is saved as caches in the Other storage. It can quickly fill up a large amount of space in your iPhone.
Generally, the Other storage takes up 5-10 GB. But, if it occupies more than 10 GB, then you need to get it under control.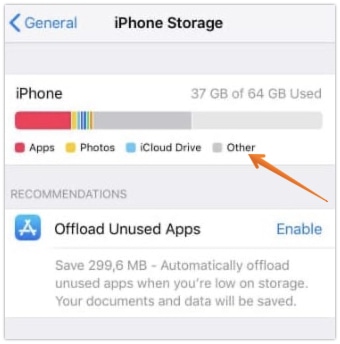 There are various files that you can find under the Other section. They include:
System files
Caches
Updates
Siri Voices
Logs
Keychain database
Are you wondering if you can prevent the Other Storage from becoming so large? Unfortunately, there is no way you can stop it from growing in size. The best you can do is, wait for some time to remove unnecessary files. In a blog post, Apple says,  the device will automatically clear the cache and temp files when it needs more space.
We are sure, by now, you understood what is Other Storage on iPhone? It is vital to understand that cached files get recreated even if you delete them. The system will do so whenever it will need it.
How to Find Other Storage in iPhone?
By now you understood what is Other Storage in iPhone and what kind of files are saved under it. But, still curious, how you can check Other Storage in iPhone? This section will help you how to find Other Storage in iPhone?
Go to the Settings app on your iPhone.
Tap on the General option.

Once you are in the General section, scroll down a little and select iPhone Storage.


On this screen, right on the top, you will see a colorful bar. The bar is color-coded with each color representing different types of storage. You will find Other Storage color-coded as grey.

Moreover, beneath the bar, you will see a list of apps that is present on your iPhone. Besides the app, you will notice the storage space they are occupying.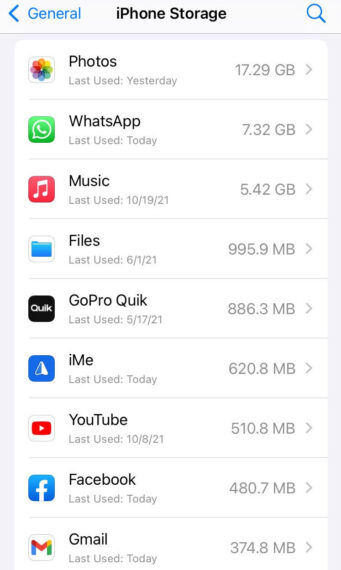 Make sure that you wait for some time for the final calculations. You need to allow the device some time to calculate the data. If you see the Other Storage increasing every day, there is no need to panic. Apple has already stated that there might be fluctuations depending on system needs.
What is Other Storage in Mac?
Well, now you understood, what is the Other Store in iPhone? Time to get to know more about Other Storage in Mac?
The Other Storage in Mac is basically all the files that are not classified under other set categories. For instance, if the file does not fall under Photos, Apps, Document, Video, or Audio, they are categorized as Other.
The Other storage section is filled with different types of files like temp files, and caches.
While there are some bloatware or unnecessary files, the Other section must be carefully reviewed before deleting anything.
If you are not careful, it may cause issues with the operating system of Mac. Moreover, it can also cause problems with existing apps on the machine. Some of the files that you can find in the Other Storage in Mac include:
Cached files (user caches, browser, and system caches)
Files that Spotlight search fail to recognize
Temporary files
App extensions, plugins, and fonts
Personal data of the user
Disk images
Archives such as DMG and ZIP files
Documents such as .psd, PDF, .doc, etc.
User library files like iCloud, Application support, and Screensavers
How to Check Other Storage in Mac?
Now, you know what is Other Storage in Mac and why it has been created. Time to check where you can find Other Storage in Mac. You can follow the steps listed below:
Click the Apple logo on the top-left corner of your Mac.

From the drop-down menu, select About This Mac.

Now click on the Storage tab.

A colored bar depicting various storage sections will be displayed. These are color-coded. Hovering over the colors will show the category. You need to wait for a few seconds till your Mac calculates it. In the few version of macOS, Other is named as "Other Volumes in Container" or "System Data".
Here you will find the space occupied under the "Other" category by hovering your mouse over the grey bar.

Can we Delete Other Storage on iPhone and Mac?
Yes, it is possible to delete Other Store on iPhone and Mac. However, it is advisable to excise caution while doing so. Accidentally deleting essential files might the device's performance. For instance, deletion of files with extension .dmg and cache files are safe.
However, when you start delving into the cache section, you must be careful. For example, you delete the cache of an app you no longer use. That will not have any impact on the device. But, if you delete the cache/storage of an existing app, it may reset the app preferences and settings to defaults. For example, if you clear the cache of the Telegram app, the images you downloaded from chats may be lost and you have to re-download them again.
If you don't understand something or are not too sure, don't delete it. You don't want to accidentally remove something important from your iPhone or Mac.
Removing Files in Other Storage is Not Easy
Other storage is an essential part of the iPhone and Mac. Thus, it is not possible to remove it entirely from your Apple device. Moreover, there are necessary files that need to take up some space. Deleting them can cause various issues.
However, there are different ways you can free up the Other storage space in your iPhone and Mac. For this, you need to conduct monthly checkups and get rid of unwanted files, apps, and other media. Keeping the hard drive organized will ensure that your device has ample space when you need it.