What we think about
Mi Band
Connectivity

9
Simplicity

10
Accuracy

8
Updates

8
Mi Band is a fitness tracker from the Xiaomi. It tracks your foot steps, Sleep and amount of calories burnt. Wear it, forget it and sink it with Bluetooth whenever you got time.
We, these days have hectic schedules, tensions etc which are constantly pushing us far away from being fit or healthy. Even if you think you're healthy by the way you feel how you are, you're not. One who does not work out at least an hour a day cannot be healthy at all. It's just that, you are not experiencing any problems so far.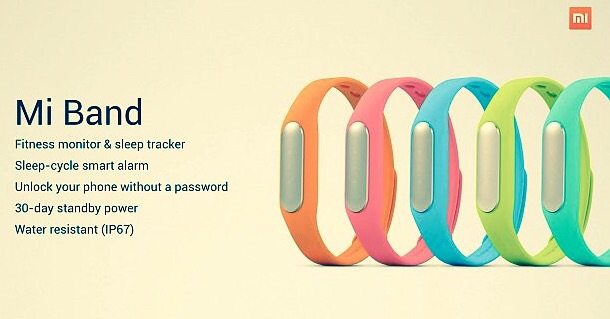 If you're a health maniac and a fitness freak, or say, you want to track the calories burnt per day (or) record footsteps of yours during an entire day, Mi Band is the best option for you to choose. If you do not have an idea on what Mi Band actually is, what it does, how to configure it, its uses or what so ever, you're just 5 min behind from getting all that information. Let me tell you in detail about everything you might want to know about Mi Band.
What's Mi Band?
Most of you might already have heard about Mi Band. Considering the people who might not have an idea about it, let me explain what Mi Band is all about.
Mi Band is one of the best, cheap and trending fitness tracking wrist bands in the market today. Xiaomi: The Chinese giant, which had taken its place to the top in the Indian market, had come up with Mi Band in a view to help its users give more accurate results regarding the footsteps count of the day, number of calories burnt etc. When compared to the other fitness tracking wrist bands, Xiaomi claims that the Mi Band gives more accurate results.
Features of Mi Band
As I already mentioned above, it calculates the footsteps and calories you burnt in a day. You can set up your goal to walk certain footsteps in a day. The Mi Band calculates your footsteps and also does indicate you if you're close to your goal or lagging behind it. It also does record your entire activity and give you an estimate of the calories burnt (which of course will not be very accurate).
Calculates Foot Steps:
The Xiaomi's Mi Band can also differentiate your activities of work. For example, it can sense when you're walking on a treadmill and when you're just going through your routine. It records the footsteps separately which is a good option. However, few users complain that this feature does not work as it should.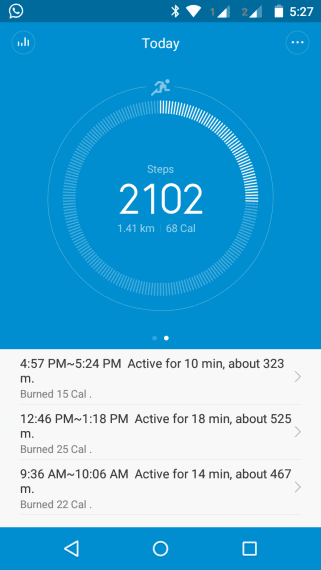 Calculates your Sleep time:
The Mi Band also has few other specifications. It automatically senses when you sleep. You need not to tell the Mi Band that you're sleeping. Though there can be a slight difference as it constantly tries to monitor your hand movements.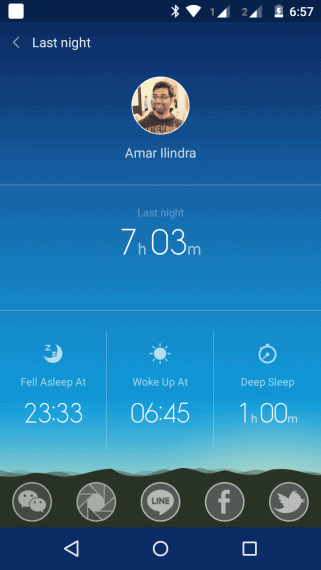 Users also complain that the Xiaomi Mi Band records as a footstep if you shake your hand vigorously or groom your hair. After all, the sensors detect the hand movement, and at a price of 1000 INR, you cannot expect more.
Technical Details – The Good
The Xiaomi Mi Band is light weighted with around 13g – 14g which makes you often check for it on your wrist, as you might eventually lose sense of it on your hand.
It'll fit for almost all the people whose wrist size is between 157 – 205 mm. The wrist band comes with 8 holes to adjust for it to fit on the hands of maximum.
The Mi Band is Water – Resistant. You can use it while bathing or playing (where the chances of sweating are more). If you'd like to wash it, you can happily do wash it.
Also, the battery life is one of the best features of Mi Band. Once you completely charge the Mi Band, you can use it for a month or slightly less. To achieve this, the Mi Band had used the ADI military grade accelerometer with ultra-low power consumption, Dialog DA14560 low-energy Bluetooth 4.0 Chip. The battery capacity is 41 mAh. To charge it, you need to remove it from the band and attach it to USB.
How To Configure It?
Configuring the Mi Band has not been difficult. You could configure it in less than 5 min if you have the proper internet connection and already registered Xiaomi account.
Inside the box, tracker and wrist band are delivered separately. To use the Mi band, you need to first insert in the band, Just push the tracker till it gets adjusted properly.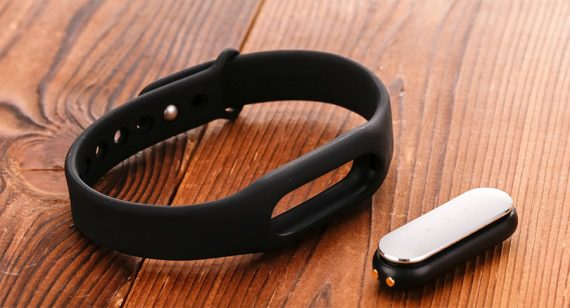 Follow the below steps to configure Mi Band on your smartphone.
Once you've downloaded, install it on your device.
You need to login with your Xiaomi account. You can either use an existing account or create a new account.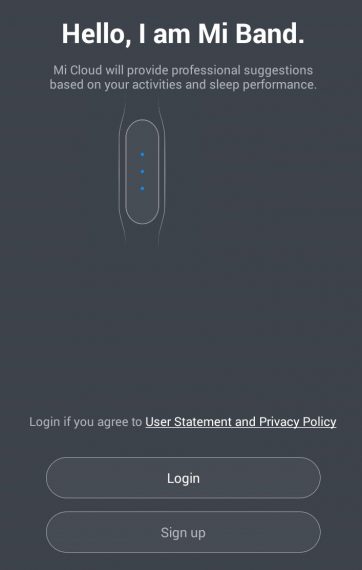 You'll then be asked regarding a few things like your age, height, weight and to set your goals for the day.
After you do that, the Mi Band will request your device to turn on the Bluetooth. Accept it and turn on the Bluetooth.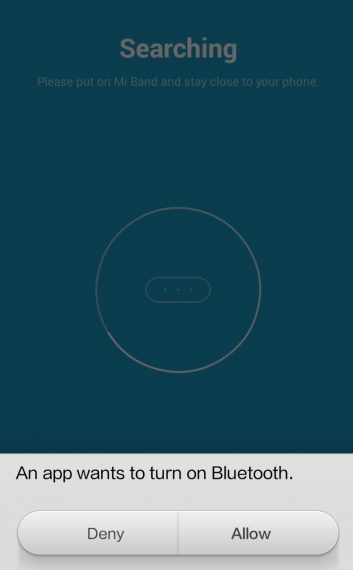 It searches for the Mi Band and tap on it when you see Mi Band symbol on your screen.
It'll then automatically sync the data and start recording your movements.
It's as simple as that. Your Mi Band is now configured. If you're using devices other than Redmi or Xiaomi, you might miss few features (which can be neglected though).
Drawbacks:
Though its cheap and does work fine, the Mi Band has few drawbacks.
It does not have a clock on it
Who would constantly wear the Mi Band and go to places you normally meet people. Its kind of an awkward situation to have the band on your wrist which does not have a watch. Of course, we cannot merely blame Xiaomi for this. It clearly stated that the Mi Band is just a fitness tracker.
How far will it be useful?
Okay, it's cheap and you bought it. Now, what advantages do you really get from it? Does it motivate you? No, it doesn't. You can just track your movements. Also, they are not very accurate. If you're a health freak and have an idea regarding the calories, you would know that the reports on Mi Fit app are wrong but close enough.
Smart Lock Feature – It is both good and bad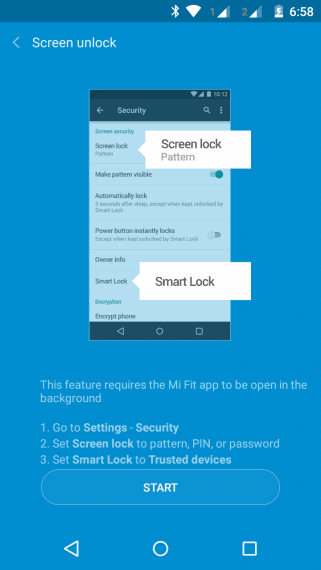 The Mi Band features a Smart Lock feature, which is both good and bad. If you set it as safe, whenever the Mi Band is near to the phone, it automatically unlocks. I'm though not sure if it works only on the Xiaomi devices.
How to Charge it?
Charging this Mi Band is very simple. Pull the tracker from the band and insert it in the charger provided in the box. Plug it to your Laptop/Desktop USB or to a power adapter. Mi suggests, never charge the Mi band using a power bank. It takes just 3 hours to charge it completely and the battery lasts for a month.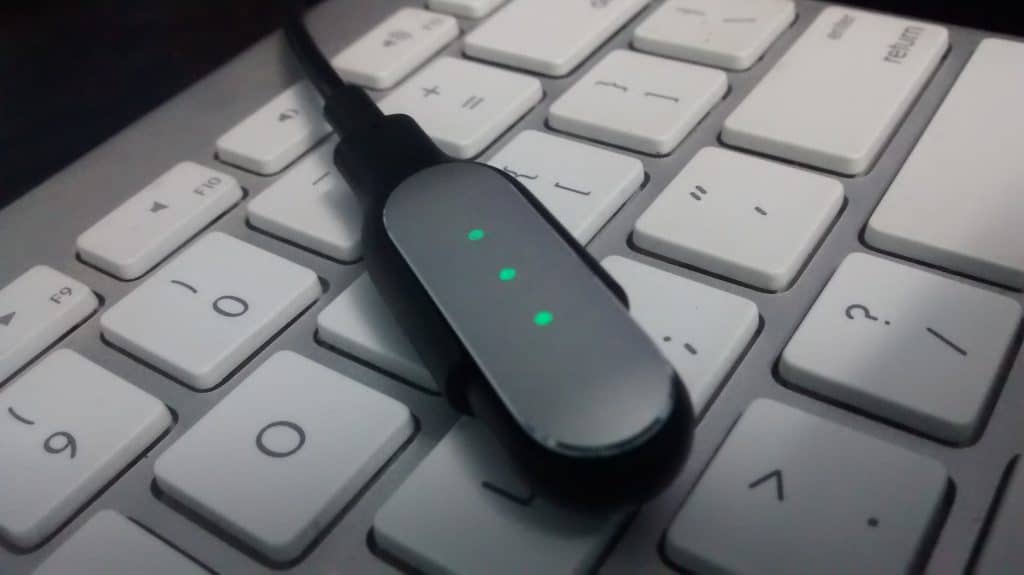 Frequently Asked Questions – Mi Band
Q: Does it show time?
A: No, Mi Band is just a fitness tracker.
Q: Should I Carry my phone Every time?
A: No, Mi Band never asks you to pair the device the entire day. Just pair it Once in a day or two to get your fitness data. Wear it, forget about it. No matter whether it is in the Bluetooth range or not, it will keep tracking your data.
Q: Can I use Power banks to charge Mi Band?
A: No, Power banks outputs more power than Mi band required. It is not recommended to use power banks.
Round-Up
The Mi Band can be your fitness tracker, only if you really want to track your movements. Though the results are only 90% accurate, it tries its best to sense the best of its ability. At 1000 INR, it might not be a total waste of money, but can be considered as a test device for fitness tracking wrist band. You can understand the use of one, without spending a lot of money. Let us know what you think about the Xiaomi's Mi Band in the comment section below. Let's have a debate.
What we think about
Mi Band