Wayback machine alternatives became the trending search phrase. This is because of the news, that the Indian government blocked the Internet Archive. But no one is pretty sure why the govt. did that. Keeping that aside, we will get an alternative for each and everything. Why not an alternative for Wayback machine? The Same question popped up a few years ago in some genius brains and the result of that thought is the free Wayback machine alternatives.
Out of so many internet archives available in the current market, only a few made their way into the list of best Wayback machine alternatives. Whenever archive.org  is down because of any technical issue, we can take help of one of these internet archive alternatives.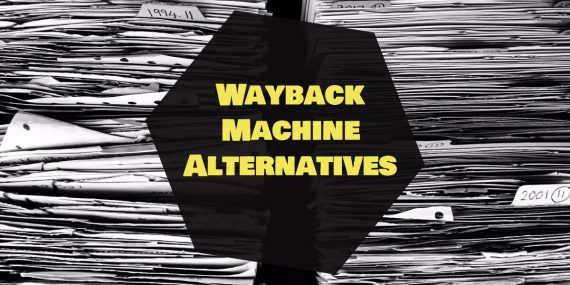 List of free & best Wayback machine alternatives / Internet archive alternatives
1. CachedView.com – Google Web Cache
CachedView.com is the official site from techno-giant Google. Google web cache is the technique behind archiving the internet by Google. Most of the people in the globe use Google Chrome, where Google is the default search engine. Hence it will be very easy for Google to cache any website from its server.
Not only desktop browsers but also mobile browsers participate in Web Archiving. Hear it from horse's mouth, how to use google cache. You can use Google Web Cache, Archive.org Cache and Live Version options from CachedView. To be frank it is one of the best Wayback machine alternatives.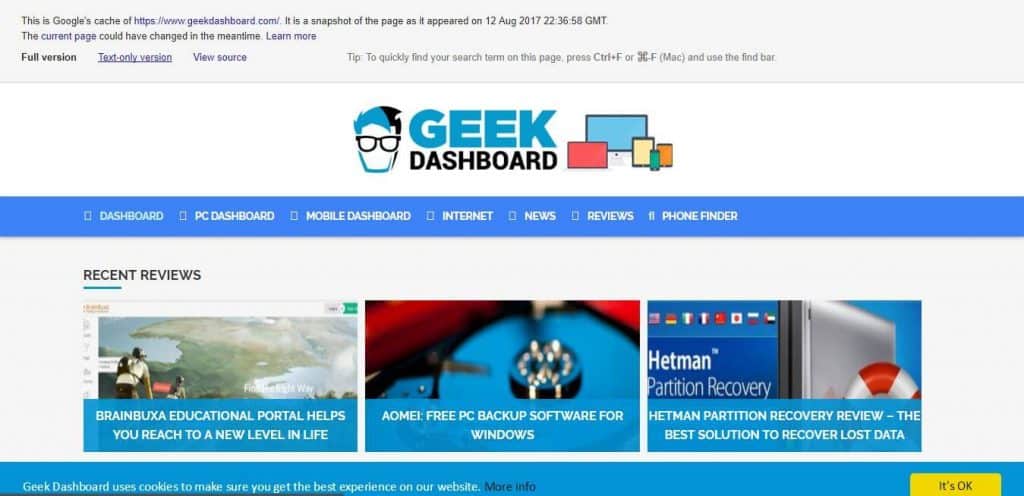 Official Source: http://cachedview.com/
2. Archive.is – Webpage Archive
Archive.is is one of the oldest Wayback machine alternatives. It provides a web page view of the website which you have searched for. In addition, it provides a screenshot of the website when it is last archived. But saved or archived web pages don't have any active elements and scripts. In Wayback machine search, you can get the archived content as well as an archived screenshot.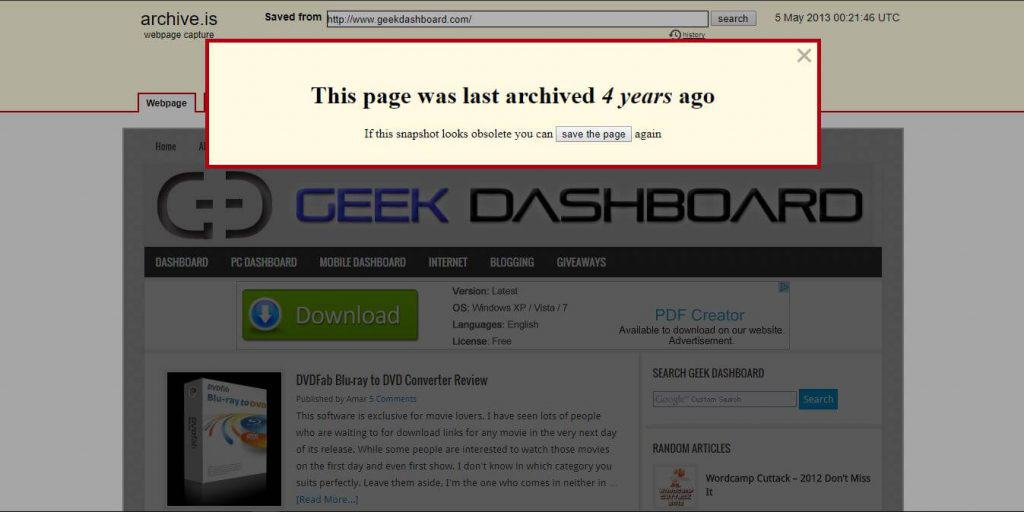 Official Source: http://archive.is/
3. Screenshots.com – Screenshot History for Any Website
Screenshots.com is the best screenshots internet archive and hence an alternative for internet archive. It used to take archived screenshots of your competitor's website. Being a cached website alternative, Screenshots provides the exact replica of how the blog/site is used to be. It is termed as a time machine for the web with over 250 million website screenshots.
Official Source: http://www.screenshots.com/
4. DomainTools
DomainTools provides a complete review of the URL you entered in the search box. Apart from all the domain details it provides, it will also provide screenshot history of the website. Apart from domain history and screenshot history, it will also provide hosting-history of the website. Screenshot based internet archive is one of the free services provided by DomainTools. Hence it made its way into the best list of Wayback machine alternatives.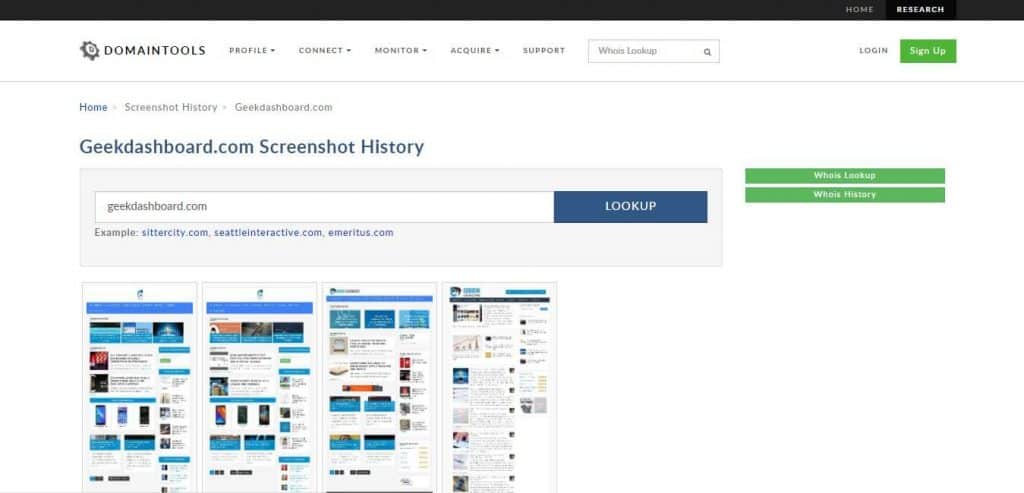 Official Source: http://whois.domaintools.com/
5. Memento TimeTravel
Memento TimeTravel is developed using the Archive.is API and hence can be used as an enhanced version of internet archive. It provides easy to use interface for web users. It provides various internet archives memento. All these archives are frequently updated. We can select any internet archive of our choice and view it on Archive.is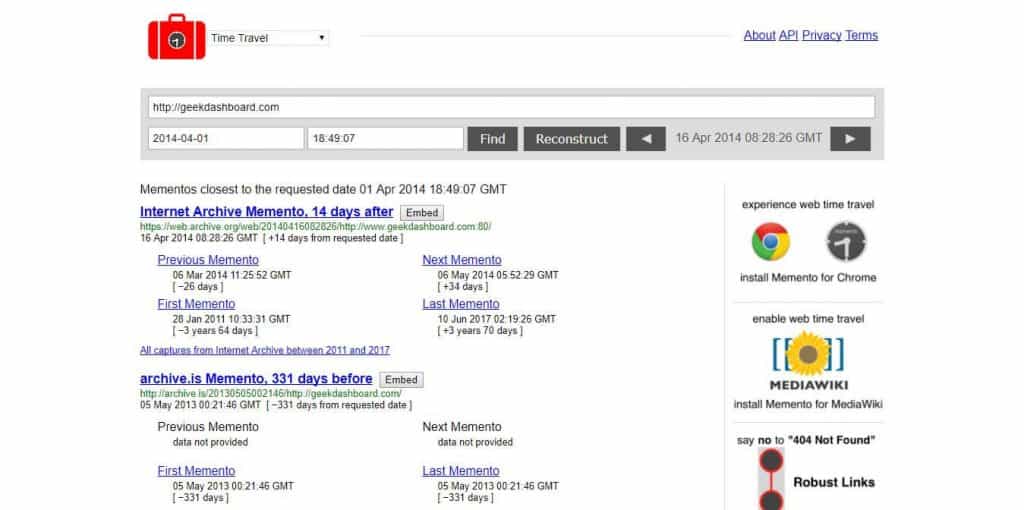 Official Source: http://timetravel.mementoweb.org/
6. PageFreezer – How to Archive a Website
Pagefreezer is the Wayback machine alternative which uses crawling technology similar to Google. It works on a completely automated process to take the screenshots. It doesn't require any software installation. Live Browsing, Legal Evidence, Digital signature, web page comparison and data export are the key features of PageFreezer. It protects your website records without missing anything.
Note: Soon after trial version, you need to pay to completely use all the features of the product. Hence a paid Wayback machine alternative with limited time free edition.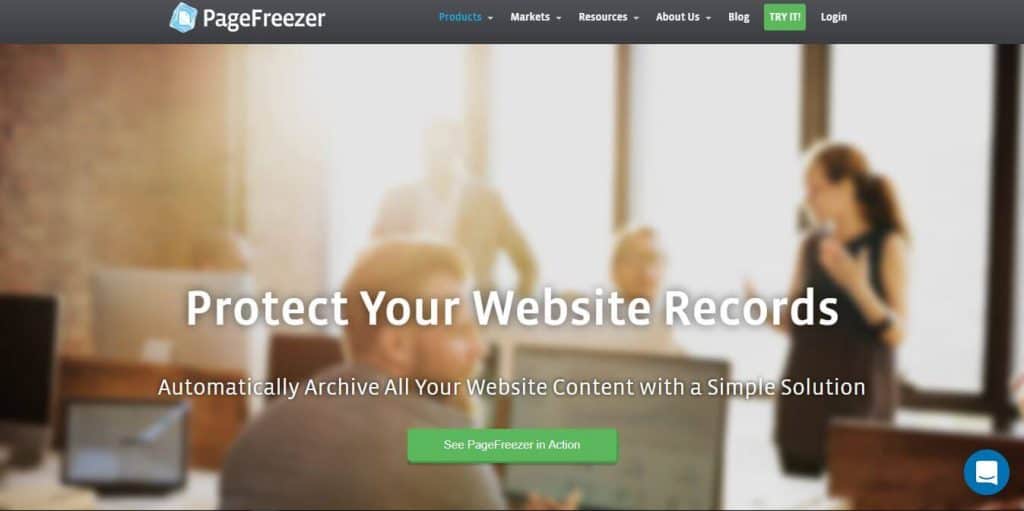 Official Source: https://www.pagefreezer.com/
7. Stillio Automatic Screenshots
Stillio Automatic Screenshots is an automated web page screenshot taker. Similar to PageFreezer, it is also a limited edition Wayback machine alternative. Having said that, the features it offers are website archiving, competition tracking, content verification, trend tracking, SEO tracking, and website compliance. It seems very easier than you heard. Just Archive, capture and share the screenshots whenever any significant change happens.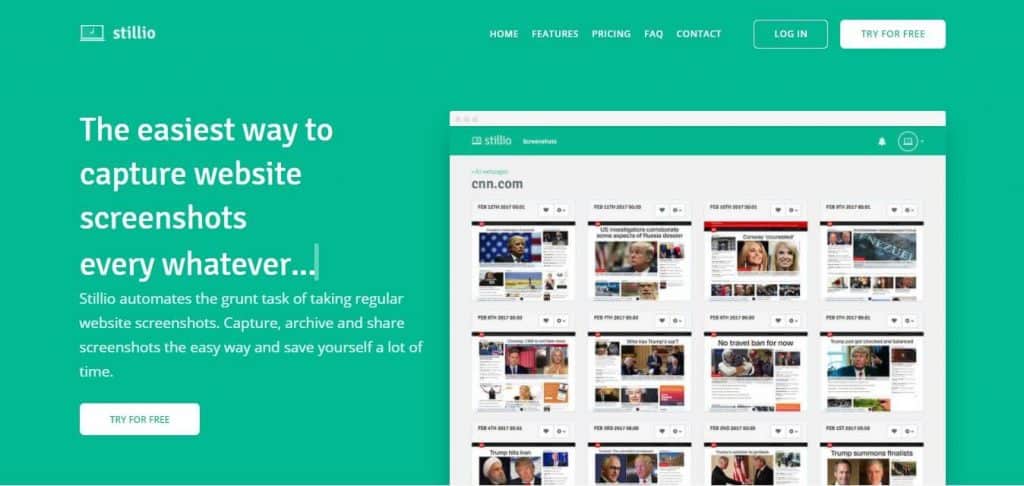 Official Source: https://www.stillio.com/
8. Peeep.us
Peeep.us is basically a URL shortener. As a part of evolution, it started working on web page archives. The way Peeep works is similar to Screenshots. The most exciting feature of Peeep is to create links to protected pages. This is how it stood in this list of best Wayback machine alternatives. Even though the page is publicly inaccessible, it can take a snap of it. To use Peeep.us, you must log in with your Google Account.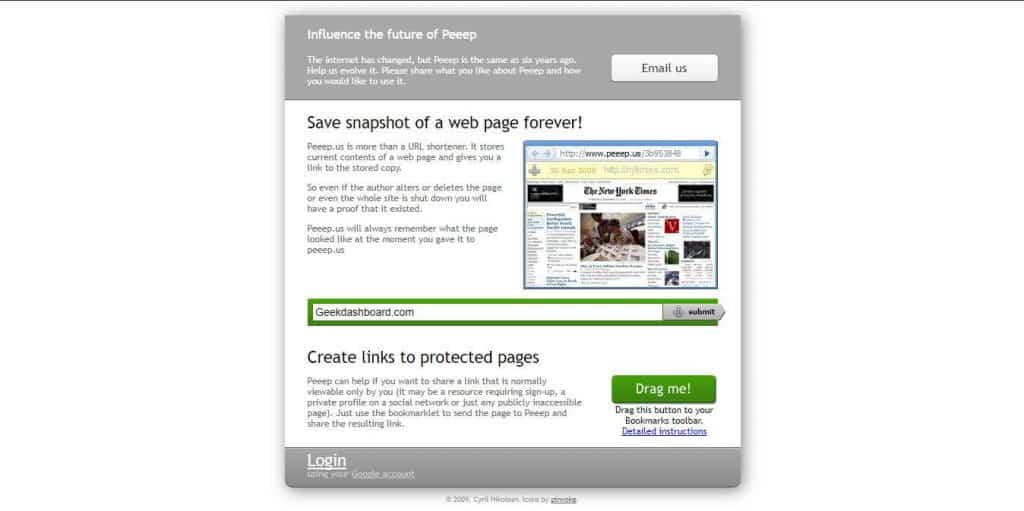 Official Source: http://peeep.us/
Conclusion
Out of all the Wayback machine alternatives provided here, you will definitely pick one which suits your purpose. Experts recommend CachedView and Archive.is as the best Wayback machine alternatives. We are no exception for that. We highly recommend using the above two free internet Webpage archives. Feel free to let us know your experience using the above tools through the comments section.