Many of us spend considerable time watching videos on the internet. Streaming services like YouTube, Netflix, Twitch, etc., make a killing from views. But have you ever considered using these platforms offline? What if you could record videos directly from these streaming platforms?
We got our hands on VidiCable, so in this comprehensive VidiCable review, we will tell you how you may employ the all-in-one video recorder to make the best of these streaming services. At the end, we give you our expert opinion on the tool. Let's get to it.
VidiCable Overview
VidiCable is a robust all-in-one video recorder and downloader. The software supports downloading from a wide range of streaming services. You may record videos for offline viewing, archiving, or video editing using the software.
At the time of writing this review, you can use VidiCable on Windows and Mac devices.
Downloading and Installing VidiCable
The download and installation process is very simple.
Navigate to the VidiCable Download page and click on the Download Now button. (We used the Windows app for this review.)

Double-click the downloaded file and click Install Now.

Click the Finish button.

How to Use VidiCable
We used VidiCable to record on several platforms and found the process very simple on all platforms we tested. To use it, follow the steps below:
Launch the VidiCable software.
Click on a streaming platform from the available list. In this example we use YouTube.

Search for the video you want to record, or click one from the defaults presented.

Click the Download icon on the right bottom, then click Download on the popup window.

You may follow the download status on the right pane.

Once the download is complete, click the Library tab at the top of the app's interface to see your downloaded video.

Features of VidiCable
You can easily record videos you like from a variety of platforms. However, in fulfilling these tasks, it offers some interesting features, some of which we discuss below.
1. Record from Any Site
VidiCable allows you to capture videos from a wide range of well-known websites, most of which are free. These websites include Dailymotion, Vimeo, XboxClips, TikTok, and YouTube. VidiCable has everything you need, whether it's an engrossing film, a hilarious series, or any other video material.
2. High Video Quality & Extended Compatibility
VidiCable guarantees the quality of your recorded films on Vimeo, YouTube, and other platforms. Your favorite YouTube videos can be recorded in up to 8K quality, which adds a degree of detail that makes the video seem more lifelike. You may also enjoy up to 1080P quality on other platforms, guaranteeing crisp, clear images.
Additionally, VidiCable recognizes the value of broad compatibility for watching your recorded videos. For this reason, it stores all downloaded videos in the universally used MKV or MP4 formats. This makes it simple to transfer and stream content across various gadgets, including desktop PCs, laptops, tablets, and smartphones.
3. Advanced Download
While you may download videos with the default settings, VidiCable also allows you to set your download preferences.
Using Advanced Downloads, you may set properties like Video Quality, Subtitle Language, Save Subtitle as, and Output Folder.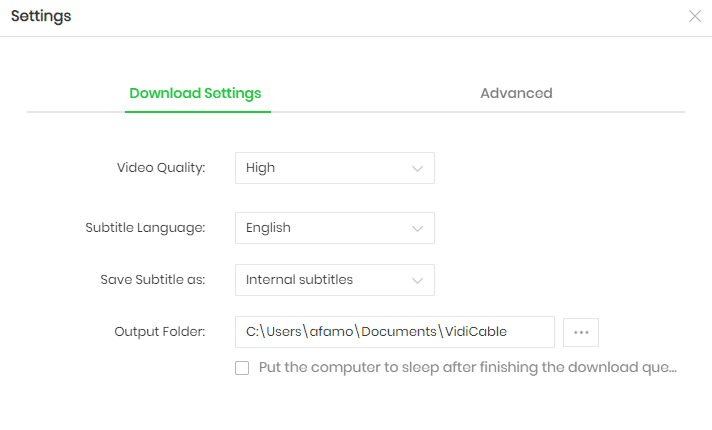 With the video quality option, you may select High, Medium, or Low. The subtitle language also offers multiple options, including English, Dansk, Deutsch, and more. You may also choose between Internal and External, Hardcode subtitles, or personalize the download location.
4. Intelligent Search
If you are still determining the exact video you need to record or download, this feature allows you to search for streaming videos using the URL or a specific keyword. The search is, therefore, versatile and user-friendly.
5. Other features
Apart from the features above, you may enjoy other features like:
Multilingual Interface: It supports 25 interface languages so that you can use the program in the language of your choice.
5.1 Dolby Sound: With VidiCable, you can maintain 5.1 Dolby sound for a rich, clear audio experience.
Optional Video Codec: H.265 and H.264 are the two options available to you, providing flexible compatibility and effective video encoding.
VidiCable Pricing
VidiCable offers two payment categories as follows:
One-Year Plan at $99.9
Lifetime Plan at $199.9
Both plans are a single license for one computer and come with free updates and technical support.
While you can use the software for free for most platforms, you will need a paid license to record videos from HBO Max, Hulu, Amazon Prime, Paramount+, Netflix, Disney+, and Discovery+.
Buy VidiCable for Windows or Mac
Pros and Cons of VidiCable
We love the VidiCable software for several reasons, but also a few drawbacks. Below is a summary of our top pros and cons:
Pros
Multiple language support
Easy-to-use interface
Recording with no limits
High-definition video download
Cons
Support is limited to Windows and Mac
Limited pricing options
Our Verdict: Should You Use VidiCable?
As far as video downloading is concerned, VidiCable is a great option to try. Some free options offer downloading from platforms like YouTube, but VidiCable is a more liable solution since it allows you to download with far more flexibility and customization for free and gives the added advantage of downloading videos from premium services like Netflix for a fee.
In all, once you can look past the price tag, we highly recommend VidiCable. When you try the software, remember to leave us your thoughts in the comment section below.