In this day and age where everything is online, we have developed the habit of consuming content from the internet. This content may be in the form of an article or a video. Recently, people are starting to watch more and more videos due to the rise of platforms like YouTube. Also, this is true for online streaming platforms like Netflix, Amazon Prime, and Hotstar which have video content as well.
We have also seen that people are starting to see YouTube as a career option and not just a hobby. Therefore, if you are serious about your career then you must be looking to create videos.
Now, the next step after creating videos is to edit them. This is where you need an easy video editor which gets your job done quickly and easily.
You must have seen that professional YouTubers use software such as Final Cut Pro X or Adobe Premiere Pro. However, if you are a beginner then you need a video editor which is simple to use. Later, you can develop your skills and use such heavy and expensive software.
So the best option that you have right now for video editing is VideoProc. On top of being easy to use and fast, VideoProc supports 4K video editing as well. In our opinion, this is more than enough if you need to quickly edit any video and export it in the best quality possible.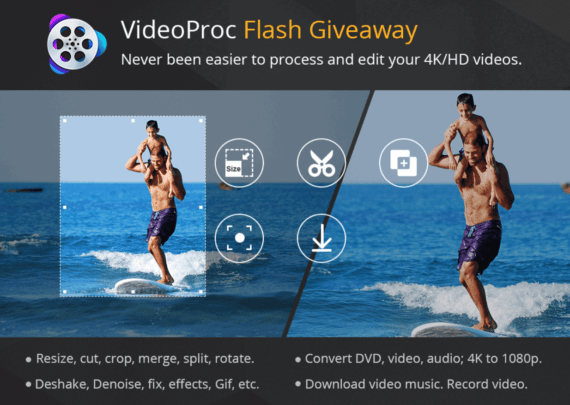 Not only can you do video editing on VideoProc, but you can also edit videos and merge them as well. Therefore, you can use VideoProc even if you are not a content creator as well.
Assume that you have taken a video and you need to split a video into two parts, you can do this with VideoProc. Also, VideoProc also lets you cut any part inside your video too so that the unnecessary part can be removed from your video.
Why VideoProc is your best and easy tool to merge video clips, cut and split large videos?
We have already mentioned that VideoProc lets you easily cut, merge, and split large videos. However, you would be thinking that the other software can do these same functions as well. However, the two important benefits with VideoProc are that it is Easy to use and Fast. We will also explain how VideoProc is easy to use and fast than the other video editors out there.
First of all, VideoProc is easy to use because its user interface is extremely simple and guides you through all the steps you need to perform. Therefore, even if you get stuck at any point then you can follow the text inside the software.
VideoProc is designed in such a way that even a beginner can use this software for the first time with ease. On the other hand, heavy software such as Final Cut Pro and Adobe Premiere Pro can definitely feel too much for even a person with decent video editing skills at first.
Also, VideoProc is fast compared to most of the other video editors because of its Full GPU acceleration. Also, it has a quality-oriented engine which preserves the video quality while processing the video faster. This is exceptional when you keep in mind that VideoProc support 4K video editing without compromising on video quality.
How to use VideoProc to merge videos?
As we mentioned earlier, VideoProc lets you merge videos. But the question that would be coming to your mind if you are new to VideoProc is HOW.
Well, if that's the case then we are here to give you a step-by-step tutorial on how to merge videos into one using VideoProc. Once this tutorial gets over, we will have a video which will combine two videos that we had previously selected.
1. First of all, you will have to select the Video section on the VideoProc home screen as shown below.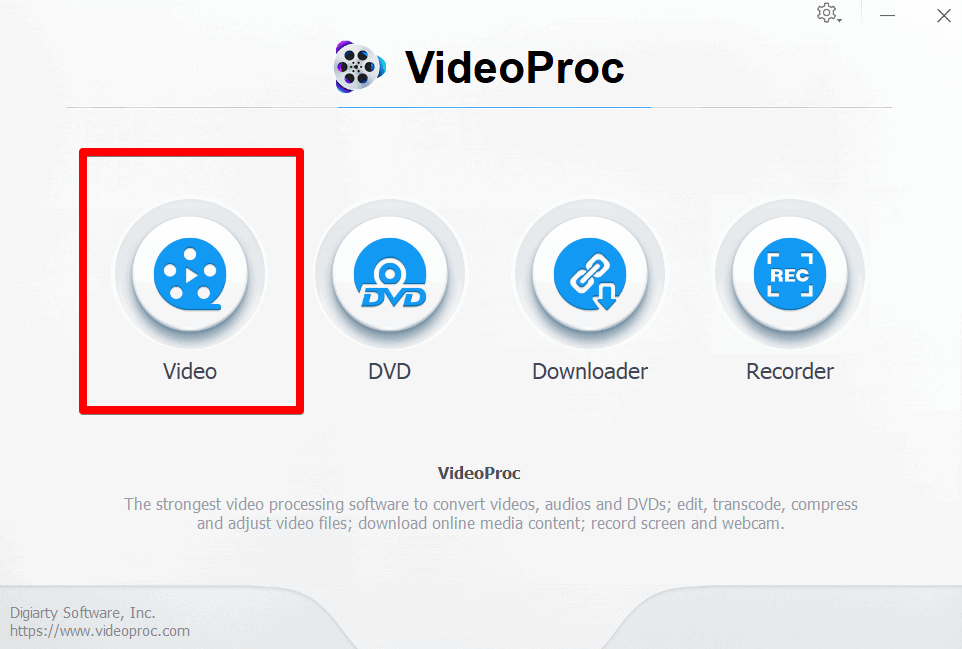 2. Now, you need to select both the videos that you need to merge into one. For this tutorial, we have downloaded two copyright-free videos from Pexels.com. For loading the videos, you need to click on the button as seen from below screenshot
Tip: You can use the Shift key while selecting videos to load multiple videos at once.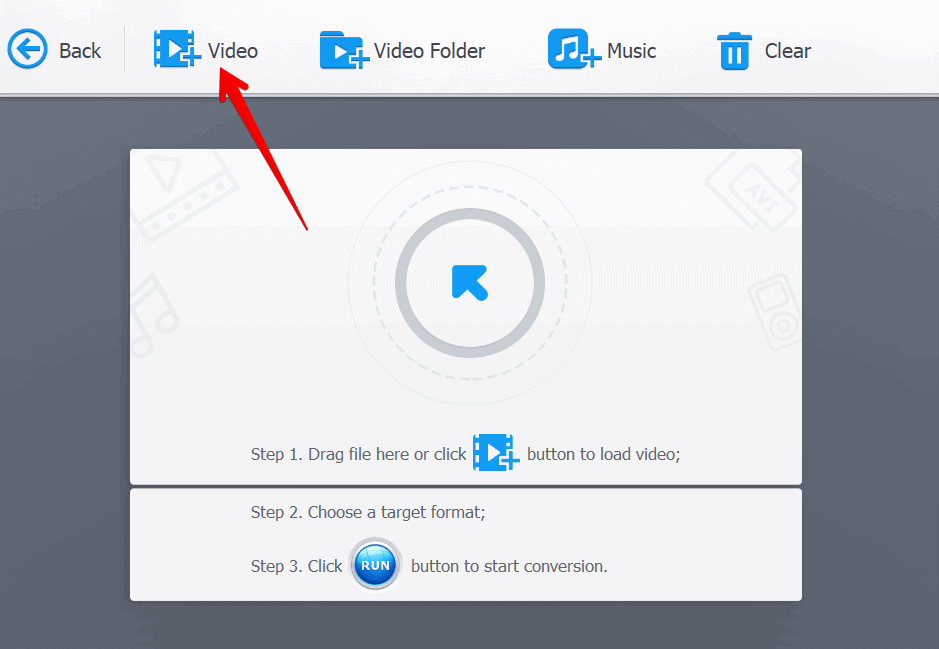 3. Once you have added your desired videos to the application, we can proceed with the merge process. Click on any of the two videos which you have loaded and navigate to the Hardware Acceleration Engine section. Here, tick the Merge option.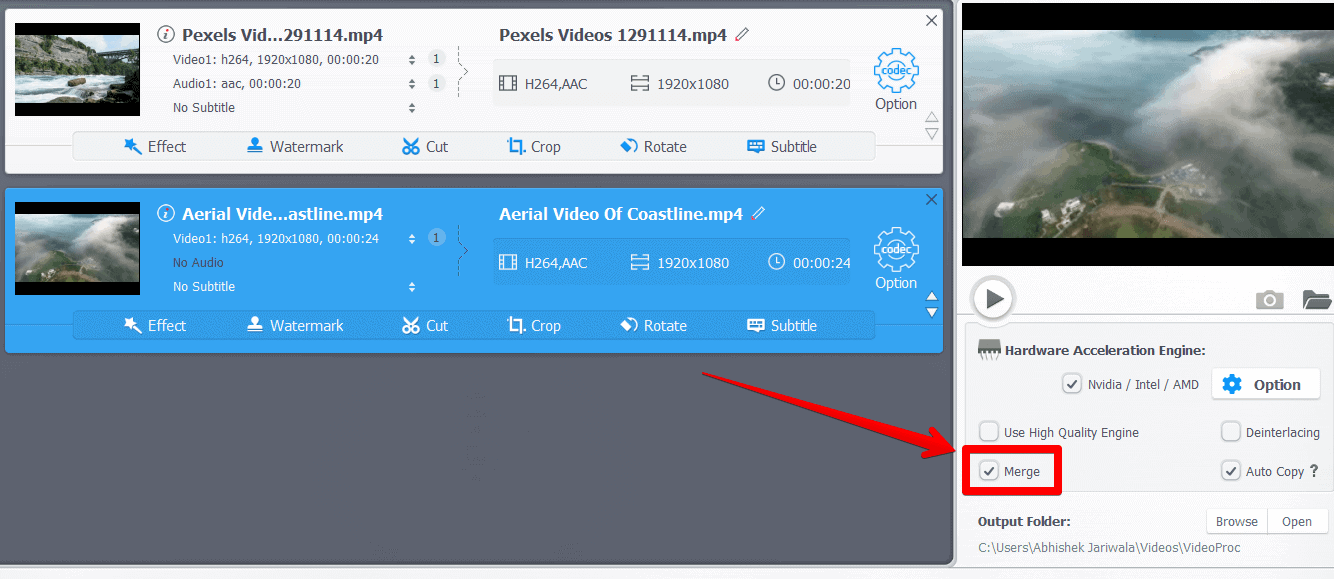 4. Now, it is as easy as just clicking the Run button situated at the bottom-left of VideoProc as seen below.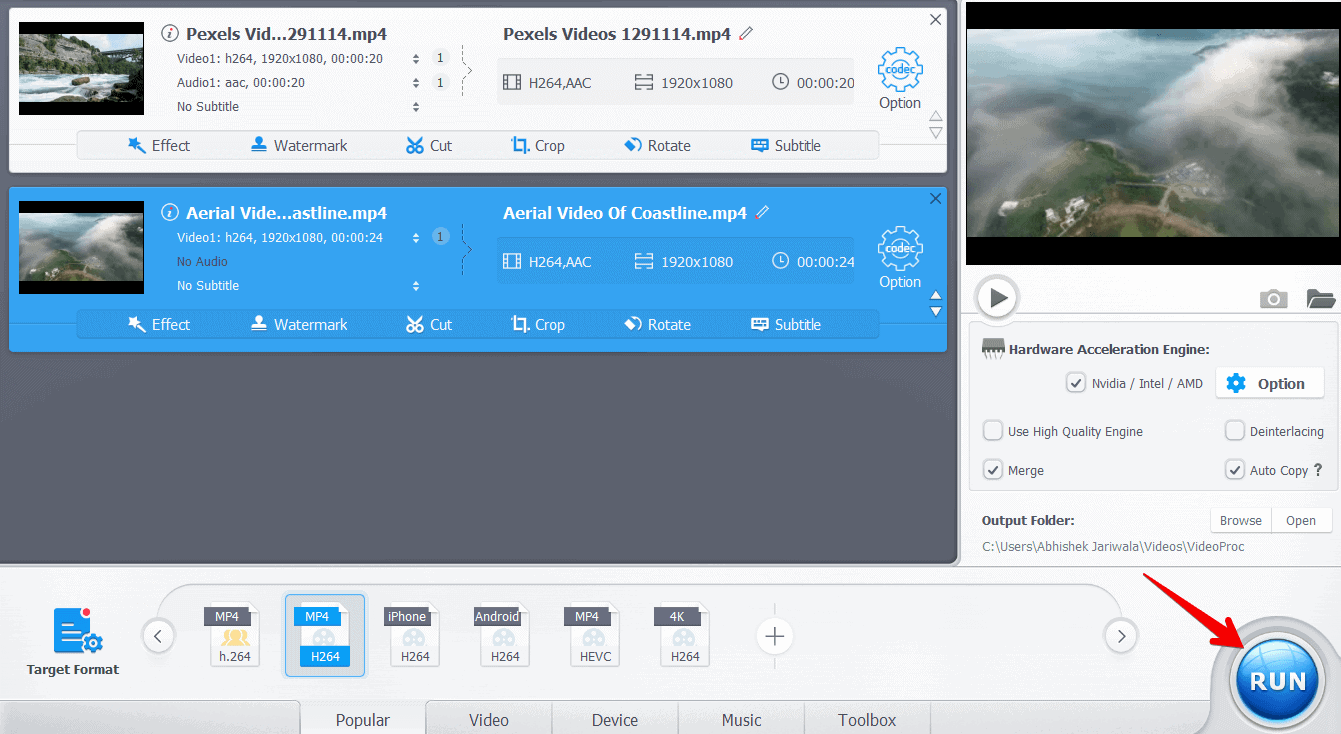 5. Once you click on Run, VideoProc will start the process to merge videos and the output video will automatically open inside your PC when this process finishes.
How to cut/split videos into small pieces?
Well, we have already told you how VideoProc is an easy to use and fast video editor for beginners as well as professionals. Also, you can see the entire process to merge videos inside VideoProc from above as well. But that is not all, VideoProc also lets you cut videos and trim videos to get your desired length.
Apart from that, you can also split videos on VideoProc too. Moreover, you also have the option to resize videos from this app itself. For this, VideoProc has made an entire video tutorial which you can watch below and understand the entire process to merge cut and trim videos.
Now, we are sure that you would be tempted to download this application right away on your PC or Mac. Well, you should not waste even a second more and download VideoProc right away on your system. You will also be excited to know that VideoProc is running a Giveaway at the moment.
From this giveaway, which is absolutely free to enter, by the way, you can get a free license of VideoProc. Therefore, you can totally unlock and use all the features of VideoProc's latest version.
To get your free license of VideoProc from the Giveaway, visit the VideoProc Giveaway website. Click on the "Get Free" button and grab your free license of VideoProc for Windows. You can also click on the link just below which reads "Or get a Free license for Mac" if you are a Mac user.
This giveaway is limited to 1000 copies per day so hurry now and grab your copy before the copies are finished. This giveaway will end by the end of April 2019. So before the giveaway is expired, you have limited time to grab your copies.
If you are still not convinced about VideoProc, it lets you edit videos, merge videos, split videos, cut and trim/split them. However, that is not everything this software has to offer. You also get a DVD backup & conversion feature inside VideoProc.
Apart from that, VideoProc has a Video Downloader built right inside it too. Lastly, you get a Video Recorder in VideoProc as well. So that you can capture your screen and even edit the recorded video.