If you have ever wanted software that can make browsing anonymously easier, VeePN is the perfect VPN software to accomplish this task. Although there are many similar applications on the market, most of them have problems with speed, server switching, connection stability, and integration of different platforms.
With youngsters showing an increasing need to watch movies on Netflix or access restricted content, they are desperate to gain access to software that delivers on its promises. In addition, there are instances when users need to use multiple devices to access certain contents without affecting the speed.
With all these needs in mind, VeePN has come up with a tool that lets you access content from any part of the world with absolutely no restrictions.
About VeePN
VeePN is an easy-to-use anonymous VPN software that operates in 48 locations with more than 2500 VPN servers. It allows a maximum of 10 simultaneous connections to access contents on the go. VeePN allows users of different platforms to access content freely.
Our Review Of VeePN Premium
VeePN is a multitool VPN software that unblocks games, websites, Netflix, and conceals your identity. The functions of this software are innumerable.
Important Features Of VeePN
VeePN has a range of excellent features that will ensure unrestricted content access and web browsing at all times. We classify the features in terms of five aspects.
Ease of use
Instant access to content
Anonymity
Pricing
Customization
1. Ease of use
As soon as you log in on the service's website, you can have a quick overview of the features and choose the platform to download the app for. VeePN supports around nine platforms now. Just click on the platform from the drop-down menu Apps, and the respective installer will be downloaded to your system/mobile device.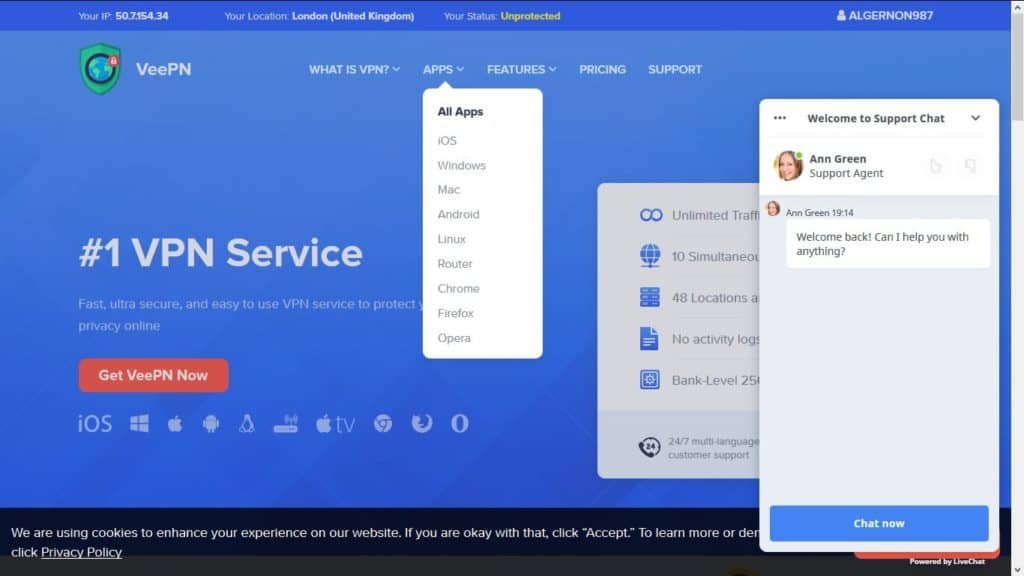 There is also 24/7 online customer support from the company so that all the questions can be clarified the moment they arise.
There is also a support forum and an FAQ section available on the website so that you can look for solutions before contacting the support. This ease of use is what is expected from any software, and VeePN provides it.
The best part of the ease of use is uninstalling/exiting the software. Let's suppose you wanted to work in the normal mode, simply right-click on the icon located in the taskbar and choose Exit/Log Out depending on your needs. That's it, you are done!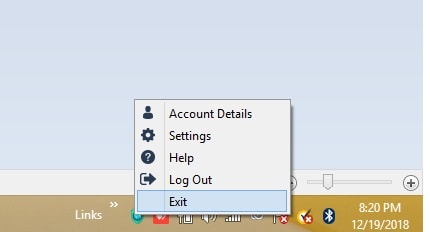 Alternatively, you can also log off by going back to the VeePN interface and clicking on the "power off" button.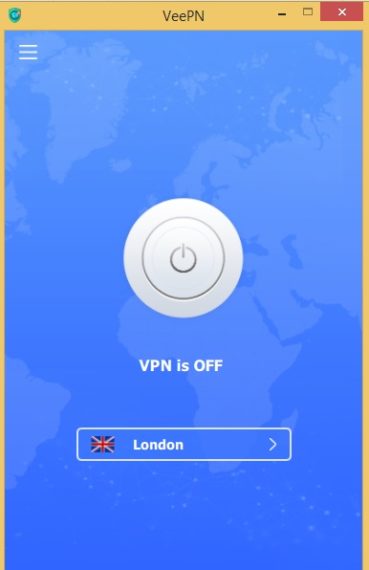 It is even easier to uninstall – just remove the app like you remove any other program from the system.
2. Instant access to contents
Choose the location you like from the list of 48 various places. You can select the server as well. Once VeePN is on, the VPN software allows the user to access any content and browse the web freely without annoying restrictions.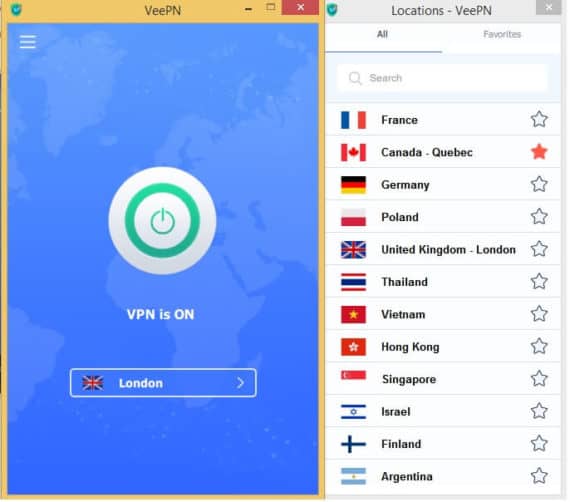 The range of the available locations is quite interesting. It's even possible to access Netflix UK in one go while browsing from India! You can see the footer in the following screenshot that shows Netflix UK while browsing from India.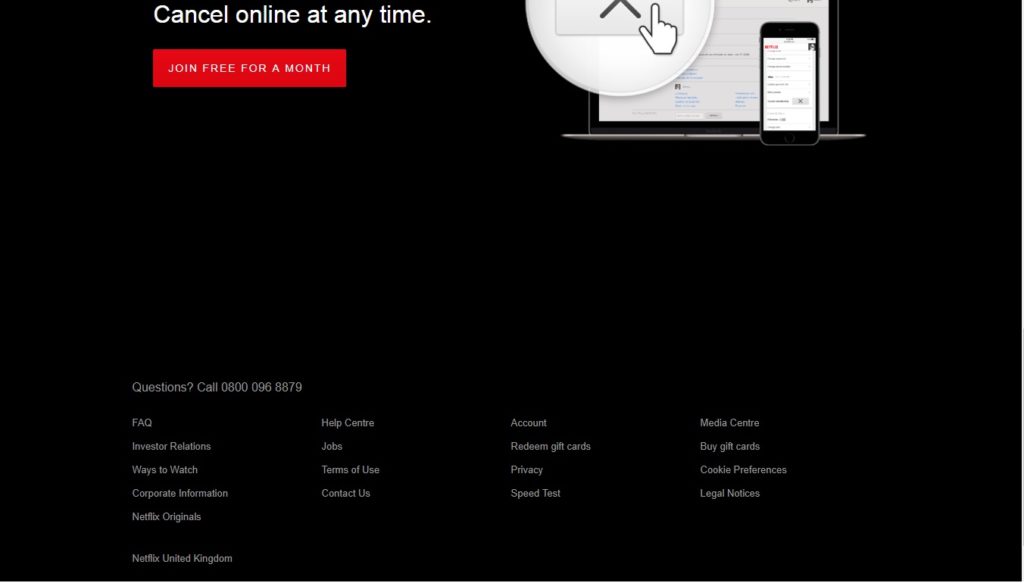 Similarly, blocked content at one place can be easily unblocked with the right choice of server. For example, while watching YouTube, we can come across videos that are blocked for one specific country.
The best part of this software is that irrespective of the number of devices you have added to your account, there is no slowdown. Hence, you do not have to wait for the buffering to complete. The content loads instantly.
3. Anonymity
This is my favorite feature of this software. You can browse the websites you want and be sure that your online activity is safely hidden. Similarly, your IP is always covered.
Once the service is on, your IP address is replaced with a randomly assigned public address that no one can trace back to you. Lately, many websites turn on cookies to track you and gather information about you. With VeePN, it is possible to conceal your identity.
4. Pricing
There are four plans available to the users. The only difference between the plans is the duration. All of them permit 10 simultaneous connections and unlimited data usage.
There is a flexible payment scheme available to the users. You can pay either monthly or yearly.
On an average, the yearly package of VPN software charges between 5 and 7 USD/month but VeePN charges only 5.83 USD/month. However, discounts are also available.
5. Customization
110 slots were provided for the premium yearly account that we had. This means that we can add up to 110 devices in one account and use 10 devices simultaneously. If you need to add a new slot, you can purchase by paying an additional $0.83-$4.99 per month depending on the number of devices.
Do you like this VPN software? You can also get a personal server that is totally dedicated to your devices. It is perhaps the best deal for enterprises that need to access global data from one location.
The software is currently available for 10 devices on iOS, Opera, Firefox, Chrome, Windows, Mac, Android, Linux, flagship routers and Apple TV. This is just the right amount for both personal and enterprise use.
You are saved even if you lose access
Suppose that there is a power cut and your VPN turns off, the kill switch option that comes with VeePN will save you. Even if the connection is interrupted, the data is still safe. The best part is that you remain anonymous and you can continue with your work without having to worry about the data.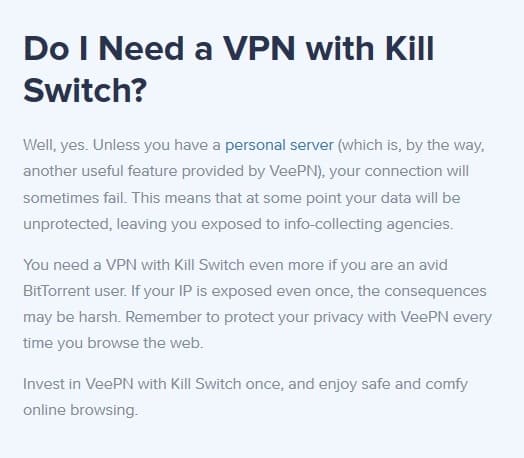 Conclusion
The one downside of VeePN we noticed is that there is no detailed guide available on the site to direct the newbies and it doesn't support Safari web browser. Though the cost is moderate, you can still talk to the support team to strike a lifetime deal.
VeePN is an amazing software that you can trust. With the money-back guarantee, if the features will leave you dissatisfied, you can always have your money back. No compromise on speed, data, and your privacy, and that's the promise of this software.
Cons
Not available for Safari Browser
Limited information in the support guide