Smartwatches started as fun gadgets that early adopters grabbed for themselves or gifted to others for Christmas and birthdays. Today, they're starting to work their way into professional environments and are becoming an important tool for employees, managers, and freelancers.
In the same way that tablets and laptops have become keys to smooth functioning throughout the business day, professional teams are now relying on their smartwatches for information. Here are five ways that business people can use their smartwatches.
5 Uses of Smartwatch for Productivity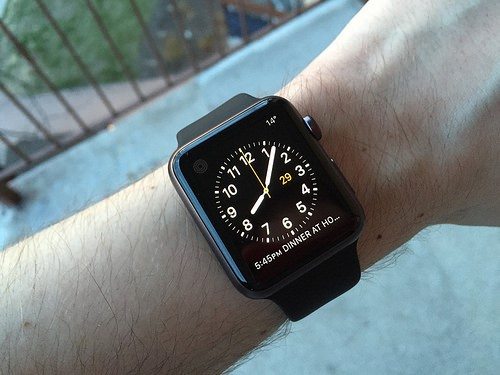 Image via Flickr by jfingas
Let Your Smartwatch Keep You On Schedule
Some managers rarely see their desks throughout the day, instead spending most of their time moving between meetings and trying to keep up with senior management and the employees around them. If you're one of these managers, you know that this can be frustrating for juggling your own calendar, as well as for employees who want to meet with you.
Smartwatches are an organized but subtle way to stay on track throughout the day. They can let you know when you need to leave for a meeting without requiring you to look at your phone. This way, you can ignore the update if the meeting isn't one you need to attend, or you can use it as an opportunity to end your current one.
Travel Notifications Make Sure You Arrive on Time
The fastest way to lose a potential lead is to show up late for a meeting. It is also the fastest way to fail a job interview. Unfortunately, you can't predict traffic jams or account for construction work and travel delays. However, your smartwatch can. By setting up traffic alerts and syncing with your calendar, you can receive notification updates for traffic, flight delays, and other problems that can occur on the way to your appointments. This way, you have plenty of notice to leave early or reschedule your appointments as needed.
Speaking of flights, your Apple Watch Sport can also serve as a translator, helping you get around in a foreign country. It will either display the translation as text or say it out loud to the person you're speaking to.
Manage Projects and Assign Tasks During a Meeting
Meetings are a great way to communicate with a group and assign projects, but it's easy to let small items slip through the cracks during and after the meeting. Product management apps like Trello and Evernote have smartwatch capabilities which allow you to assign tasks, recap thoughts and create follow-ups for the next meeting.
Even if you're just using your notes app, your smartwatch is an efficient way to record meetings and send assignments out before everyone gets up. It's the ideal project manager; plus, you can stay organized without carrying your laptop around.
Learn More About Your Leads Before Meeting Them
If you're part of a sales team, the time spent waiting in the lobby before meeting with a client can be both exciting and stressful. The fate of your career might depend on that sale, and you need to make a good first impression. Smartwatches can help your sales team prepare by letting you research your clients and check through your notes before you're called for a meeting. You can re-read past emails to make sure your priorities are lined up, read over the LinkedIn pages of potential clients, and even search their personal profiles to make small talk with them. The world is on your wrist.
Track Work Hours for Specific Clients
If you're self-employed or work for an agency that juggles multiple clients, you may jump from one project to the next throughout the day. That can get complicated if a client calls you and you spend an hour walking them through a project or problems they're having with the account. Fortunately, many timekeeping apps are available for smartwatches, so you can bill clients, track hours, and report timing to your manager right from your wrist.
Naturally, all of these apps sync back to your desktop or tablet, which means that you can return to your desk with notes from past meetings, assignments for the week, and time breakdowns for multiple clients. In today's business world, organization is the key to success, and your smartwatch works to keep you organized. Use it right, and it might even help you land a promotion.