When your computer faces a Boot failure or displays an operating system not found error, although most windows computers have a recovery partition built in, but it often contains all the crapware that came with your computer. If you'd like to create your own recovery partition, but you do not have a system backup image, then there's a high possibility that you may lose your data. AOMEI OneKey Recovery is a free software to create a factory restore partition and one key backup system for desktops and laptops.
AOMEI OneKey Recovery can helps you create a factory recovery partition, make system backups, restore backups in case your system crashes, and use it to restore your computer to its factory default or a previously backed up state. This program is simple, safe, and very easy to use.
Check here, you will be interested in the free product: http://www.backup-utility.com/onekey-recovery.html
Now AOMEI OneKey Recovery 1.2 has already released:
Besides pressing A key, it also supports to press F11 key during system startup to enter into recovery environment.
For UEFI boot mode computers, it supports to press F11 key during system startup to enter into recovery environment.
By default, it will create onekey recovery environment for computers.
How to Backup Your System with AOMEI OneKey Recovery and create Factory recovery partition ?
First of all, download, install and launch AOMEI OneKey Recovery. And then choose "OneKey System Backup". As shown in the figure below: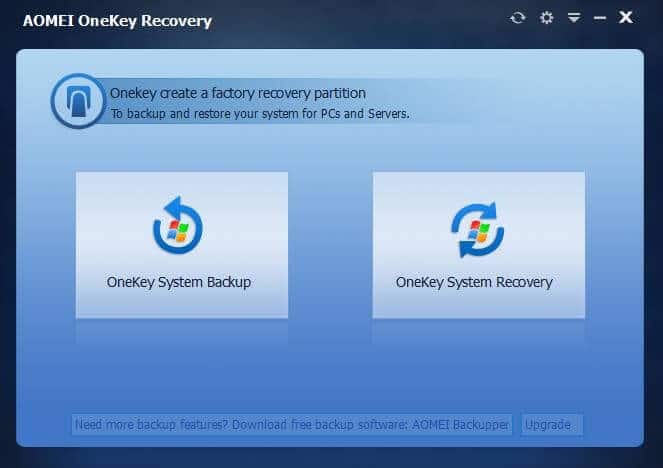 Then you can start to backup your system to AOMEI OneKey Recovery Partition – system backup image file will be saved on system disk. It requires that system disk has enough free disk space to store it.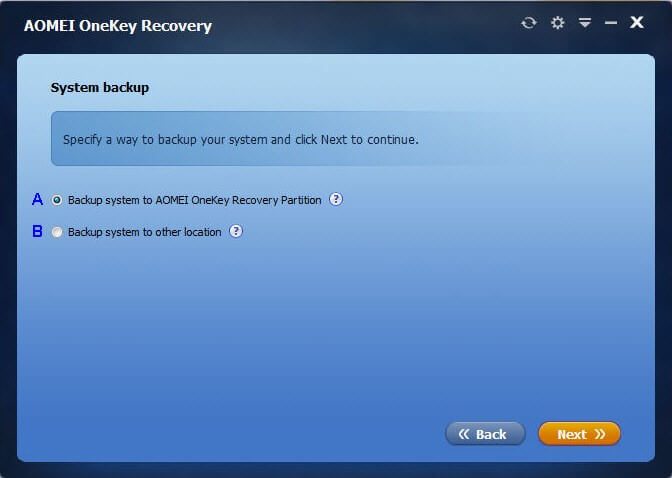 Here you can select one of your existing partitions on system disk to divide some space for creating a factory recovery partition, which includes system backup image file and AOMEI OneKey Recovery bootable environment.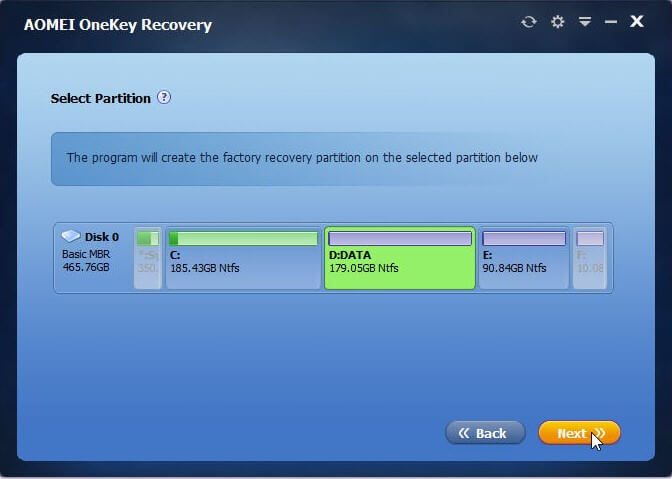 Finally, to confirm the changes, please click "Start Backup" to complete your backup.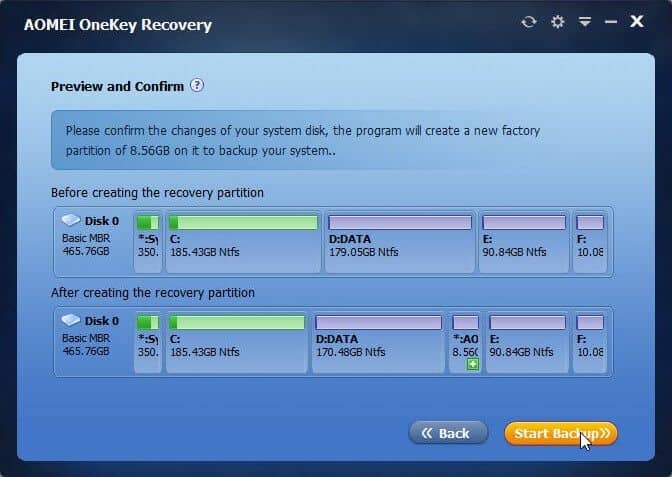 All system backup will be stored in a invisible partition of computer with Onekey Recovery, and you don't have to prepare any other external storage devices. You can backup and restore system anytime and anywhere with OneKey Recovery. The most excited is that Onekey Recovery supports all Windows PC operating systems, including Windows 10, Windows 8.1, Windows 8, Windows 7, Windows Vista, and Windows XP. You can use it to restore the system partition to its original status in case of a system failure. You can't wait to have it installed on your system and start your trip to backup now?