Flexible PDF file editing is nearly impossible as many PDF software support only viewing and minimal editing choices. Most of the time, editing important PDFs might become a troublesome affair for many businesses.
There is a one-stop solution for all PDF problems that lets you edit, read, annotate and convert your PDF. The UPDF from Superace can help you overcome any PDF-related issues without needing to run after additional tools on the internet.
The UPDF software comes with a plethora of options that let you change the entirety of any PDF file quickly. You can edit the text and images attached to the PDF with modifications like cropping, rotating, and resizing.
You will find many such intriguing features provided by the UPDF software that we will discuss more in the Key Features section. Without further delay, let's check out the full features, supported platforms, and complete review of the UPDF. They also provide Black Friday Super Sale for a limited time: 40% off and a bonus gift. Check more details at the end of the article.
UPDF Key Features and Supported Platforms
The UPDF, with its interactive UI, lets you view your PDF documents and edit them with a click. You can rely on the software to read your essential PDFs.
You can sign the PDFs directly on the UPDF software by adding handwritten signatures. The software also supports file conversion, which lets you convert PDF files to Word, Excel, PPT, Images, Text, RTF, HTML, XML, and PDF/A with OCR.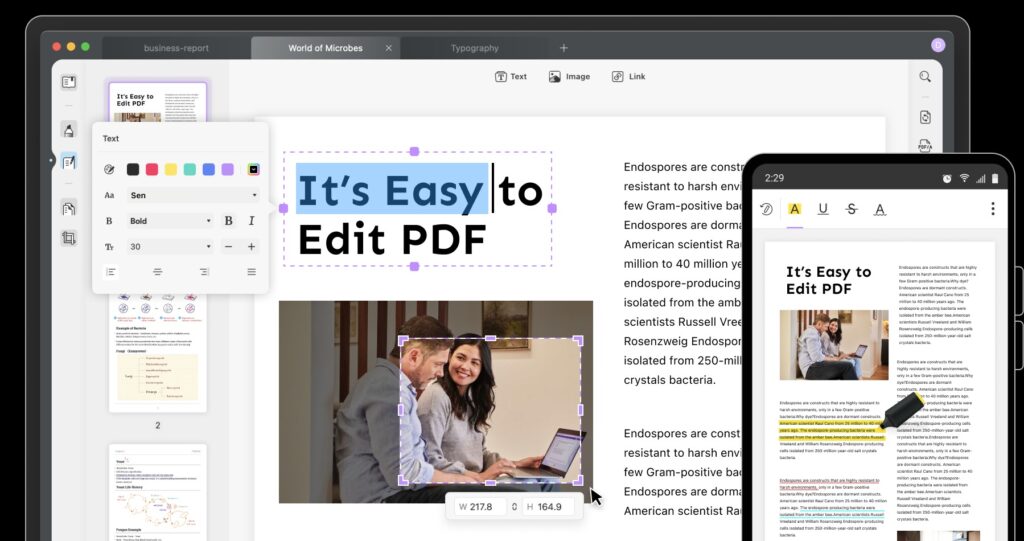 The software supports annotating, where you can easily add highlights, underline, strikethrough, text box, shapes, stamps, stickers, and much more to mark your PDF while reading. The tool's protection feature provides the ability to keep a password for your PDF file.
The most highlighting factor on the UPDF is the OCR which lets you convert scanned or image-based PDF to searchable or editable files. OCR feature in UDF currently supports 38 different languages.
The PDF viewer on the UPDF supports dark mode, which helps reduce strain while watching the screen for long hours. Moreover, you can even change the background of any PDF file to your desired color for more customization.
Key Features of UPDF
Read and Annotate: add highlights, underline, strikethrough, text box, shapes, stamps, stickers, and much more.
Edit text: add, delete or modify text size, font, and color in the PDF file.
Edit image: rotate, resize, crop, insert, or export images in PDF.
Edit pages: rotate, reorder, insert pages, extract pages, and delete or replace pages easily in PDF.

OCR: convert scanned or image-based PDF to searchable or editable files.
Signing on PDFs: easily add handwritten signatures using a trackpad, mouse, or keyboard to your PDF contract or form.
PDF to other file types: PDF to Word, Excel, PPT, Text, RTF, HTML, XML, PDF/A
PDF to Image: PDF to PNG, JPEG, BMP, TIFF, and GIF
Supported Platforms
Operating Systems: Windows 7 or higher; macOS 10,14 or higher; iOS 14.0 or higher; Android 5.0 or higher
UPDF: Review and Salient Features Overview
The UPDF, with its user-friendly interface and no-nonsense installation, makes it unique from other PDF tools on the internet. The official website of UPDF contains the Download button that lets you download the installation package of UPDF. The installation file takes up less than 15MB of your space on your hard disk and gets installed in no time.
The UDF software is available for all operating systems across personal computers and smartphones. You can download and use the UPDF on Windows, macOS, Android, and iOS devices. The user interface on all the platforms comes with simple yet elegant pieces with easy access to all the options in one place.
Viewing PDFs on UPDF
The reading experience on the UPDF tool is phenomenal, with features that enhance it further. The page layout feature lets you open your PDF in a single-page read mode or a two-page view mode for more screen space. Besides, you can turn on the dark mode available on the tool, which aids in having less strain while reading pages.
The tool lets you swiftly go through pages without taking the pain of scrolling endlessly. You can easily Add bookmarks to your PDF and search for specific text across the file. Besides, a multi-tab view keeps all your active PDF files in different tabs across the windows. Moreover, a slideshow mode lets you showcase your file just like a presentation.
Editing PDFs on UPDF
The unique selling point of the UPDF tool is its ability to edit text, images, and links along with watermarks or backgrounds across PDFs. You get a free hand to edit any text in the PDF with modifications like changing the color and font of the text. The editor will even help you to crop, replace and delete images from the particular PDF files.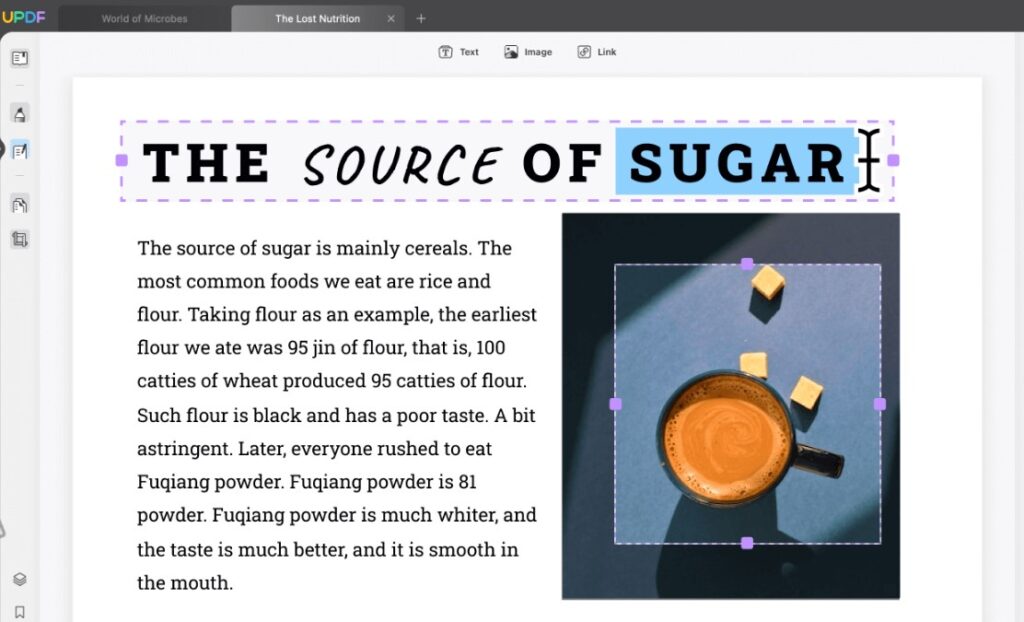 Legal PDFs can easily associate their information, such as links to a webpage or connect pages within a PDF. The tool makes it work using the practical link editing function. Moreover, you can style them to enhance appearances. The Watermark feature lets you add your customized watermarks to the pages; users can even change the background color of the pages on PDF.
Annotator on UPDF
Annotation of PDFs is bliss on UPDF with the ability to share your views with other users. The tool lets you share and comment on the PDF. You can comment using markup features like highlighting, underlining, strikeout text, adding text boxes, and sticky notes. Moreover, 100+ stickers and stamps are available to add to your PDFs.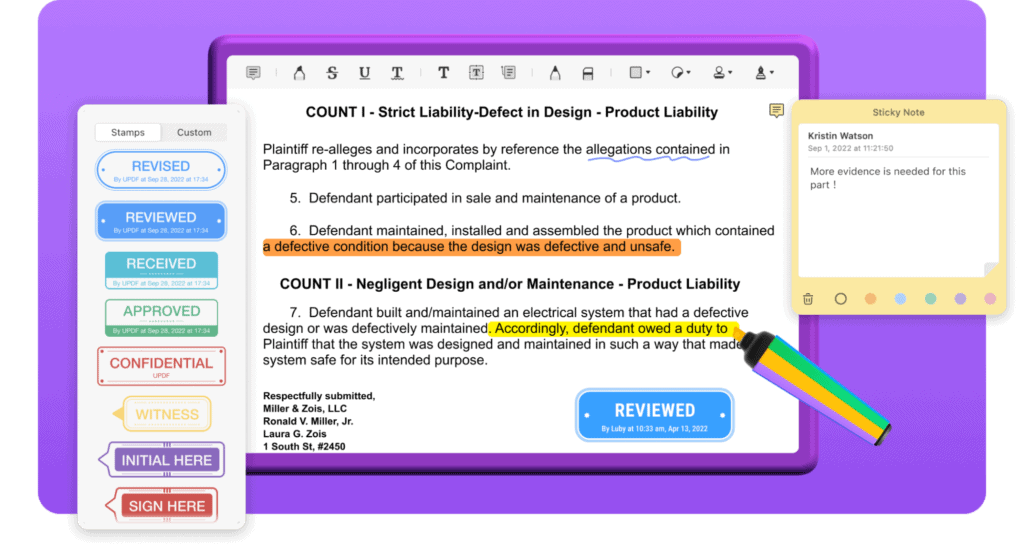 The tool lets you draw a handwritten signature or type in an electronic signature on your PDF files. You can move the signatures from one PDF section to another without fuss. The Annotator features let you add various shapes, such as rectangles, ovals, arrows, and lines. Users can make their customizations by changing their style, thickness, border and fill colors, and opacity of the shapes.
PDF Conversion with OCR
The most sought-after feature of the UPDF is PDF conversion to editable Word documents made possible by OCR. Not only Word, but the tool can also convert PDF files to Excel, PPT, RTF, HTML, XML, and PDF/A. The OCR can not only convert the PDF to text format. It can change the format to images in different file types like PNG, JPEG, and GIF.
The OCR can recognize the scanned PDF versions and gives you accurate files as the tool supports more than 38 languages. The feature helps you turn your scanned non-editable images and PDFs into searchable and editable PDFs. The tool brings our best results with 99% accuracy, compact size files with more quality, and quick processing speeds.
Don't miss the Black Friday Deal
The UPDF tool from Superace lets you easily view, edit, annotate and convert your PDF files with OCR. The tool is one of the best choices you can make in this Black Friday sale, as you get a 40% off on the lifetime purchase of a UPDF subscription until November 30, 2022.
Compared to other PDF software in the market, the UPDF tool offers much more at minimal pricing. There's no better tool currently available online than the UPDF, which can transcend scanned PDFs into editable files.
You can avail of the lifetime license of the UPDF tool at $41.99 with a bonus gift – a lifetime license of PDF Password Remover Tool and a one-year's license at $29.99 with a bonus 6-month subscription(You will get 18 months for an annual subscription).