Have you ever come across a situation where you forgot iPhone passcode? Or, do you know someone who lost iPhone passcode? Are you looking for a way to unlock the iPhone without a password?
You are at the right place! Dr. Fone software can help you unlock the iPhone and regain control of your device.
It is human nature to forget passwords of lock screens and accounts. And especially these days when you must remember hundreds of usernames, passwords, pin codes, and security keys. Moreover, some of these security keys need to be changed at regular intervals, making things worse for users.
There are often situations where you need to use your phone immediately and if you forgot iPhone passcode and had no means to unlock iPhone, the situation could turn into a nightmare.
Typically, users in such situations where they forgot iPhone passcode, end up going to the Apple store or any other repair shop in their area. Consequently, they end up being overcharged for a simple procedure of unlocking an iPhone that generally takes only a few minutes if you have the right tools.
It is also possible that users do not have any such support infrastructure nearby, where they could go to receive recovery services. Even if customers can access such services, paying for them can become an issue. They charge a hefty amount to unlock iPhone without a password.
This is where Dr. Fone comes in. It is a software solution that helps deal with a variety of mobile device-related issues. Some of these issues include phone software repair, backup, and unlock iPhone without password, to name a few. No prior technical knowledge is required to use this application to unlock the iPhone.
This software enables its users to unlock the iPhone without a password within a few minutes. The software is a lifesaver for those who often forget their security code or have many phones and are just not able to remember all their passcodes.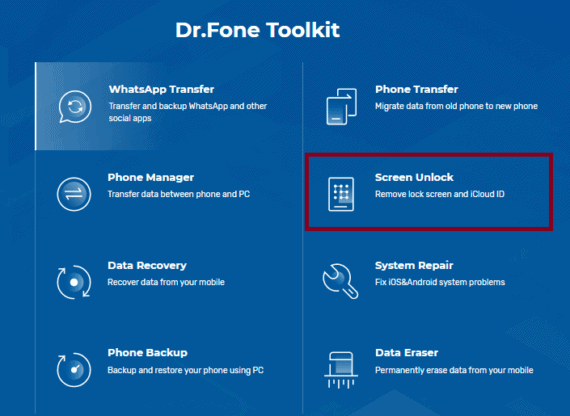 Many users have a spare phone that they use from time to time. Thus, it is possible to forget the security that was set on the phone if it has not been used in a while. And such a situation can repeatedly occur with someone who uses many phones or is in a very technical field of work.
Users are often under the impression that only an authorized service center has the authority and the capability of restoring an iPhone without the passcode. But that is not true anymore. There is not much awareness out in the market about other solutions available to fix such issues. And that is what most of the service centers want too.
Dr. Fone is easy to use and can be downloaded from their website. It is available for Windows as well as macOS. The installation is fast and straightforward.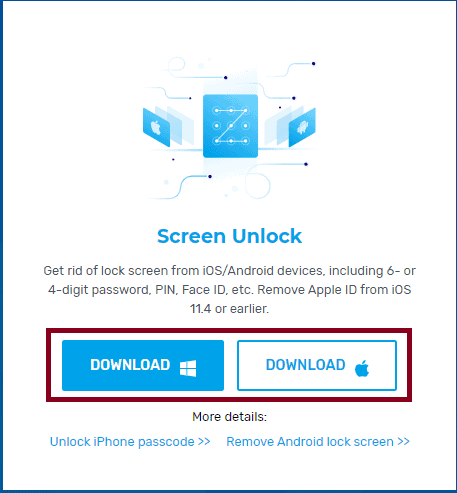 Now let us see how we can use the Dr. Fone toolkit to unlock iPhone without a password. Firstly you need to download the application from their website and launch it on your computer.
Download Dr. Fone – Screen Unlock (iOS)
Steps to unlock iPhone without Passcode
Users must know that following these steps will erase entire data on the device. There is no way to bypass the security of an iPhone and access the information on the device. However, if you are at a point where you have lost your passcode, resetting your phone is probably your best bet. So, here are the detailed steps to reset and unlock the iPhone without knowing the lock screen password:
Launch Dr. Fone software either on your Mac or Windows and select the "Unlock iPhone" option from its dashboard.

Connect your iPhone to your computer using a lightning cable and choose the "Unlock iOS Screen" option


You need to now put your iPhone on Recovery mode. The method to enter the recovery mode varies with iPhone models.For iPhone 6S or earlier, ensure that you are running iTunes and the device is turned off. Connect the iPhone to the computer using lightning cable and press and hold both power and home buttons simultaneously. Release both buttons when you see the iTunes logo on the screen.

For iPhone 7 and iPhone 7 Plus, make sure you are running iTunes, and the device is off. You can enter recovery mode by connecting the iPhone to the computer using a lightning cable and press and holding the volume down and power buttons simultaneously. Release the keys when you see the iTunes logo on the screen.
In iPhone 8 and above, ensure that the phone is turned off, iTunes is running on the computer, and the phone is connected to it. Then press the volume up button and quickly press the volume down button followed by pressing and holding the power button. When you see the Apple logo continue to press the button for a while longer till you see the recovery-mode screen.

If you cannot enter the recovery mode, you need to enter the DFU mode. Click on the option at the bottom left to learn how to put your device into DFU mode.To put your iPhone in DFU mode, ensure your device is turned off, connected to your computer, and the computer is running iTunes. Next, press the power key for three seconds. Then, while still holding the power button, press the volume down button and hold on to these two buttons for 10 seconds.
Now, release the power key while continuing to hold the volume down button for another 5 seconds and then release it. If you see the Apple logo at any point, restart the process.
Confirm the information and details of your device. If incorrect, you can choose the correct description from the list. Then click on the

download

button.

Once the download is complete, click on "Unlock Now" to begin the unlock process.

Wait a while for the process to complete. Once the unlock is complete your phone is ready to use.

If these steps are followed correctly, the phone should be ready to use once again. The iPhone should feel as good as new provided the hardware is in good condition.
You can begin to use the phone normally and without any issues. The whole process will take only a few minutes. It will save you much money and the mental harassment of dealing with service staff looking for an excuse to overcharge you.
Thanks to Dr. Fone, you can now take the liberty to forget iPhone password without worrying about any consequences.
Conclusion
Dr. Fone is a very useful tool for users heavily invested in the Apple ecosystem. I can save a lot of money and effort for those looking to unlock iPhone without passcode. The only drawback of this tool is loss of data. If you maintain regular backups of your smartphone, then it will be not a problem for you.
This software is one step closer to empower iPhone users and prevent them from being harassed and overcharged by store owners for basic functions.