Let me guess what happened this evening. Did your kiddo just hide his/her smartphone alarmingly, once you returned home? Or refused to share his/her phone upon asking? The digital world is growing rapidly, bringing us modern ways of staying connected, and our kiddos are the Picasso of it, knowing every little tip and trick of getting things done.
Even I have been learning from my 12-year-old kid, seeking her help whenever something's not working. But while the benefits seem endless, so do its threats. We never know whom our kids are chatting with, or what sites they are browsing. Being an attentive parent, such concerns often bug me, and I'm pretty sure, they are daunting you too.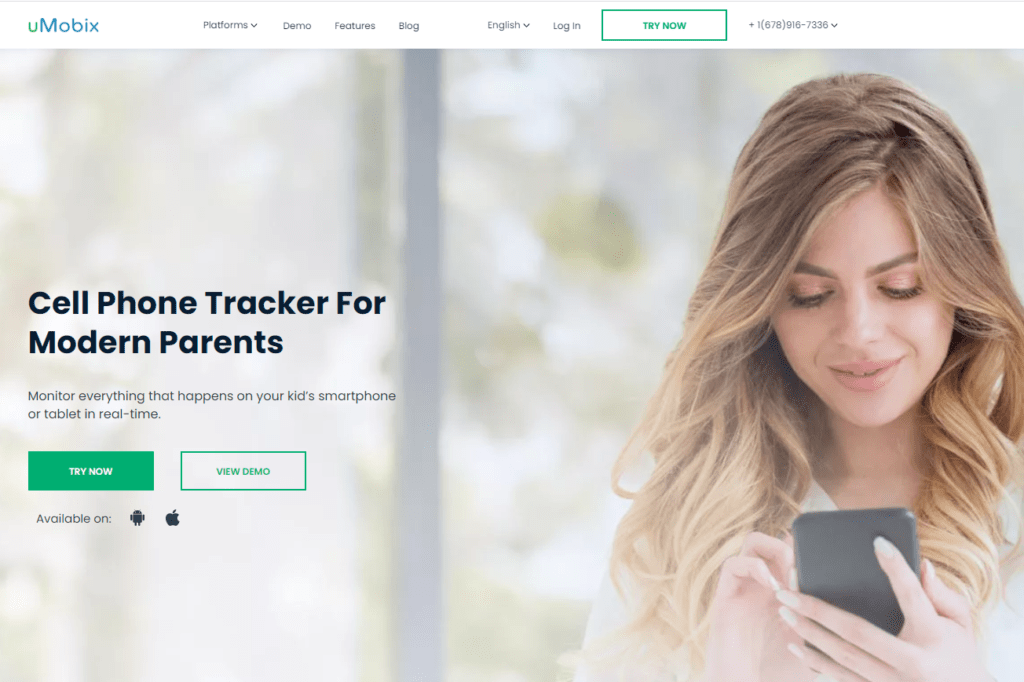 Relax! While the risks associated with the virtual world are our concerns, it is the solution. I recently noticed my daughter is too conservative about sharing her phone. So I asked myself how can I monitor the ins-and-outs of her phone without her even noticing.
Luckily, with some help from Google, I came across uMobix, an effective surveillance app, catered towards monitoring everything in-and-out of your kiddo's phone. That was an ultimate relief for me! So, I immediately visited uMobix, tried uMobix demo for free, and started using it. For the last six months, I have been using uMobix for tracking the ins-and-outs of my daughter's phone, and here's my full uMobix review.
An Introduction to uMobix
Before we discuss how you can install and deploy uMobix's monitoring service on your kid's phone, let's have some quick introduction of what uMobix actually is, what are its benefits, and how it stands out from the competition.
As you might have already guessed, uMobix is an effective surveillance service for monitoring and logging every incoming and outgoing of your child's smartphone. And that too, without your kiddo ever noticing it! Although the service is paid, there's an absolute suite of resources, engineered towards each concern that might be bugging you.
Let's start with its call tracker. Not only it logs each and every incoming and outgoing call on your child's phone, but also displays its number, monitor its time and duration, and lets you see whether the number is already saved or not.
The feature-set doesn't end here, with the developers of uMobix promised of bringing call recording features, making it an out-and-out solution for monitoring every call. On the other hand, uMobix is also apt for tracking the real-time location of your child's whereabouts, giving you ultimate peace-of-mind whenever your kid is out in the urban.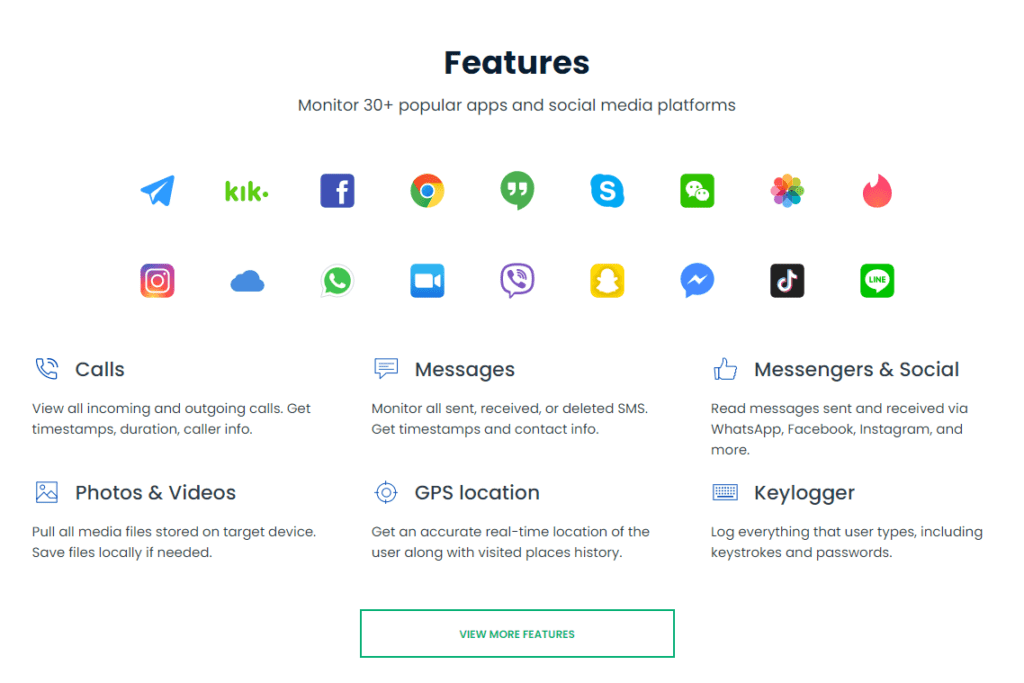 The list of features in uMobix is so extensive that I couldn't fit everything in paragraphs. So, here all the snoopy stuff by which uMobix can surveil on your child's smartphone, without them ever noticing or suspecting of your snooping.
Features Of uMobix
1. Call History Tracking
Call history is one of the most, if not the most, concerning aspects for parents. With uMobix, not only you can track every incoming, outgoing, and missed call, but also access deleted call records, with numbers, exact time, and call duration. Everything automatically gets logs into the uMobix dashboard for your peace-of-mind.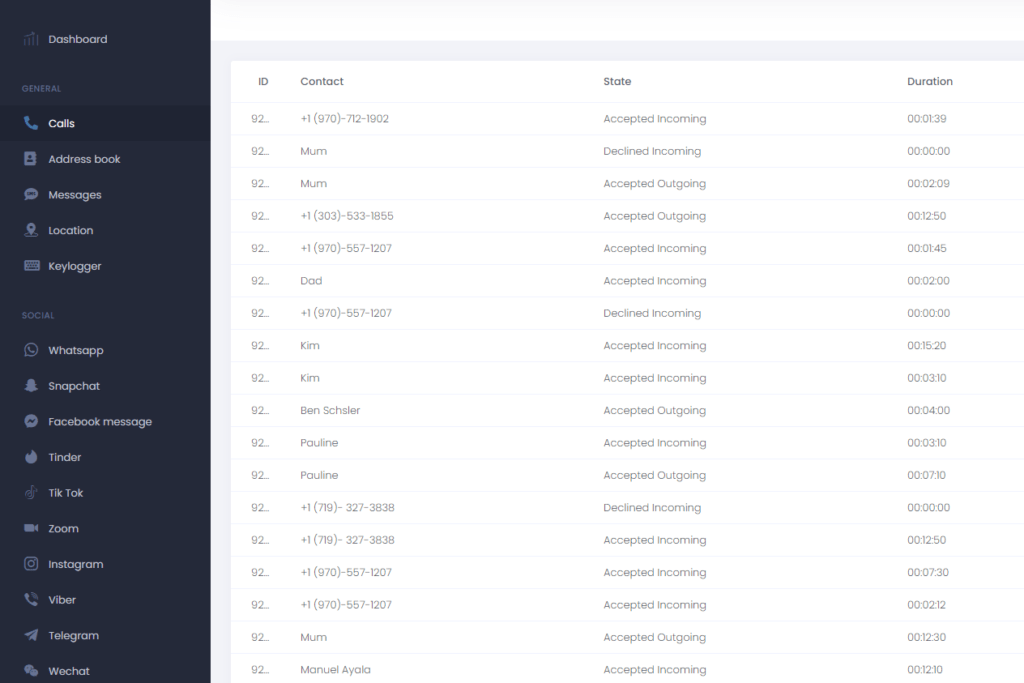 2. Text Message Tracking
Accompanying its call history tracking, the SMS logger helps you read incoming and outgoing text messages, letting you understand the complete picture. Whether it's an SMS from his/her classmate, an unknown number, or even promotional and service messages, uMobix monitors, logs, and pirates each SMS to your dashboard.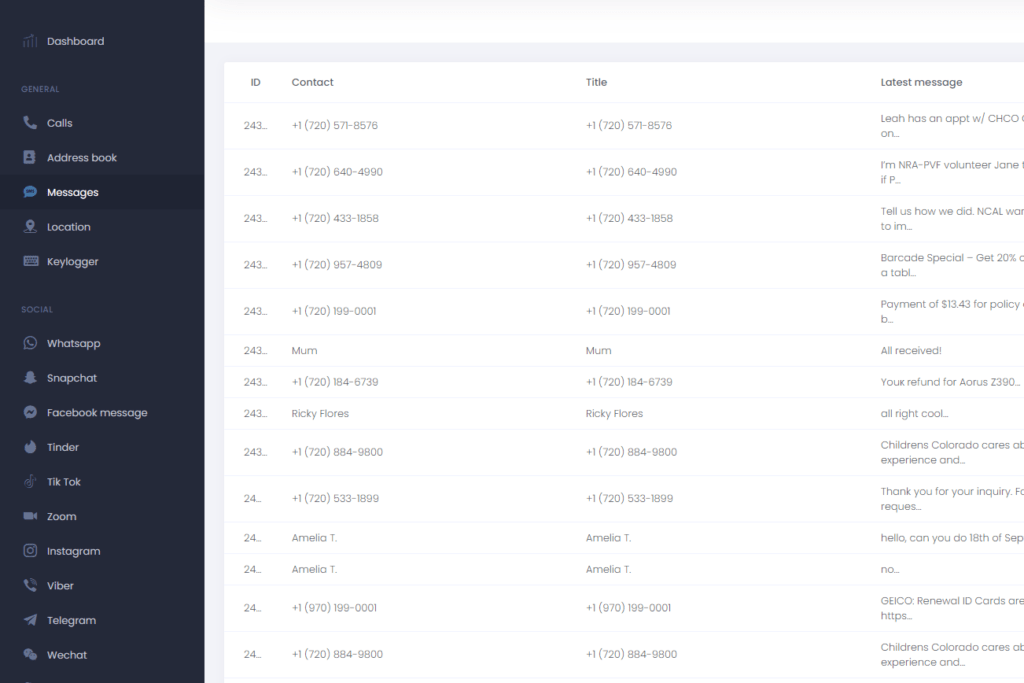 What content your child enjoys on Facebook, which videos he/she watched on YouTube, who follows him/her on Instagram, and with whom he/she chats on Tinder are few things concerning every caring parent. Relax! With uMobix, now you can expand your Sherlockey instincts and keep every SMS and message checked.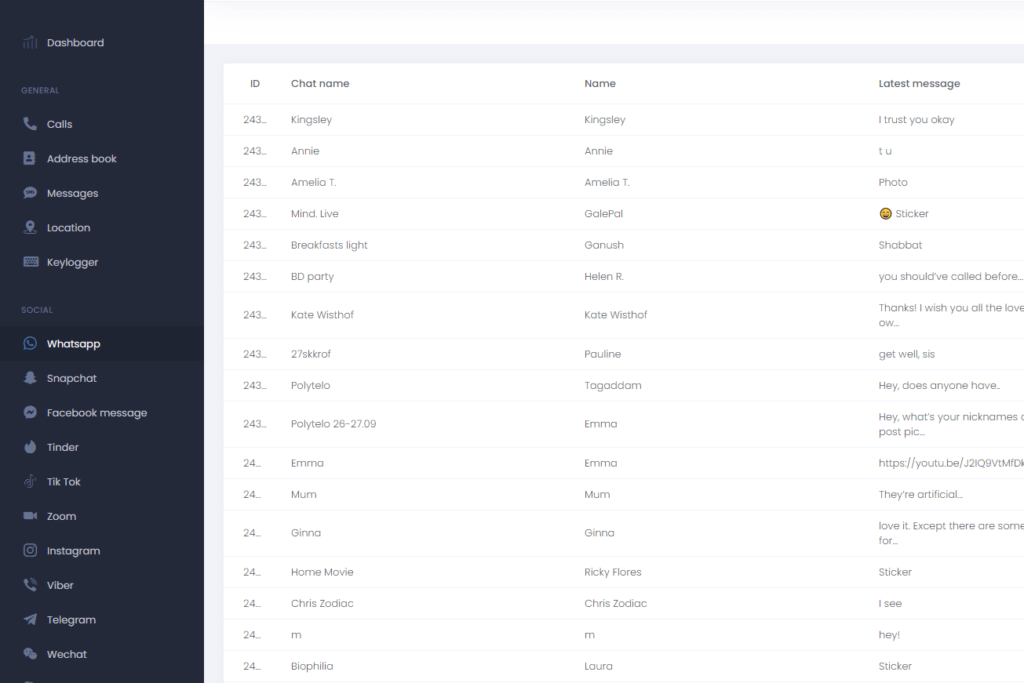 4. GPS Tracking
This feature will benefit you the most if you are not sure whether your kiddo is attending or bunking classes. No matter where your kid is roaming around in the urban, or whether location services on his/her smartphone are turned on or off, uMobix can track, log and transmit real-time location information with great precision.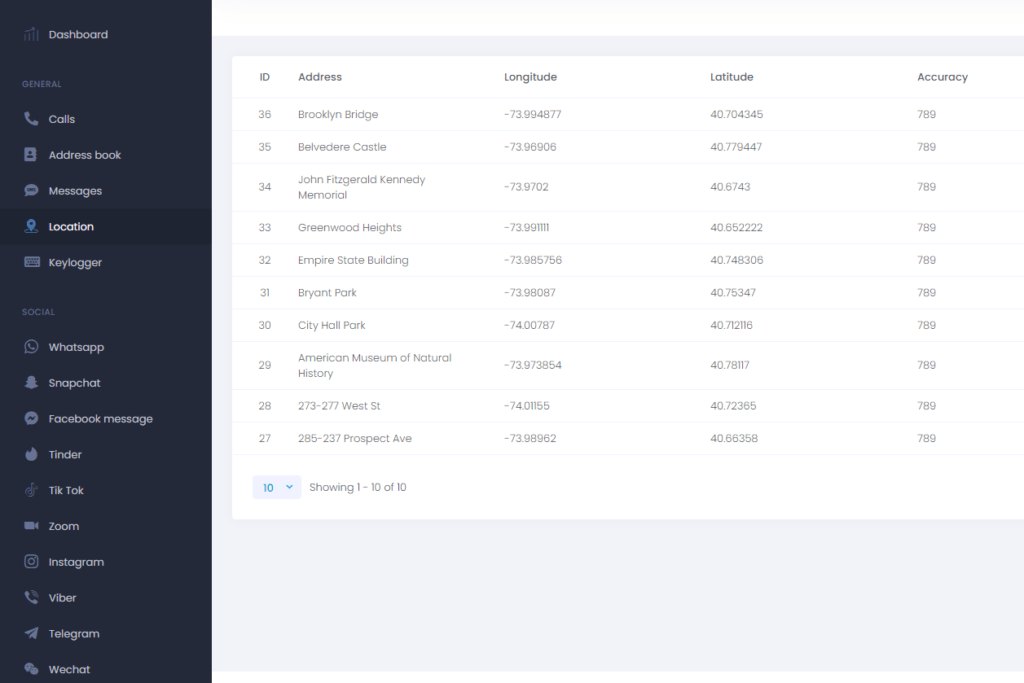 5. Keylogger
Many parents might not have thought of this, but keyboards are quite advantageous while snooping on your kids. Whether something is being typed and searched on the browser, somebody being texted, or even what notes are being jotted down, can be logged effortlessly using the Keyboard Logger feature on the uMobix dashboard.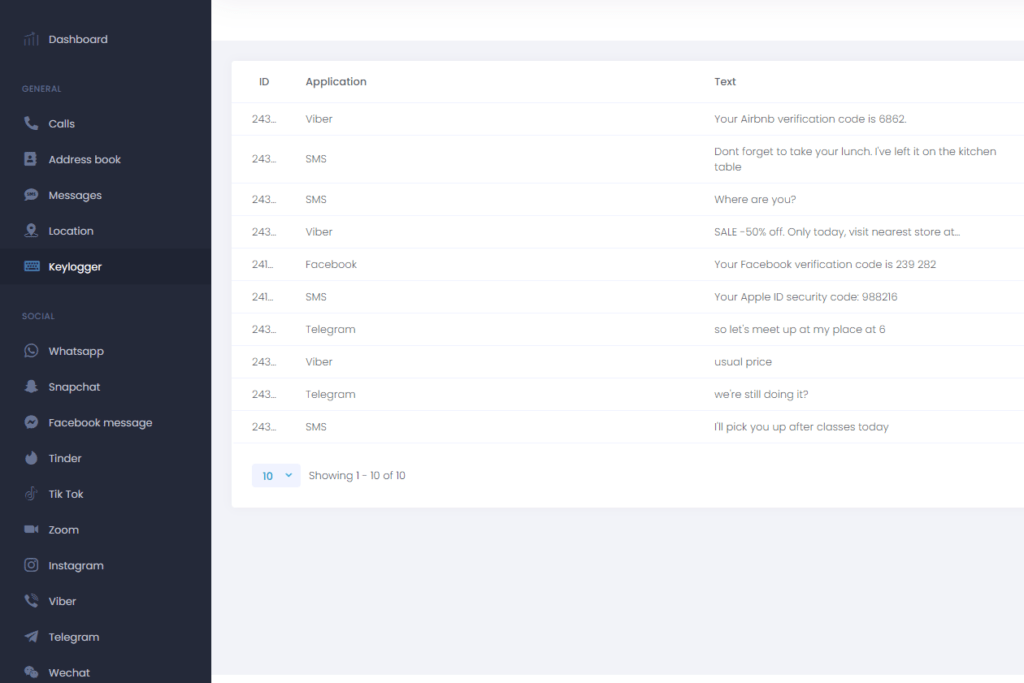 6. Photo/Video Gallery
If your kiddos are enjoying in the theatres by bunking school, at least they would have taken one selfie with their gang. Well, uMobix has got you covered with its Gallery Viewer, sharing media files on your child's gallery with location information. Now you can snoop on your kid well ahead before he/she uploads it on Instagram.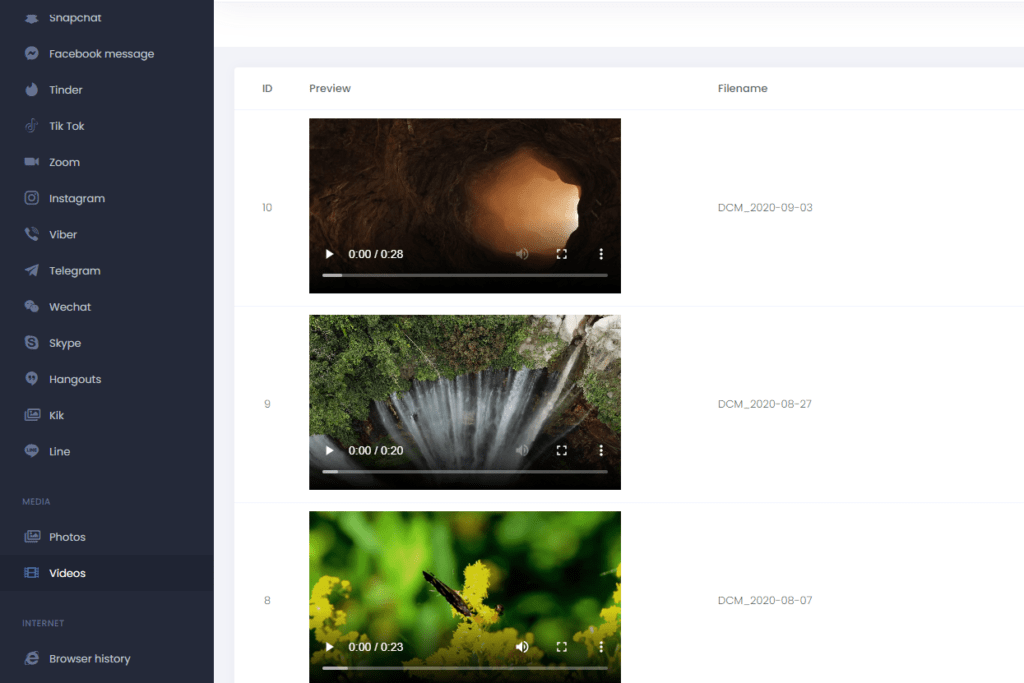 7. Browser History Logging
That finally leads us towards browser history. The internet is filled with content, both good and evil. If you are concerned about what info your child is accessing on the internet, utilize the benefits of browser history logging, and see what was his/her Google search, what websites he/she visited, and what he/she downloaded.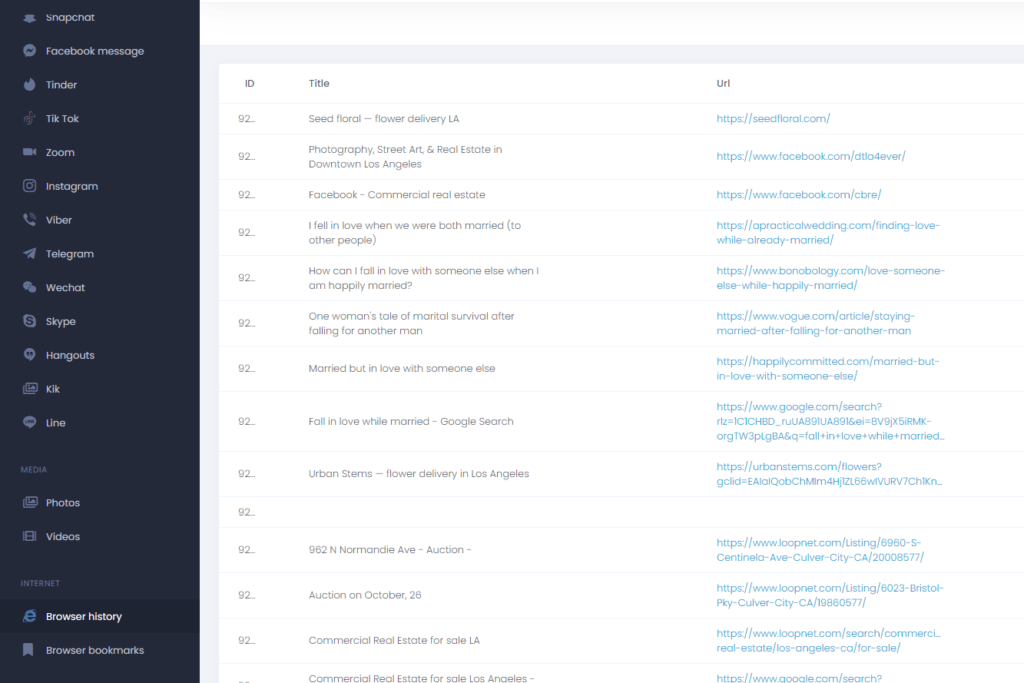 Pros and Cons of uMobix
| Pros | Cons |
| --- | --- |
| Out-and-out monitoring with timely logs | Limited features on the Basic tier |
| Can snoop on every social and messaging app | One subscription is limited to only one device |
| Detailed summary reports on location, calls, and texts | Lacks optimizations on iOS with complex installation |
| Stealth spying without your child ever suspecting | Quite expensive for the majority |
Getting Started With uMobix
Now that you know how uMobix can provide conservative parents with out-and-out monitoring and peace-of-mind, let's understand how you can configure uMobix and install its app on your child's smartphone without them knowing. Read through and execute the following instructions and I will be walking you through the full installation guide.
Step 1: Signing up on uMobix and getting your license
Visit uMobix and get yourself an account by clicking on Try Now and choosing either an annual or monthly package. Once you have signed up, uMobix will send you an email containing the complete procedure of installing the app.
Step 2: Get the uMobix mobile app installed on your target device
Installing the uMobix app slightly varies across Android and iOS. For installing uMobix for Android, visit the link contained in the email and download the APK. Now, install the APK after enabling "Unknown Sources" from Play Protect.
Similarly, if your kiddo is rocking an iPhone, you must know its Apple credential. The moment you register your kid's iPhone, it will send an email containing information for completing the installation of uMobix on iOS.
Step 3: Complete installation and configure uMobix
Once the installation is complete, open the app, configure it with your credentials, and done, it will immediately show up on the uMobix dashboard. But before you start using uMobix, be sure to allow necessary permissions like the dialer, storage, and location and disable any battery optimization running on the device.
Once everything goes as intended, uMobix will start monitoring and logging every byte of information going in-and-out of your kid's smartphone.
uMobix Pricing – Deploy Complete Monitoring With As Little Investment
With its customizable and affordable pricing packages, you can have ultimate peace-of-mind while your kids are out. Starting from just $14.99/month, uMobix offers its out-and-out suite of monitoring with every feature unlocked.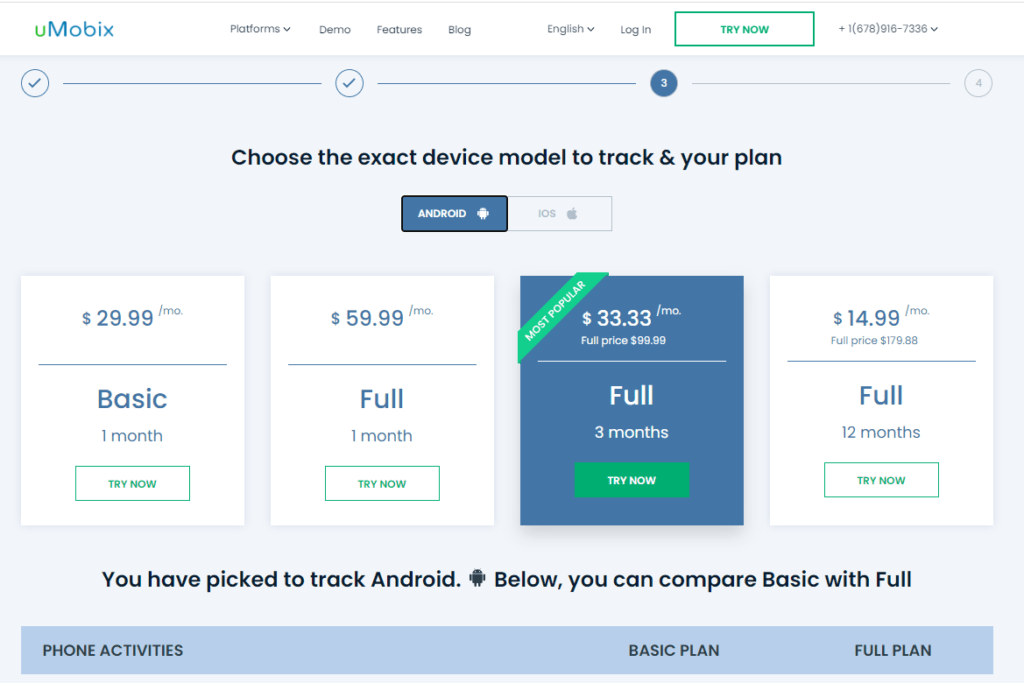 $29.99/m
$59.99/m
$33.33/m
$14.99/m
Basic – 1 Month
Full – 1 Month
3 Months Full
Full – 12 Months
Call history tracking

SMS monitoring

Browser history

Location Tracking

No social media tracking.

No keyboard logger.

All Features
Full Features
All Features
Frequently Asked Questions
Can my child see uMobix on his/her smartphone?
Once you configure and deploy uMobix, its app icon will automatically be hidden from the home screen, app drawer, and even from the application manager. Rest assured that your child is ever noticing you are Sherlocking on him/her.
How can I spy on an Android phone for free?
Once you type the same question on Google, you will discover dozens of apps, on both Android and iOS, capable of monitoring and logging every activity on your target device. However such free apps often have limited functionality.
Can uMobix track the real-time location of my child?
Yes, uMobix can track the real-time location of your child's smartphone and help you know their exact whereabouts. Even if location services are turned off, it can accurately pinpoint your child's location from nearby cell towers.
Concluding Notes – Should You Choose uMobix?
While uMobix still remains one of the best apps in parental controls, I would prefer its packages to be more affordable for parents who are concerned and are looking for an affordable, yet potent tracking app.
My personal experience has been mixed with its out-and-out suite of parental control being essential for my relief, with its pricing bugging me every time I renew my subscription.
So, the final question remains, is it an appropriate choice for you?
Definitely! With its extensive list of monitoring and logging features, uMobix is top-notch and can thump out the competition with more features being added. That makes uMobix my #1 solution as an attentive, caring, and affectionate parent.
Cons
Limited features on the Basic tier
One subscription is limited to only one device
Lacks optimizations on iOS with complex installation
Quite expensive for the majority
Did your kiddo just hide his/her smartphone alarmingly, once you returned home? Or refused to share his/her phone upon asking? You definitely need this app to monitor your kid's activity.