We face stutter on almost every official social networking app. The scene gets even worse when you have a slow data connection. For the same reason, Facebook launched a lite version of their mobile app a couple of years ago. Microsoft also launched Skype Lite in March 2017.
Twitter is new to come up with a lite version for the mobile devices. But you may get surprised to know that they went for a lite web version rather than an app.
Twitter Releases Lite Web Version for Mobiles in India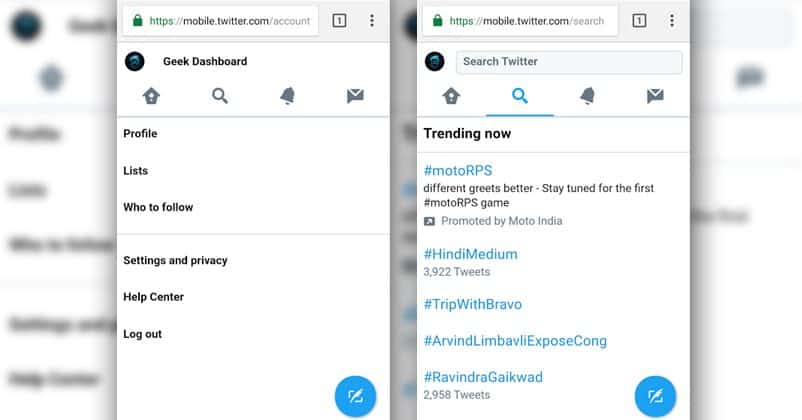 The data consumption of social networking applications is always a concern for those who use metered mobile connections. I have seen many people complaining about how Facebook burns up their data quota. Same is the case with Twitter as well.
That's why they are launching a lite version. Being among the top five audience markets globally, India is their first choice to launch their service. The company also added that the lite version aims at nations other than the US.
So, how can you use the Twitter Lite? As stated earlier, you don't have to install a new app for this. All you need to do is visiting mobile.twitter.com. According to the official claims, the lite version uses 70% fewer data and works 30% faster.
You can use the service in 42 different languages. And, the number of Indian languages is six (Hindi, Tamil, Bengali, Kannada, Gujarati, and Marathi) now. They may expand the list later.
At this moment, you can access the lite Twitter website from India only. They will launch it soon in Philippines and Indonesia.
Twitter has about 319 million global users. As they don't reveal country-specific figures, we are unable to find out the number of Indian users.
Also Read:- [Solved] An error occurred while Internet Connection Sharing was enabled
We had seen some news of Twitter, going through some adversities. But according to Twitter Managing Director Asia Pacific Maya Hari, the company is growing in India (at least). That's why the hiring process has been seamlessly going on.
For getting a steep growth and keep it steady, the company has decided to focus on four pillars; sports, government, entertainment, and news. As the first step, they have released emojis of twenty players on the opening day of IPL. You can post them by typing the name of the player after a hashtag (#).
Twitter is targeting the massive 1.3 billion Indian people. Given that people use Twitter for cricket-related interactions due to its chronological timeline, the company believes they can turn the sport into their advantage.