Twitter Blue: A new subscription feature and in-app purchasing option spotted on App Store. The platform is planning for a plethora of features in the Blue subscription.
Some of the mentioned features are Undo Tweets, Read Mode, and a few ways to customize your timeline. Moreover, Twitter is placing its bets on many other features by making monetization strategies for content creators.
Recently, we have seen a feature introduced on the platform called Spaces. The Twitter Spaces feature is very similar to the Clubhouse application that solely works as a voice chat platform. Besides, the social media platform, Twitter has even monetized the Spaces.
The listener has to pay an amount to the host for entering the Spaces to indulge in these conversations. The feature is free to use as of now and many users are already having meaningful conversations on the Spaces.
Twitter Blue and its Upcoming Subscription Features
The reverse engineer Jane Manchun Wong revealed the main highlighting features in her Tweets. The features are Undo Tweets and Collections options for Twitter Blue.
Apart from these, other new customizable options can change your Theme color of the timeline and the color of the App icon. The tweets have even revealed the price of the subscription as well as the new Reading Mode that may arrive soon on the platform.
Previously, Jack Dorsey, Twitter Co-Founder has made their thoughts clear that they will not bring an Edit Button for the tweets. Now, instead of that, they have brought in an Undo Tweet feature for the users.
This feature will give a time countdown for Undo your tweets before posting them on the platform. Furthermore, there is a new feature right around the corner to make an entry called "Super Follows".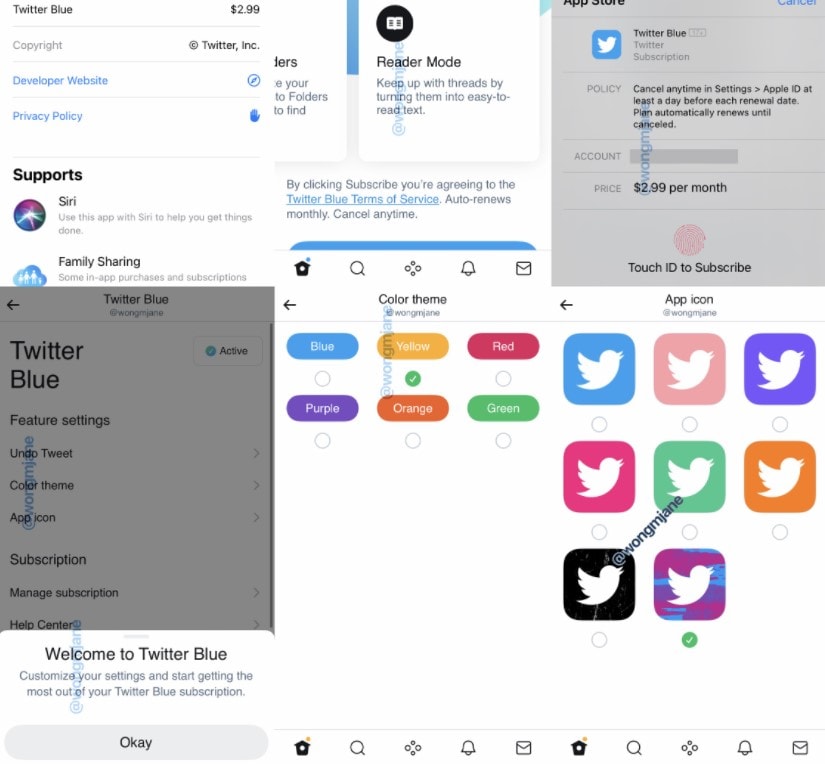 The "Super Follows" feature coming on Twitter Blue draws inspiration from another successful platform called OnlyFans as per some reports.
The feature will allow users to access content from exclusive tweets to audio conversations and even paid newsletters from their favorite celebrities or public personality. The creator or independent journalist, or celebrity can charge people to access select paid content on the platform.
The Super Follows feature may arrive first to the US initially and eventually may expand its support in other countries as well. Coming to the Newsletters on Twitter, the platform has bought a newsletter startup Revue in January. The idea for the platform is to connect writers with their subscribers, while also helping readers better discover writers and their content.