Who likes talking to random unknown people, especially ones who call you up on your phone and trouble you incessantly? They could be trying to scam you and these fraudulent callers have cost over a billion dollars to average Americans in 2017 alone. Researchers estimate that over 45% of the calls made in 2019 will be by fraudsters trying to trick people.
This brings up the question, in this era of rampant frauds, how can you be safe? When you receive any unknown calls you can simply choose to ignore them.
But, what if it is a potential employer? Or an old friend who is trying to reconnect? This is where services that offer a reverse lookup come in handy.
Trucaller has been the most popular and widely loved universal reverse phone lookup directory but lately with the allegations of collecting personal data, unwanted permissions and number of features being built into the app has made Truecaller highly resource intensive which is why in this article we will be taking a look at the best Truecaller alternatives that you can use to find out who is calling you from unknown numbers.
Top Truecaller Alternatives which Offer Reverse Phone Lookup
Truecall overtime modified its Terms of Service which allowed the app to collect too much personal data. Not everyone is comfortable sharing vast amounts of private information with a 3rd party app only to have access to phone number lookup feature. So this is the list of the best Truecaller alternatives you can use to look up phone numbers online:
1. Hiya – Caller ID & Block
Hiya, similar to Truecaller allows you to identify who is calling, look up numbers which may have called you in the past or block unwanted spam calls and messages automatically. The application has a very pleasing user interface and the best part about the app is that it is advertisement free which improves the overall experience of the app.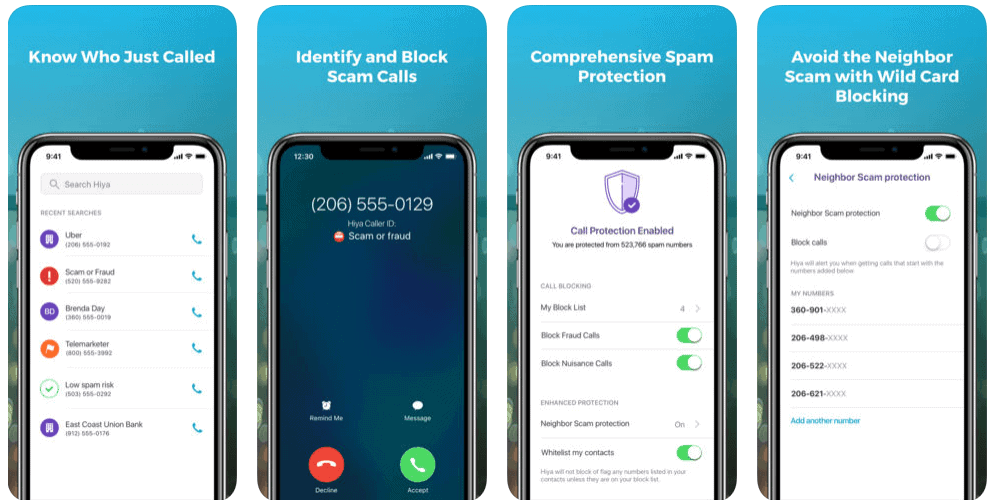 For most of the other apps on this list, the user has to either pay a subscription or deal with heavy advertisements but Hiya eliminates both of these and gives you a totally free high-quality service. The App is available for Android and iPhones and you can download from the respective apps stores or from the links below.
Download on Google Play
Download from App Store
2. Showcaller – Caller ID, True Call & Call Blocker
A lightweight alternative to Truecaller, Showcaller is only 4 MB in size which makes it one of the better alternatives of Truecaller for devices which don't have a lot of extra resources to spare. The key USP of the app is its ability to record calls, identify unknown numbers, display caller ID when you get a call and the ability to do all of this online thanks to its offline database.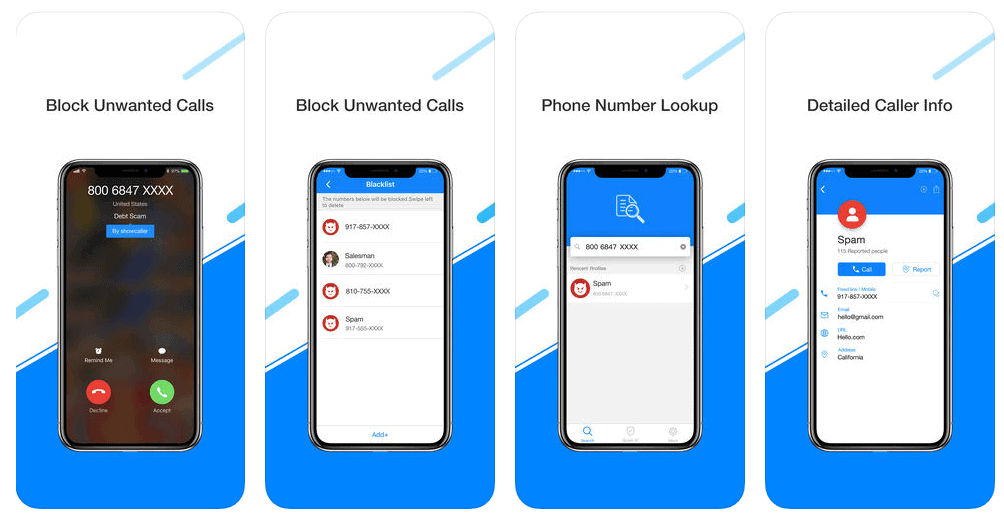 Showcaller is also excellent at identifying and blocking any kind of spammy and fraudulent calls or messages. It does all of these while being light on the battery. Generally, call lookup apps eat up a lot of battery but Showcaller is one of the rare ones which doesn't impact your battery performance even when it is running. The app itself is free to use but it makes revenue by serving the users with advertisements which can be removed via in-app purchases. Showcaller can be downloaded from the links below or from the Play store / App store.
Download on Google Play
Download from App Store
3. National Cellular Directory
If your only purpose of using Truecaller is to figure out who is behind the unknown phone number that is calling you and you don't want to install an additional application on your cell phone then the White Pages Reverse Lookup is your answer.

This service allows you to look up for any phone number and find out the person behind the number using any of the popular web browsers, their aim is to save the users from online frauds. Their report is quite in-depth and helps you stay safe and also make better decisions by allowing you to choose who's call or message you receive and who do you block outright. Since it is a web application, it runs on browser irrespective of operating system and device.
Visit White Pages Reverse Lookup
4. Whoscall – Caller ID and Block App
With over 70 million installs Whoscall is the closest Truecaller alternative in terms of userbase. Whoscall has a repository of over a billion users so finding the person who has been calling you from unknown numbers is a cake walk for the app. Similar to Showcaller, Whoscall also has an offline database which recognizes who is calling you even when you aren't connected to the internet.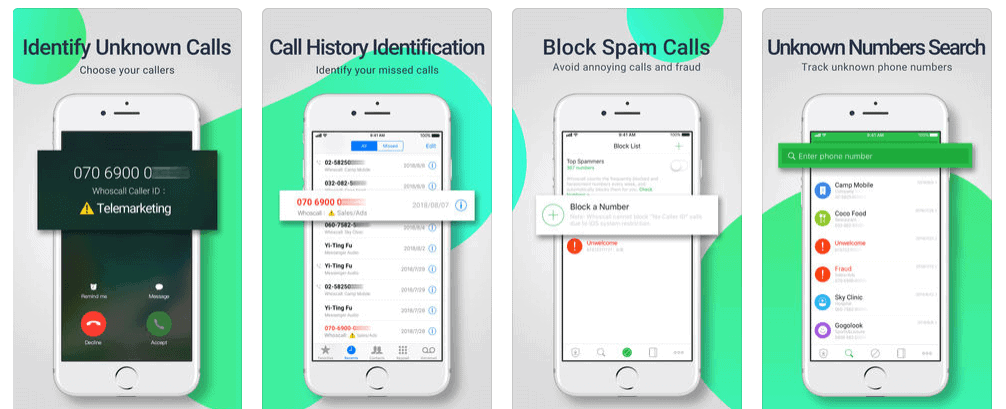 The app has all the standard features such as the ability to recognize spam calls and block them, block specific numbers who may have been troubling you, tracking phone numbers which may be pestering you and more. This one is the closest alternative to Truecaller and we do recommend it. The app is free to use with advertisements or you can pay in-app to get a subscription and remove adverts.
Download on Google Play
Download from App Store
5. Mr. Number-Block calls & Spam
Mr. Number, quite an eccentric name for a number lookup and spam blocker app, is one of the best-looking apps on our list of Truecaller alternatives. It has a very clean and minimal look to it and does a great job identifying and blocking spam calls as well as identifying unknown callers.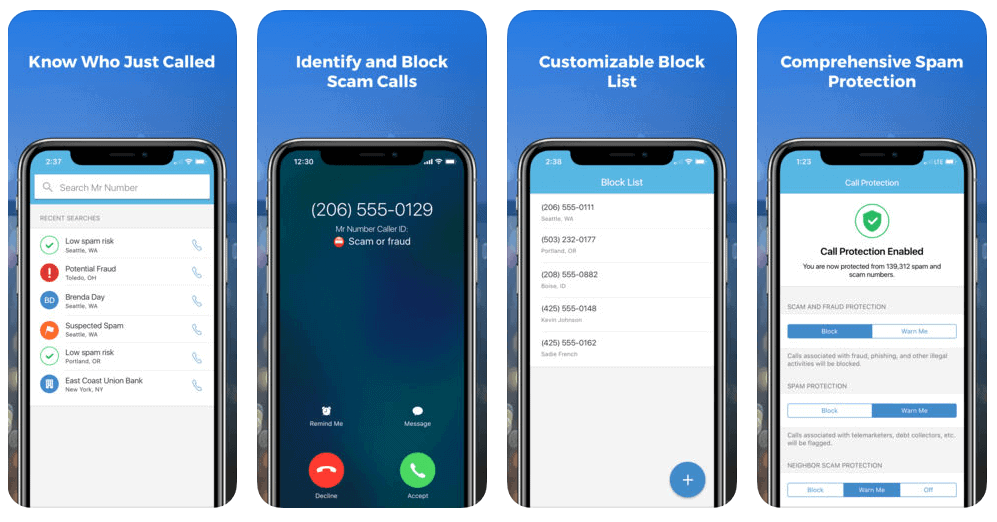 It also works very well when you wish to look up a specific number. You can set certain filters to block calls from a particular person, area or even a whole country. If you have been getting a lot of calls from scammers concentrated in a singular geographic region this app will be like a boon for you. Do give this one a try, highly recommended.
Download on Google Play
Download from App Store
Concluding thoughts
Unknown callers can be troubling and fraudsters are always on the lookout for their next victim, we hope these alternatives for Turecaller helps you recognize who has been calling you and hopefully block them if it is an unwanted caller. Do let us know your thoughts below in the comments.