Truecaller has been evolved as a complete contact solution from only a spam blocking app. A few months ago, we reported they were about to bring the payment sending and receiving capabilities to the platform. Along with the same announcement, they also made it clear that they have partnered with Google Duo to add inbuilt video calling facility.
Truecaller Adds Video Calling from Google Duo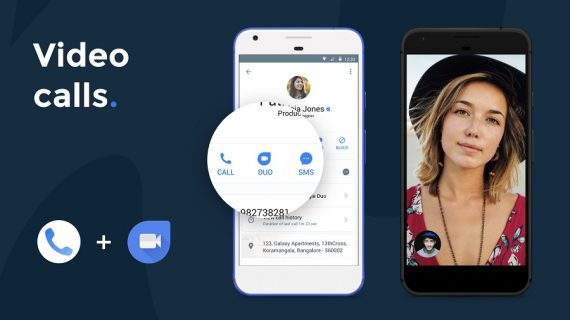 Truecaller is the most popular in India for blocking spam calls and finding unknown numbers. They work in a crowd sourcing way to willingly share the contact details with their server. The update in March already hinted at them trying to be an all-in-one solution for many purposes. Even though their primary focus is on the payment sending and receiving capabilities, they made it possible for the users to video call right from the application.
Truecaller released an update to the application (version 7.70) on Wednesday (26-07-2017) for iPhone that includes the inbuilt video calling facility via Google Duo. We expect it will bring a huge boost in the usage statistics of the video calling application given its inability to defy already established platforms.
You should bear in mind that the facility has only been integrated into iOS and we don't know when it makes its way to Android. Once you update the application, you can see a Duo button right beneath every contact in between voice call and SMS buttons. All you have to do is tap on the button and it will do the rest to contact the person if he/she is active on Duo.
The convoluted fact is it is impossible to use the function if you don't separately install Duo from App Store. Yes, you have to do it manually so that the button on Truecaller would work. For the same reason, the number of installations of the Google's video calling application will certainly get a steep increase.
Also Read:- Google Allo Will Soon Get WhatsApp-like Web Client
On clicking the Duo button, users will see the standalone Google Duo application getting opened. We have our doubts about users going through such a long procedure rather than directly installing the app from the App Store. Truecaller now has over 250 million users and Google hopes they can widen the user base by making use of the huge number.
The payment feature introduced earlier by the application works only in India. And, the Duo integration hasn't yet come to Android. So, we have to wait and see how the integration works for Android users.