How many of you shifting to Android? I know almost all people are shifting to Android, by Google. Do you know why? Mainly because of less cost and more features. Earlier we have to spend $200+ to buy an Android operating system mobile but time has changed a lot. Today I can see Android mobile range starts from $50. Earlier Shop owners boozed about Nokia for their customers for their own profit. As Profits is more in Android mobiles when compared to Nokia, Shop owners started boozing about Android mobiles to uneducated people, which make them to choose Android mobiles without knowing about Android. I'm not criticizing Android, To be frank I too love Android and I started hating Symbian after using Android device. I have seen many people who shifted from Nokia to Samsung, HTC, LG etc which runs on latest Android OS. They feel difficulty while transferring contacts from Nokia to Android. If you're one who failed to move phone contacts form Nokia to Android. then this guide suits perfectly for you.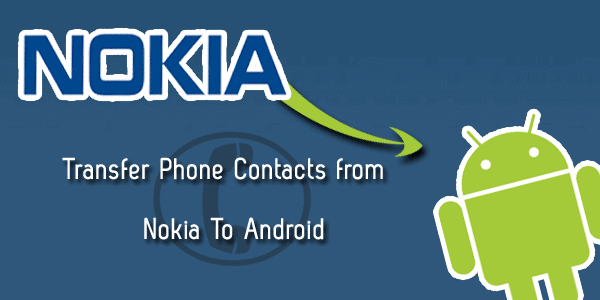 Move Phone Contacts from Nokia To Android
Moving contacts from Nokia to Android is not a hell difficult task, all you need is little concentration while reading this article and basic knowledge about Command prompt (CMD)
Also Read: How to Play Android Games on PC
Apart from concentrating you need some more things as well. Check them below
A Nokia Phone (With USB option of course :P).
USB Cable for both phones (I mean Nokia and Android mobile).
Nokia PC.
PC running on windows OS
Step by Step guide
 Before entering this task, Download Nokia PC Suite and install it on your PC
Create a new folder on any drive say D: in our case and name it something which you can remember for long time (In my case i named it as Contacts).
Then Import all contacts from Nokia mobile using Nokia PC Suite.
Now select one contact, then press Ctrl+A so all contacts get selected.
Here comes the tricky part, open My Computer and open that folder, now drag all the selected contacts to that folder. All contacts will get saved in .vcf format.
Now go to Command Prompt by typing cmd in RUN (For RUN press win+R).
Step 1 on CMD:
Type the drive letter where the conatcs folder is saved in last step with " : " neglecting the quotes. As I have save my contacts in D drive i typed D: Now hit enter to see something like this
Step 2 on CMD:
Now type cd folder name. Replace folder name with the name of the folder you have created earlier.I name my folder as "Contacts". So I will entered cd contacts. I got the following output
Step 3 on Cmd:
This is the important part to transfer contacts from Nokia to Android. You have to type the following:
copy *.vcf allcontacts.vcf
and i got the following output:
Entire work on CMD is completed, now you have to connect to your android mobile via USB.

You'll see a new drive on your computer.
Now go to the folder where all contacts are saved (D:contacts in my case).
Copy the "Allcontacts.vcf" file and paste into the new drive.
Now disconnect the USB device and go to your file manager in your Android mobile.
Click on the Allcontacts.vcf and boom! you will get all your contacts imported soon in seconds
Let us know if you face any difficulty while moving contacts from Nokia to Android. We're always ready to help you. Consider sharing this educational guide all over your social media profiles.