Social media giant Facebook has introduced a new tool to transfer all your Facebook Photos and Videos to Google Photos easily. The tool was first announced back in April 2020 for Canada only, now available globally.
The announcement was made on Thursday 4th June 2o2o, where Facebook opens the tool globally to everyone. Before going globally the tool was available for many countries in Latin America, Asia PacificEropean Union, South East Asia, Africa, and in the United Kingdom.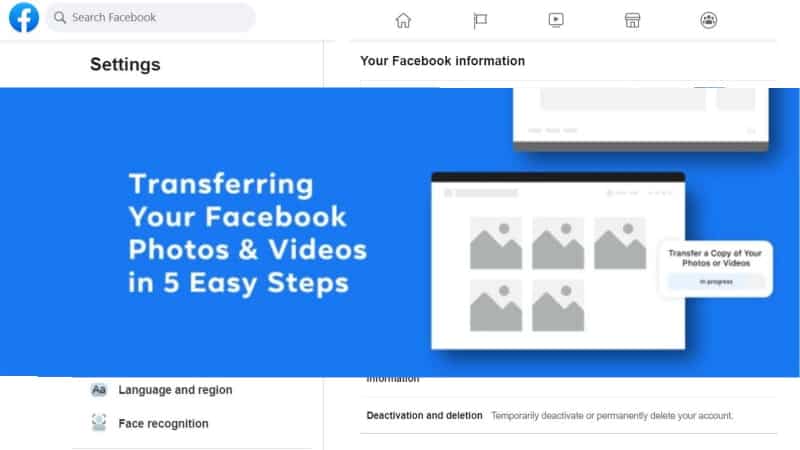 Steps to Export Your Photos and Videos From Facebook to Google Photos
Transferring your Facebook photos or videos to Google photos is a very easy process now since it has got the official support. Follow the steps below to transfer your Facebook photos and videos to Google Photos:
Login to your Facebook account and go to Settings.
Select "Your Facebook Information" and choose the option that reads "Transfer a copy of your photos or videos".

Enter the Facebook password to verify your identity.
Under "Choose Destination" drop-down, select "Google photos".

Choose either Photos or Videos and click on the Next button.
Login to your Google account to start exporting Facebook Images/Videos.
This process helps you create a secondary backup for your Facebook photos and videos. In case if something happens to your Facebook account, at least you will have a backup of all uploaded photos and videos.
For now, you can only transfer photos and videos to Google photos. However, a Facebook spokesperson told The Verge that in future Facebook users will also be able to transfer the photos and videos to other cloud company servers (companies that explicitly join the Facebook data transfer program).
What is Data Transfer Project?
The Data Transfer Program was established in 2018 between Facebook, Microsoft, Twitter, and Google. The project is created for faster data transfer between online service providers to build a common framework with open-source code that can connect any two online service providers. The connection enables seamless and direct data transfer.
How does Data Transfer Works?
The transfer project uses services' existing APIs and authorization mechanisms to access data. Then it uses a specific adapter to accept that data into a common format then back into the receivers services' API.
The new Facebook data transfer service works on it which makes the transfer faster and more secure. Currently, the project has five contributors including Apple, Facebook, Google, Microsoft, and Twitter.
As the project contributors list includes Microsoft, it is supposed that in the future Facebook users would also be able to transfer their photos to One Drive.