The all-new iPhone 11 has hit the market, and people are rushing to buy them off the shelves. Among all this hassle to buy the new iPhone, has it ever occurred to you, how are you going to transfer your data to the new iPhone 11? Want to personalize your new iPhone 11 at the earliest but do not have your photos in it? No need to panic, we have already kept a solution packed and ready for your use.
AnyTrans 8.0, released by iMobie, is an excellent tool for copying data from your old iPhone to the new iPhone 11. Even if you have an Android device, you can still move your data from your old phone to the new iPhone. This makes it a win-win app for all.
iMobie has released the all-new AnyTrans 8.0 which is the latest and by far the most exciting update since its release. AnyTrans is an app that functions as an iPhone manager that is used to copy, transfer, backup and manage your iPhone content. All these facilities are available at your fingertips at the comfort of one app. Now, who wouldn't want that?
Step by Step Guide to Copy Entire Data from any old iPhone to new iPhone 11
One of the main problems faced by iPhone users is the transfer of their data to their new iPhone. It is quite a harrowing process involving downloading apps again on the new iPhone and then transferring your files through a longer and more roundabout way.
To solve this dilemma of the customers, iMobie introduced the "Phone Switcher." It makes the transfer of your data from the old phone to your new iPhone 11 a hassle-free process.
Here is how you can move entire data from your old iPhone to brand new iPhone 11:
Step 1: Download AnyTrans 8 from the official website and install it by following on-screen instructions. AnyTrans 8 is available for both Mac and Windows operating systems.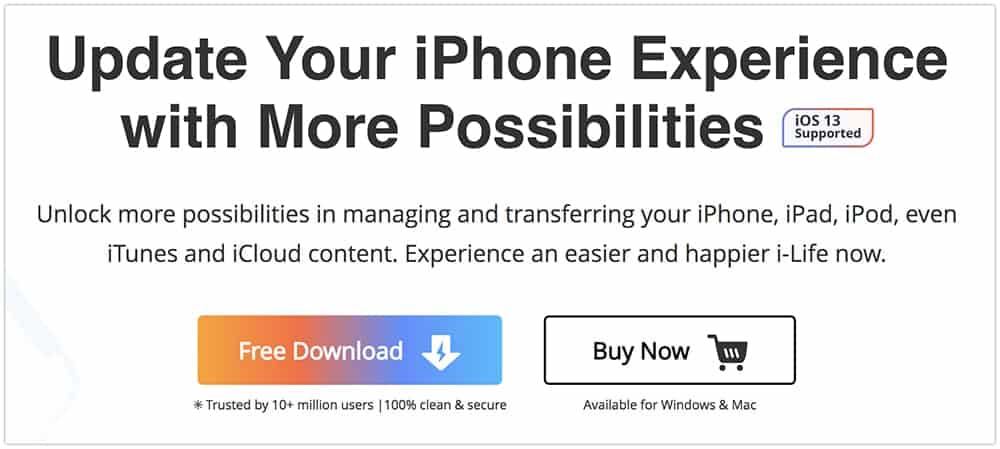 Step 2: Connect both your old iPhone and new iPhone 11 to the computer using Apple lightning cables. The computer will detect the devices automatically. If you are connecting the iPhones to your computer for the first time, you might receive an alert box on your iPhone. Clicking on Allow will establish the connection between your computer and iPhones.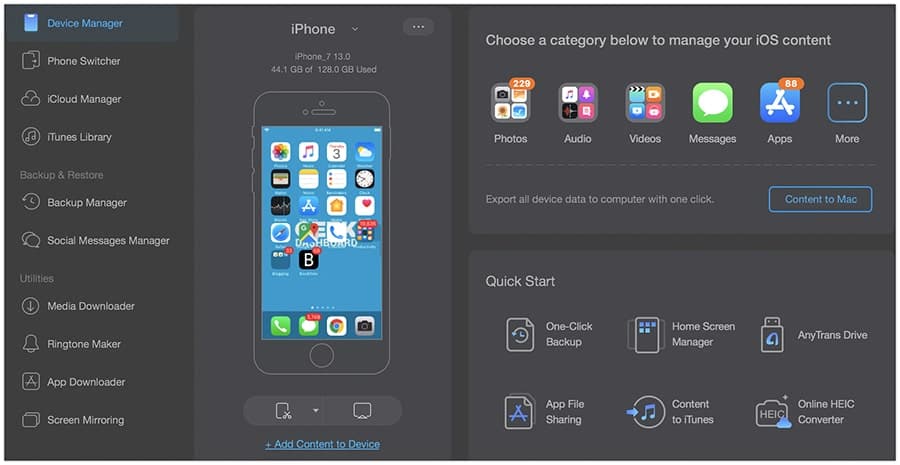 Step 3: Launch AnyTrans 8 on your computer and click on "Phone Switcher." Inside Phone Switcher, you will plenty of exciting features and for copying data between two iPhones, you need to click on the "Phone to iPhone" option.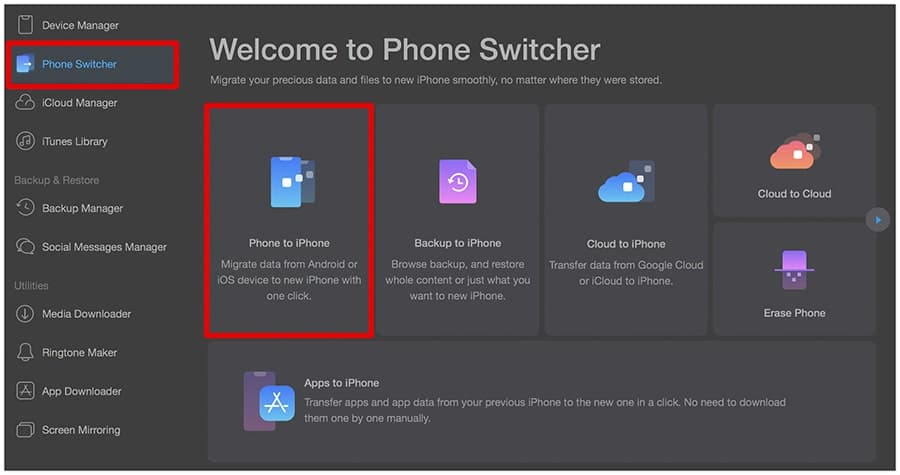 Step 4: AnyTrans 8 will now prompt you to select the source device (old iPhone) and the target device (iPhone 11). Make this selection carefully, pertaining to the names of the devices. Click on "Next" to continue.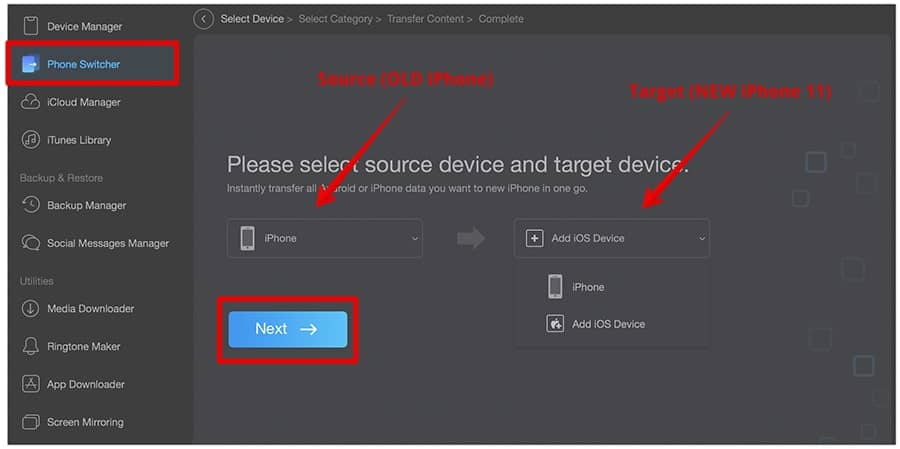 Step 5: Now you need to pick the file types you wish to transfer. Select all the desired files and rule out the ones not required. This step makes it very helpful for you to transfer only the desired files and skip out the unnecessary ones.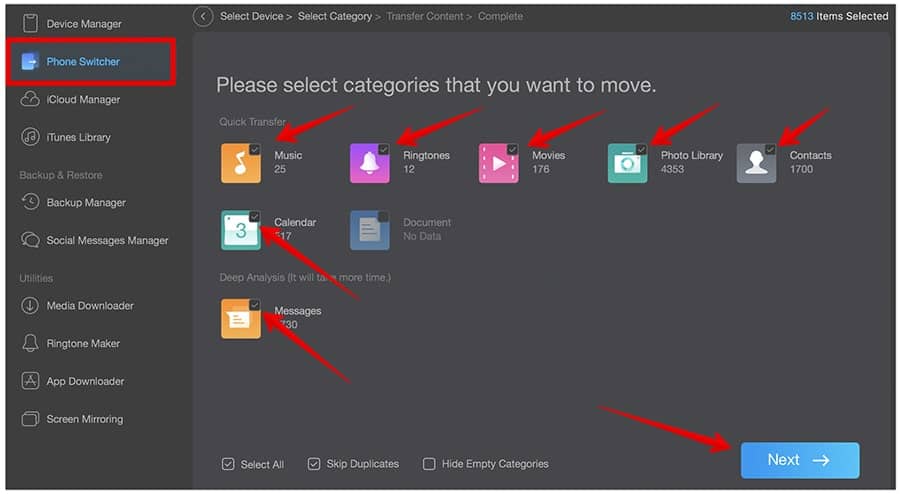 Step 6: Once selected, click on "Next" to begin the transfer process. The duration of the transfer process may vary depending on the amount of data that needs to transfer.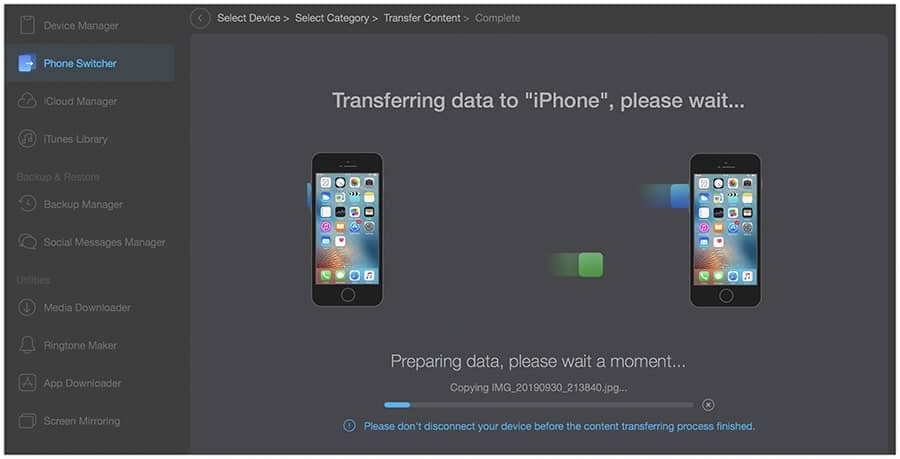 Step 7: Once finished, click on "OK" to return to the main page of the app and unplug both iPhones from your computer.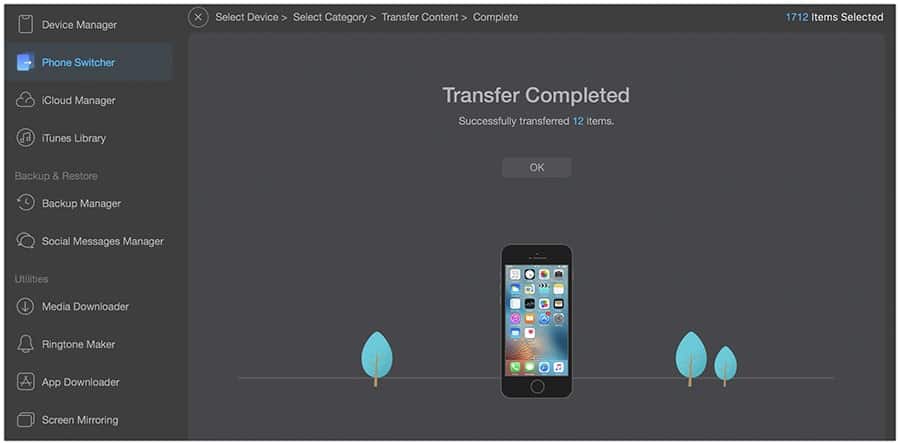 Now that we have had a look at the transfer process in AnyTrans 8.0, why don't you go ahead and give it a try?
The latest AnyTrans 8.0 app also contains a multitude of features that are helpful for iPhones. AnyTrans 8 comes with the following new features:
1. User-friendly and more organized UI
The AnyTrans 8.0 rocks a more intuitive UI that is user-friendly and more organized. The new app is designed to create backups, transfer, and manage data from a single location.
2. Increased transfer speeds
The functioning speed of the app has been improved, making it a smoother experience. It has increased by about 4x making transferring big files a breezy task.
3. Phone Switcher
It is no longer critical to note the operating system of your phone as transfers between all operating systems are allowed by the app. The data can be moved from Android/iPhone to iPhone without any issue. It will also enable transfers between Google Drive and iCloud. You can also erase the old data with just one click.
4. Screen Mirroring
The screen mirroring tool is introduced in AnyTrans 8.0 to give iPhone users the ability to mirror, capture, and record their iPhone screens on other devices. You can easily view and capture the screen on a higher resolution bigger screen.
5. Compatibility
Any Trans 8.0 is compatible with Android, iOS, Windows, and Mac. This all-round compatibility is a heart-winning feature.
Conclusion
The "Phone Switcher" feature of AnyTrans 8.0 is very straightforward to use and is not troublesome in the least. It reduces the time lost in individually transferring files. The higher speeds of the transferring process only add points in its favor.
Keeping in mind the frenzy created by the new iPhone 11, it is in dire need of a companion like AnyTrans 8.0 for all the individuals who wish to keep their old data intact. Enjoy the smooth and seamless transfer from your old comfortable phone to a new futuristic iPhone 11.