As a tech-frontier modern bookworm, iBook (now renamed to Apple Book since iOS 12) is an ideal implementer for your dream of a time-efficient daily life – extremely portable for on the go reading in the intervals and auto-tracking your reading status. No matter for utilizing time on subway/airplane, waiting for friends, queuing in line, or avoiding embarrassment sitting next to strangers, just grab your iPhone/iPad, open an eBook/audiobook in Apple Book and your time is well-used. But have you ever been like me, bothered by how to export and transfer ebooks out to PC without iTunes?
As part of the Apple ecosystem, the only compatible devices for Apple Book app are no other than iPhone and iPad, but their illuminating retina screens won't do any good to your overused eyes. In this case, Kindle seems to be much more eye-friendly. And to transfer purchased Apple books to Kindle, a computer is as-yet a must-have intermediary organ.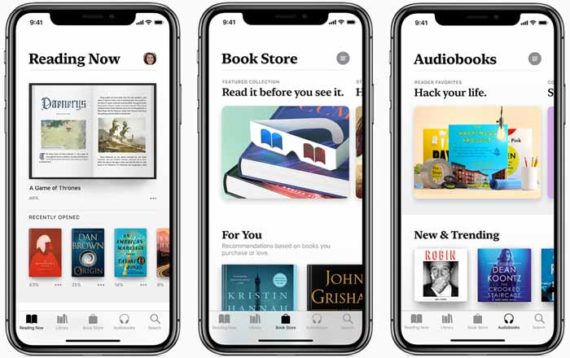 Also, for intensive reading, transferring books to PC from iPhone/iPad mobile devices can be way more convenient regarding online reference, detailed analysis, citing in paper works and cross-device sharing to Android/Windows devices etc. We need it on a bigger screen to read and work.
Thirdly, iPhone/iPad storage would be barely enough for our daily uses ahead, not to mention the scaled-up storage-tense caused by tons of storage-eating ebooks. The computer is a more rational choice for iOS ebooks management and backup storage.
These cases add up to the need of Apple books transfer from iPhone/iPad to PC.
To Transfer Books from iPhone/iPad to PC, iTunes is of Little Use
It's easy to import books including PDF documents, ePub files and MP3 audiobooks to iPhone & iPad using iTunes. However, to transfer Apple books to PC, iTunes turns out to be helpless.
Transferring books to PC via iTunes always involves a lot of compromises and we need an iTunes alternative here.
In older version of iTunes like 12.4, only audiobooks and Apple purchased books can be recognized. And in the latest iTunes 12.7, you can manage no other than audiobooks in iTunes Library. It is clearly something in iTunes that has chained those ebooks and made it impossible to transfer from iPhone/iPad to PC, especially the books in ePub, PDF format.
With that said, there are mainly two obstacles to tackle in front of Apple book to PC transfer.
Unchain the content.
Convert the format to PC readable.
How to Transfer Apple Books to PC without iTunes
Here is the step by step guide to transfer books from iPhone or iPad to PC without iTunes directly.
Download this iOS Book export tool DearMob iPhone Manager to your PC, install and launch it.
Connect your iPhone to the computer with USB cable. Trust the computer if it's the first time you connect your iPhone to PC.

Click the Book icon to enter iPhone Book Management.
Select one or several ebooks that you want to transfer from iPhone to PC, be it PDF, ePub, or MP3 Audio Books.
Click Export and your Apple books are transferred to computer local folder without iTunes.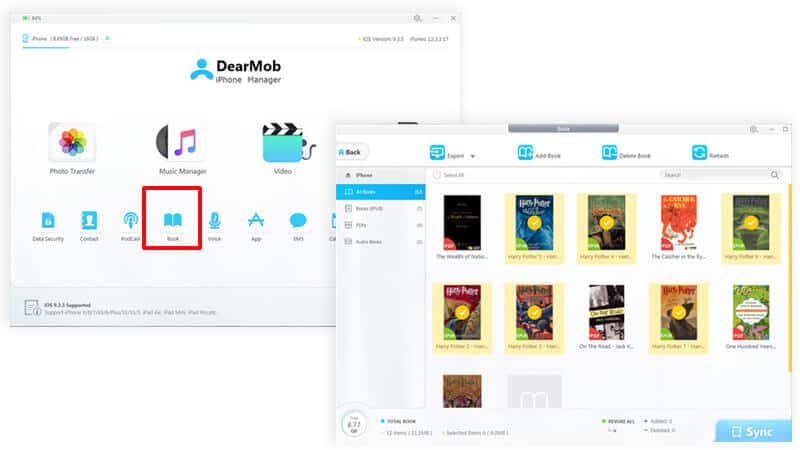 Tip: The default destination folder to store exported Apple books is C:/User/YourName/Documents/DearMobiPhoneManager, you can find the files there. Or you can change the path in settings.
Transferring iPhone ePub Books to PC without iTunes as PDF
Though .epub is a widely used ebook format, it is not readable on computers if you don't have an ePub reader installed. And likewise, Kindle does not support ePub by default. To transfer your Apple books to PC/Kindle, you need to convert ePub books to PDF first so as to preserve the book cover, layout and font of your original ePub books.
Considering about installing another book converter or uploading to online book conversion site to convert ePub books to PDF? DearMob iPhone Manager doesn't think you'd make that extra effort since it can transfer ePub books from iPhone to PC as PDF.
Follow below steps to transfer ePub books to PC as PDF without iTunes:
Download and install DearMob iPhone Manager on your PC.
Connect your iPhone to a computer
Click Book option on DearMob iPhone Manager.
Select the ePub books to export.
Clicking Export EPUB book to PDF will convert & transfer the books to PC.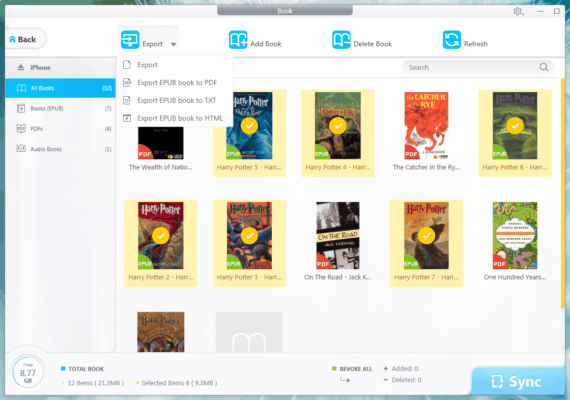 There are certain things that iTunes is incapable of and weak at, yet DearMob iPhone Manager can make up to. We can do a lot of things without iTunes, and transferring ebooks/audiobooks to the computer from iPhone/iPad is a prominent self-evident case here.