"I gave my kids their own smartphones so they can stay in touch with me and each other at school. But sometimes I get to thinking that they might try to sneak their way out of school or their after-school jobs or anything else they might be doing outside of the house. I want to make sure they are sticking around at only the places I want them to be at. How can I track a cell phone location by number?"
There is always the chance that someone might try to stray from where that person should be located at. A student might veer away from school or other important places. An employee at some workplace might skirt one's responsibilities and run off to some other place.
It is frustrating to bear with people who might try and get away from what they are supposed to be doing. But the good news is that you can use an app to help you find where someone's cell phone is located. This tracking app is called Cocospy and it is an app that has been trusted by people around the world.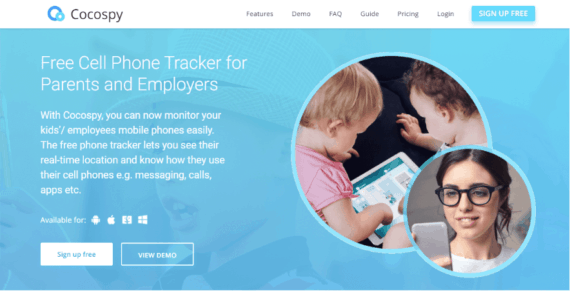 With more than a million users from more than 190 countries and recommendations from the New York Times and Huffington Post, Cocospy is an app that deserves your attention.
Part 1: How Does Cocospy Track a Cell Phone Location By Number?
Cocospy uses two simple processes for finding a person's cell phone location by number:
Cocospy will identify GPS information on a target phone. This includes regular updates based on what GPS satellites can identify.


Wi-Fi location history is also covered by Cocospy. The app reviews information on Wi-Fi connections based on location, name, IP address, and any other bits of data that may be recorded.

Part 2: Using the Geofencing Feature
An additional part of Cocospy comes from its geofencing feature. The geofencing setup works on Cocospy with these steps:
Log onto your Cocospy account.

Select the phone number that you are trying to track.
Check on the GPS section of your control panel.
Produce a physical parameter that you want the geofence to be set up.

When the phone leaves that geofencing area, you will get an alert. The message will tell you where that person is going and when they left the fence.
Part 3: How to Install Cocospy
3.1 Android Use
The following steps can be utilized to install Cocospy onto an Android 4.0 or greater phone:
Sign up to use Cocospy for free.

Download the app and install it on your device of choice.

Get access to your Cocospy account and review the device's location data.

3.2 iPhone Use
You can use the same process above for installing Cocospy onto an iOS 10.0 or higher phone, but you can also use the iCloud account associated with a phone if you know how to log onto it:
Sign up for your Cocospy account.
Enter in the login information for the iCloud account on the phone you are trying to access.

Log onto your Cocospy page to see what is on the phone based on iCloud data.
Part 4: Do You Have to Jailbreak or Root a Phone?
You do not have to jailbreak or root anyone's phone to find information on one's location via Cocospy. In fact, you can access details like SMS and call history info, notes and calendar entries, contact data, and website history on a phone without rooting or jailbreaking anything. You would have to root or jailbreak a phone to get access to non-default apps though.
Part 5: Is This Private?
The final point to note about Cocospy is that this app is fully private. The phone user will not find any icons that link to Cocospy, nor will they see it on a list of apps installed on the phone. The app does not use up lots of battery data or memory either.
Conclusion
Be aware of what you are doing when trying to find out where someone is located. Use Cocospy and you will get direct GPS and Wi-Fi details on where someone is located. This gives you a simple approach for ensuring that anyone you know of in your life isn't trying to sneak out to some spot.