Every mobile company is well known and popular for their own unique android launcher and they try their maximum levels to develop best Android launcher for smartphones. Considering the craziness towards tablets, these days mobile companies follow the same rule to develop the best launcher for Android tablet as well. But there is no rule that every user will love the default launcher in their smartphone and tablet, in such case one must make use of best Android launcher app to redesign their mobile or tablet as they need. Today we have plenty of free best android launchers; they may include best Android home launcher, best 3D launcher for Aandroid and lots more like them.
This educational guide is completely aimed to let our readers know about few best android launcher apps and to help them to revamp their gadgets look which is running on Android operating system. Here you can get top 7 best android launcher applications for your Smartphone and as well as for Tablets.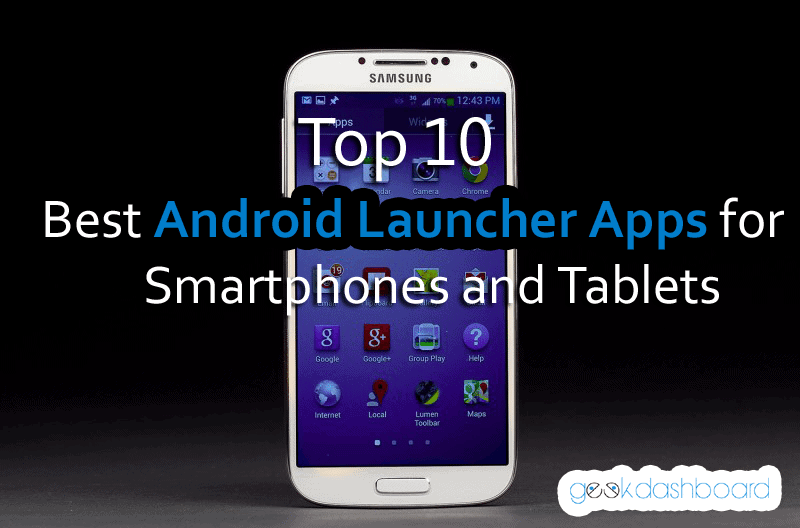 Android indeed is the most preferred Mobile Operating System out there. Probably mainly because of two major reasons:
Being an open-source platform, you get a very wide range of devices to choose from. And as these devices are manufactured by several international and local manufacturers, you'll always get top-level devices and you'll be able to choose Android Smartphones on almost any price range.
Being an open source platform, the Android Operating System gives developers to release applications without any hassles. And moreover, Android is also a very much customization-friendly platform. Hence, if you're familiar with Android coding, you can modify and alter the codes of your Android device.
And this is the reason, you get lots of devices, apps, best android launcher apps and custom built ROM's compatible with almost every Android Smartphone out there.
When we talk about customizations, Launchers for Android plays a major role in customizing your Android device. There are lots of free and premium best Android launchers available at the Google Play Store. And these launchers gives more optimization features, than your manufacturer-specific launchers.
If you're seeking for the best Android Launcher out there, then here we are today with a list of Top 7 Best Android Launchers. You are just one click away to download best android launcher for your mobile.
Best Android Launcher Apps for Tablets and Smartphones
Go Launcher EX
Go Launcher is the most preferred and the most loved best Android Launcher app there, without any doubt. And hence, it takes up the first position in our Top 7 best android home launcher list, Like a boss!
Moreover, this launcher is absolutely free, and you can grab one from the Google Play Store. Go Launcher EX has a great user-friendly interface, with more than 5000 picky themes to choose from. Go Launcher EX is one of the best android launcher app for tablet and even for smartphone.
Nova Launcher
Nova Launcher is yet another popular Android Launcher out there. The Nova Launcher is available in two modes, being Lite and Premium. Of course, the lite version is free for Android users to download, and you'll need to pay a small amount, in order to get the premium version of this launcher.
What makes Nova Launcher, preferable for Android users is its simple and professional looking User Interface, along with the height of customization abilities, that you get with this launcher.
Like every other product, you'll miss some of the Premium features of this launcher, if you choose the lite version but you'll get lots of features when you go over the premium version.
Holo Launcher
The fact is that, even now most of the Android Smartphones out there, runs on Android 2.3 Gingerbread version, and carriers/manufacturers have not released future Android software updates for these Android devices.
And at this point comes the Holo Launcher. Well, it can't offer you the features of the Android 4.0 Ice Cream Sandwich, but surely can offer you a launcher theme that resembles to that of the Android 4.0 Ice Cream Sandwich.
So, If you're having an Android Smartphone, with Android version older than ICS, then you can transfer to the Holo Launcher, to get a virtual feeling of the Android 4.0 Ice Cream Sandwich.
Launcher Pro
Launcher Pro is yet another free Android Launcher, and is also the first preference, for Android users seeking for a free Android launcher. Launcher Pro has support for every Android device, provided it has Android version 2.0 or higher. Launcher Pro also has support for replacing icon packs.
And therefore, Launcher Pro gives you lots of additional customization and optimization features, that you won't see in other launchers.
Launcher 8
Launcher 8 is yet another Android Launcher that gives a Windows Phone look, to your Android device. Many people really like the Metro UI of the Windows 8 Mobile Operating System, and they wish to have a similar look for their Android Smartphones too!
Well, don't wish anymore. Because, now you can really make your Android device resemble to that of a Windows Phone, by using this awesome Launcher!
Next Launcher 3D
If you have enough money and ready to go premium, Next Launcher 3D is the hell awesome best 3D launcher for Android tablets and smartphones.
Best 3D launcher for Android
Every animation in your gadget will get an awesome 3D look. It costs around $20 and you can make a purchase it directly from Google Play Store.
GO Launcher HD Pad
Okay, this is exclusively for Tablet users, GO Launcher HD Pad is the one of the best launchers for Android tablet
This launcher is completely free and works on Android ICS and higher versions. It works on almost all android tablets but all you need is to install at the least ICS on your gadget.
That's it, we found these 7 are the best Android launchers for both mobiles and tablets, Let us know if you know any other Android launchers which makes mobile looks even better. Make use of below comments area to express your views