Time tracking apps can get your productivity to the next level. With so many best iPhone and macOS employee time tracking apps available in the market, none of them are perfect. Some are specially designed for individual freelancers, while some aim at making life easier for managers.
Not all the apps, but few are disguised and nasty and seem to provide little to no secrecy for those who install them. There are several businesses on the list that need to track the time of employees, and so the time tracking apps category is getting pretty packed and jam for some reason.
macOS time tracking applications can be the time savior and lifesavers for employees who predominantly work on the system built by Apple.
If you are a founder, employee, or a freelancer and the time tracking apps boost your productivity and keep a track of your work, we bring you some of the best time tracking apps for Mac and iPhone for those who are often left with many questions such as which one to choose and their features.
So, here is the list of the best Mac and iPhone time tracking apps to help you out.
Time Tracking Apps for Mac and iPhone
No doubt, Hubstaff is one of the best Mac time tracking platforms that work great for freelancers and remote workers. Workers log time and employers can check out the time logs with timesheets and screenshots to confirm that the employee has put in the proper working hours.
With Hubstaff, you can easily reorganize the timesheets that are created by the time tracking app. Even you can also choose the number of clients you would like to invite as viewers to check the activity levels.
It also comes with in-depth reporting, providing insights, and other related data for quick decision making. Hubstaff is used by more than 8500 remote teams across the globe, it runs on different operating systems and platforms including Android, Linux, iOS, and Windows.
Overall, Hubstaff is an automatic time tracking tool that measures activity levels, tracks applications, takes screenshots, automates payroll, and combines with more than 35 project management tools.
Price: Basic version – $5-$249/month and Premium version – $9-$499/month
If you are lacking in the budget, Fanurio is a budget-friendly option to work with. For small teams or freelancers, it is very flexible when it comes to logging – you can add expenses, record products, can modify the billing task in hours or units, etc.
You can track your time in several different ways with Fanurio. You can open up the app to manage the timer, but you can also choose the settings (start or stop) from the drop-down menu in the menu bar. To help you out from other busy schedules, this time tracker app reminds you to stop, start, or pause your timer depending on your regular work patterns.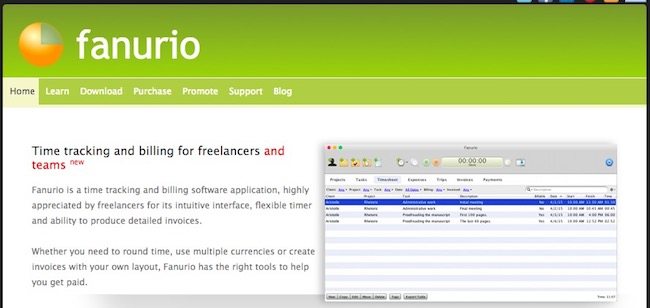 Whether you need to use multiple currencies, or to create invoices with a clear layout, Fanurio time tracking app for macOS helps you in multiple ways. It can also run on Windows, macOS X including Linux and other flavors of Unix.
Price: $59
3. ProofHub
ProofHub is a top-rated team collaboration and project management software that also offers a reliable and accurate inbuilt time tracking system to help project teams utilize time efficiently. Project teams can use this time management system to record how much time they are spending on completing different tasks.
Project managers and employees can see all-time data of people across all projects, billable or non-billable, project progress, and status in bird's eye view without the need to jump through projects.
ProofHub also enables users to create custom time reports of people and projects. You can add multiple timesheets and use them for client invoicing, estimation, and payroll. You can also set time estimates for tasks to clearly define the amount of time it should take to complete the task. If the task takes longer than the set time, you can find out the reason for delayed completion.
All in all, ProofHub's time tracking software helps to keep your employees accountable for their work. Fixed pricing plans and the ease of usage make this tool an ideal choice for teams who want to ace time management in a simple and easy manner.
Price: Essential Plan – $45 /month billed annually and Ultimate Control Plan – $89 /month billed annually.
4. Harvest
One of the best advantages of the Harvest time tracking app is that it not only runs on your Mac app but is also available on your web browser and phone and even on your Apple Watch. Once you have completed your task on the work cycle, you can immediately convert your workable hours into invoices.
Forget to add expenses? Simply click a picture of your receipt, the amount will be automatically added to your invoice. It is a versatile and convenient time management tool that can be used on multiple platforms like PC, Mac, or as a mobile widget.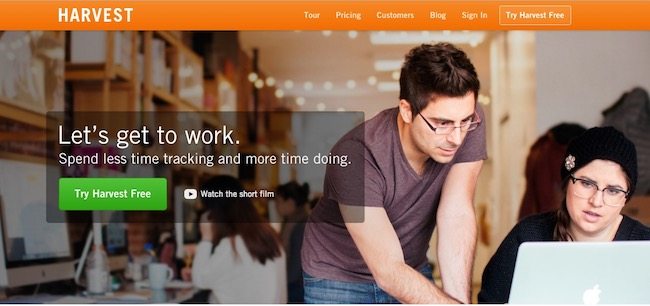 This employee time tracker app delivers a neat report so you can see the work distribution amongst you and your team. In addition, you can also create a fast invoice that recovers all the project hours and tariffs instantly.
Even if you are working in a team, you don't have to worry about the projects and team members, you can easily assign various tasks within a single project to specific team members. The only drawback of the harvest app is that it doesn't add desktop monitoring options like URL tracking. Harvest can also be used as an iPhone time tracking application
Price: Free for 1 person and 2 Projects, Solo -$12/ month, Team – $12 per person/month
5. Klok
Klok, the time tracking app allows you to modify the organization of projects and organizations. It visually displays the task and time and automatically starts the timer when you start working at your desk, you can adjust the time later.
This time tracking app works best on Mac and iPhone and helps you divide the work into categories, so you can watch how much time you have spent in meetings versus the time spent on self-marketing.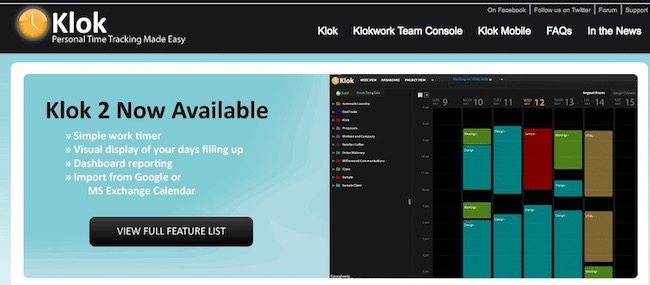 One of the major benefits of using this time to track app is it saves them time and data used in the earlier projects to give you an estimate of the amount of time you will require for the projects in the future.
Price: $19.99 for Klok Desktop Application and  $99.99 for Klockwork Team Console
6. On The Job
On the job is one of the popular time tracking apps for macOS that lets you track time with an unmanned time detection and is placed quietly on the menu bar. Using On the Job tracker, you can easily manage and organize your client's information by their address, hourly rates, names, and even with different currencies.
On the Job tracks expenses and time and bills clients with proficient's invoices. It is, in short, one of the best straightforward apps that let you focus on what's important. On the Job is specifically designed to help you record your time, expenses, and bill of your clients by instantly creating professional invoices.
The template editor in this time tracking app is flexible enough to form more than just invoices. You can even hide the columns which you don't want your clients to see.
You don't have to be panic if you own multiple companies, or bill clients and others through a company for yourself, On The Job, can easily handle it.
Price: $39.95
7. Tyme
Tyme time tracking app is very easy to start with and that clear focus on the details makes it happy to use. The iOS version of this app has an excellent set of controls while the desktop version utilizes keyboard shortcuts to create the record easier. The dashboard of Tyme's app gives you a complete overview of your present clients and your most-used entries for each.
For those who always forget to record the time, you will praise the app's reminder feature.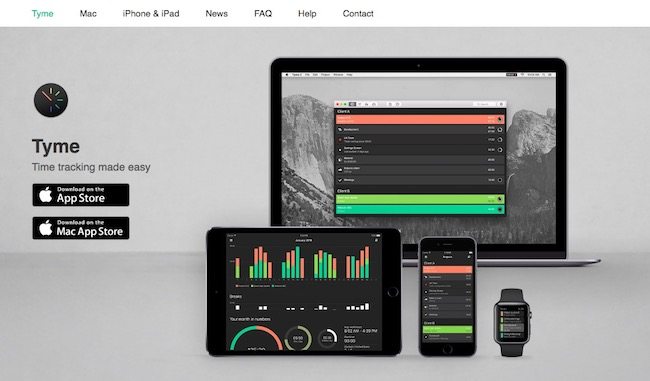 If you are busy doing some work, Tyme's app will send you friendly messages reminding you to start or to stop the time. This time tracking app doesn't run automatically, it sets up a custom keyboard shortcut so that you can instantly launch the app with that tap button.
On the reporting side, you can look at the detailed set of stats that help you modify and dig into the information further.
Price – $5.99 for iOS and $16.99 for macOS
8. OfficeTime
If you are on the brink of searching the app simple to use and no-frills time tracking software then Office Time is for you. Its appearance makes it handle several features at a time. It is an excellent time tracking app software that allows you to record time, prepares the invoices, expenses incurred, and summary graphs.
It is very easy to work in OfficeTime. You just have to click on your Mac's top navigation bar, select the project, and start the timer. There is no need of clicking and opening the app itself, so you don't have to kill your second.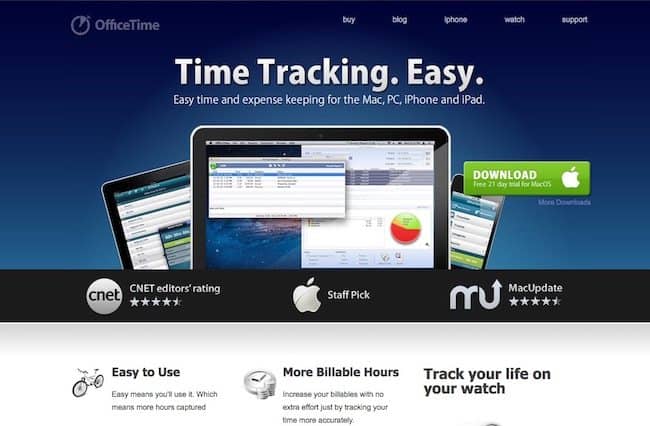 In case, if you want to stop the project, or switch the project, or you would like to stop the timing, simply open the menu and select the relevant option from the list. Besides, OfficeTime also synchronizes with iCalc, which makes it very easy to bill clients for gatherings or meetings or blocks of work you have planned.
Price: Rs.3192.78, 120 Days Return Policy
9. Timely
Unlike most of the apps that want you to stay focused on the present, you start, pause or stop the timer according to the moment you are doing, this Timely, time tracking app focuses on the future. So if you want to schedule your meeting with a client for the upcoming Thursday, integrate it with the calendar tool available in the Timely app and then your meeting will automatically pop up in the app.
Interestingly, when you begin the Skype session with a client, click the Timely entry to start the timer and end it as soon as your meeting gets finished. You can even watch the time is taken by you versus the time scheduled.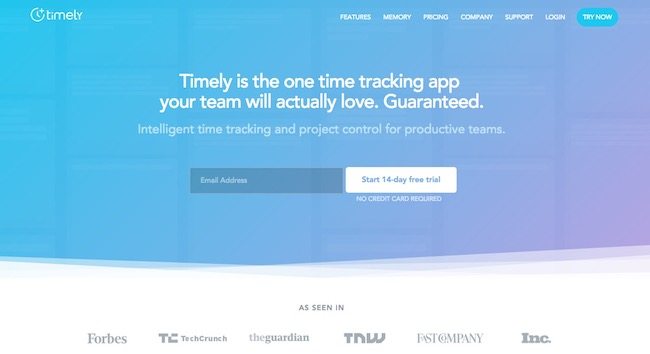 The calendar view of the Timely time tracking app looks very refined and sophisticated. Just like the notes in a smartphone, each project in the app has been color-coded. So tracking the projects doesn't look messy when there is a stylish view of work done for each day, week, or month.
Price: $12.6/month for a single user
10. Time Doctor
Time Doctor, as the name suggests, is an employee time tracking software with powerful reporting and simple task management. It can work on any computer be it MAC, Windows, or Linux.
It is a great tool for remote employee monitoring as well as for busy professionals to track self-productivity. Its simple installation takes less than 5 minutes to get started and employees can start tracking time right away.
The software automatically starts whenever the computer is started. This makes sure employees don't miss to track time. Time Doctor also tracks applications and websites accessed on the employee computer. It can also take screenshots at set intervals.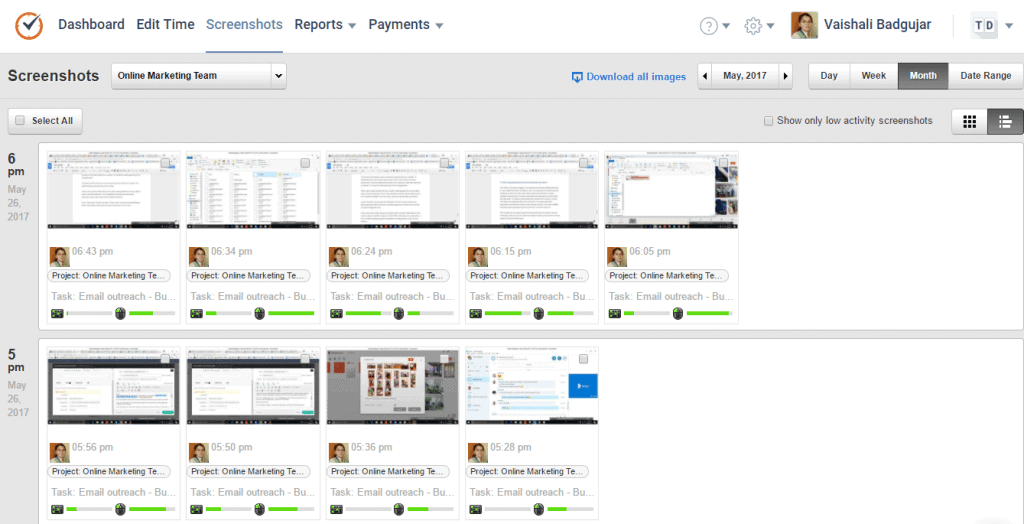 There is also a provision to enter manual time in case the employee fails to track it or is working on other tasks away from a computer. Of Course, this needs approval from the manager/leader.
The reports and timesheets can be accessed by external clients too if needed. This makes billing and invoicing quick and accurate.
There is also a payroll module that can be used to make payments to in-house staff as well as overseas employees. The 32 integrations with other top software like Basecamp, Asana makes it even more versatile and efficient.
Price: A free trial for 30 days. Solo plan – $5 per month. Free plan with limited features. $9.99 /user/month for teams with discounts for teams with over 10 users.
Verdict about hours time tracking apps for iPhone and Mac
So, these are all the best macOS and iPhone time tracking apps that we have reviewed. Being the owner of the company or a freelancer, your time is one of the crucial aspects that stay at the top of the list. It's what that says about how long you have spent at lunch, it determines your pay rate and limits how much you can earn in one day.
You rely on meeting scheduler tools or a calendar app to plan your time. But to look back at how much time you have spent on particular things you need a time tracker. Thus, a time tracking app for iPhone or Mac will surely help you in creating reports, tagging different projects, and exporting an invoice tool. Make sure you install any one of the best paid and free time tracker apps listed above on your Mac/iPhone for the best results.