Motorola recently released a shatter-proof smartphone, Z2 Force. And, the company just acquired a patent for a technology that is going to make screen protectors and gorilla glass out of the business.
We might not see the technology anytime soon given they have only patented the idea. Nonetheless, once happens, it will revolutionize the whole smartphone business.
Motorola Acquired a Patent for a Self-Healing Smartphone Display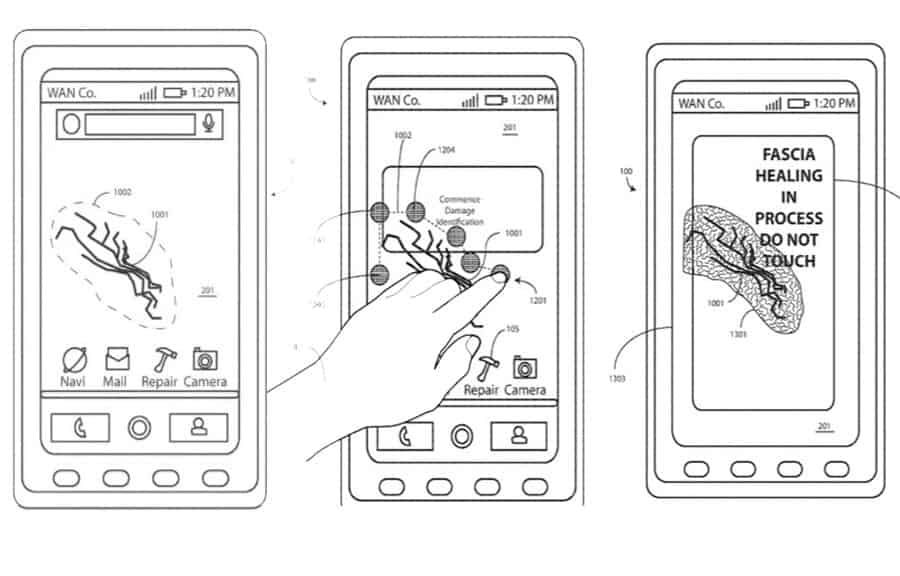 When you want a flagship smartphone, you will have to shell out a heavy amount. Given their fragility, you may damage it pretty soon with a single drop. Whatever be the smartphone, it remains the same.
In the light of the universal smartphone screen cracking phenomenon, Motorola's new patent gives hopes to millions. The news first came out after the patent went published.
The simple illustrations (you can see above) show a repair button on the screen. Whenever your smartphone screen cracks, you can tap the button to begin the mending process. It will identify the cracks by itself and start to self-heal by applying heat. You don't have to carry any thermal device with you. It is possible to initiate the healing process only with the heat of your body. Once the process begins, you should not touch the cracked part.
According to the patent listing, the technology solely depends on a material called shape memory polymer. If and when the technology goes live, the company might include a capacitive touch layer over the LCD or LED display.
Also Read:- Lenovo May Launch Moto X4 on August 24
The process can't be accidentally triggered because you need to press a button and there should at least a crack on the phone as well. While the news is amazing, the technology doesn't guarantee 100% healing. The screen somewhat gets reusable by partial repairing process.
If you are a constant technology news wanderer, you may relate this with LG's G Flex. It has a self-healing back to remove snatches.
Will this technology come to smartphones soon? We don't think so. Yeah, they acquired a patent. But that doesn't mean the Lenovo will come up with self-healing Motorola smartphones anytime soon. It isn't even clear about the success rate of the technology. Much like what happens for the patents, there is a chance for them to completely ditch the current one and move on to a completely different technology.
What does this mean to an average smartphone user? Well, the future of the phones is great and we can hope technologies that help us save the bucks.