Buying your first drone right? But do you know what to look for in a budget drone?
Don't worry, we're here to guide you. In this article, you will learn about 7 things you should consider before buying your budget-friendly done.
Drones are perhaps one of the coolest "toys" on the market today. Everyone is talking about their ability to venture into areas that you would not want to go on foot. They can capture photos and videos of areas that are dangerous. They can fly above forest fires to show fire crews what they are dealing with or to help them find a way out of the blaze.
A lot of events, such as race tracks or Fourth of July celebrations have drones flying around to view the crowd or the action. People at home, adults and kids alike, can take the drone and get a bird's eye view of all that is nearby. However, not everyone has a small fortune to sink into a drone. Therefore, before you buy a cheaper drone, you need to make sure it is going to be useful to you.
7 Questions to ask yourself buying getting a drone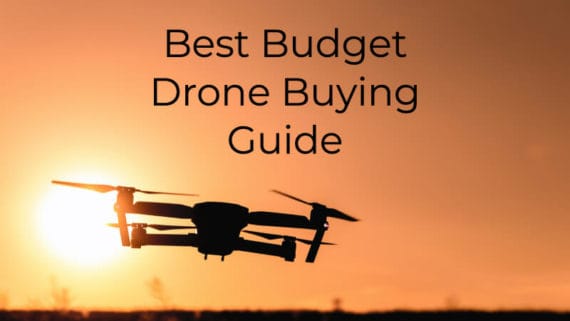 1. Where Will You Fly It?
The most budget-friendly drones available are good as far as toys go, but they require a lot more thought than you may want to put into it. It is important that you know before you purchase it, where you are planning to use it the most.
Smaller drones, the cheaper ones, are best used indoors or outside if there is virtually no breeze, but it defeats the purpose of what most people want to do with their drone. If you want to take it outdoors for a look around the world you live in, going larger is better; even if it means paying a little more for it.
2. Camera, Video, or Live Feed?
Since drones are most desirable for their ability to take photos and videos, you need to decide what you want it to be able to do. HD videos and photos may be great for one person, but another may prefer to have it live stream directly to their smartphone or tablet. If you are hoping to take it up for video and such, you may also want to make sure it has a range that works for you.
How far away do you want it to be able to travel while capturing video? There are some cost-effective drones that can travel a good distance, while others will not go much further than your property line.
3. Ready to Fly or Build Your Own?
In some cases, you may be presented with the choice of building your own drone (DIY) or one that is ready to fly (RTF). Most people agree that RTF is a better choice for beginners since you only have to take it out of the box, charge the battery, and start learning how to control it.
You do not deal with building any part of it and you never have to worry about whether you mess something up while building it.
4. Your Experience Level
It can take a lot of practice for you to learn how to control your new drone. Many inexperienced drone operators end up crashing many times before they finally work out the hand/eye coordination that it requires you to have. However, there are some options that can help you land it a little more safely. One great feature is auto landing, but it is only available on more expensive drones.
You have to decide if you want to take a chance and crash your drone a time or two and risk damaging it, or if you prefer to play it safe. Auto landing will ensure that even if you are unable to land it, it will not come crashing to the ground without trying to protect itself.
5. Ease of Repairs
If you are new to drones, you may also want to make sure that you can repair it in the event of a crash. You can make sure that is made to endure crash landings, by choosing more solid materials, but this will raise the cost of your new drone.
Therefore, if you have a budget you have to stick to, you should look around to see if you can find the supplies that are necessary to repair it by visiting hobby shops such as rchobbyreview.com.
6. Battery Life
For some people, battery life is perhaps the most important feature of any drone. Some of the most affordable ones can only fly for approximately five minutes and then require you to charge them again. If you go to the higher-end drones, you may get up to 25 minutes of flight time before you need to recharge. You have to decide how much time you want from your flight. If you are hoping to take pictures, videos, and go out into the woods with it; more battery life could be more beneficial to you.
7. What Is It Worth to You?
Drones serve a purpose. They can be fun, and kids love playing with them, but they are also toys that adults enjoy messing with as well. They are a challenge to fly. There are even people who try to push the limits and make their drone do acrobatics.
Our Recommendations for budget drones
Parrot AR.Drone 2.0 Elite Edition – $69 (Buy Now)
Altair 818 Hornet – $159 (Buy Now)
Cheerson CX20 – $179 (Buy Now)
It takes a lot of practice to get to this stage and even those people started out learning with an affordable drone. You just have to decide how much you are willing to spend and which features will make the most difference in your choice. The rest will come easy.