PDFs have become an essential part of our daily lives, with services and businesses broadly utilizing them. Editing any PDF file is cumbersome if you don't have the right tool with the required features. The SwifDoo PDF is the ultimate solution for all your PDF needs, with all the tools you require in one place. Most PDF tools support only viewing and a few editing features that don't let you entirely change the text or anything in the file.
The SwifDoo PDF software has the capability to read, annotate and convert your PDF into different formats. Besides, the SwifDoo PDF tool comes with five major features, which are editing, converting, compressing, merging, and e-signature.
Moreover, the software lets you change the prominent parts of a PDF with the features like cropping, rotating, and resizing. SwifDoo PDF has many fascinating characteristics, which we will discuss in the Key Features section.
Without further delay, let's check out the full features, supported platforms, and complete review of the SwifDoo PDF:
SwifDoo PDF Key Features and Supported Platforms
With the help of the SwifDoo PDF dynamic user interface, you can quickly examine and edit your PDF documents. You can trust the software to read your essential PDFs and make modifications like never before.
The PDF editor on the SwifDoo PDF tool has a wide range of options, such as adding or deleting texts. Furthermore, the editing features in SwifDoo PDF consist of different font and color options. The tool lets you insert links and images inside the PDF files without fuss.
The PDF converting features on SwifDoo PDF helps you quickly make conversions such as PDF to Microsoft Excel, Word, and PowerPoint formats. The tool even has the ability to convert PDFs to image files in formats such as PNG, JPG, TIFF, and BMP. The conversion feature on the SwifDoo can turn your PDF file into a CAD format file.
The compressing aid provided by the PDF tool helps you reduce the file size of the PDF with three different quality choices. Moreover, the tool arrives with a PDF merger and splitter options bundled with the other features. The merger can easily combine single-page PDF files into single PDF files. At the same time, the splitter lets you separate PDF documents into individual pages.
Key Features of SwifDoo PDF
Edit text: Add, delete or modify text size, font, and color in the PDF file.

Edit image: Rotate, resize, crop, insert, or export images in PDF.
Edit pages: Rotate, reorder, insert pages, extract pages, and delete or replace pages easily in PDF.
Signing on PDFs: Add handwritten signatures in an image format or use a trackpad, mouse, or keyboard to your PDF contract or form.
PDF to other file types: PDF to Word, Excel, PPT, Text, RTF, HTML, XML, PDF/A

PDF to Image: PDF to PNG, JPEG, BMP, TIFF, and GIF
Read and Annotate: Add highlights, underline, strikethrough, text box, shapes, stamps, and more.
System and Hardware Requirements for SwifDoo PDF
RAM: 1 GB RAM or above
Storage: 150 MB or above
Processor: 1 GHz processor or above
Operating System: Windows 11, 10, 8, 7, and XP (32 & 64)
SwifDoo PDF: Review and Notable Features Overview
The SwifDoo PDF distinguishes itself from other PDF utilities with its simple installation process and user-friendly interface. The installation file uses less than 50MB of space on your hard drive and installs quickly. The Free Download button on SwifDoo's official website lets you download the installation package easily.
With easy access to all the options in one location, the user interface of the SwifDoo PDF on the Windows platform features straightforward yet stylish components all along. The intuitive interface plays a crucial role in sticking users to the SwifDoo PDF instead of other traditional tools.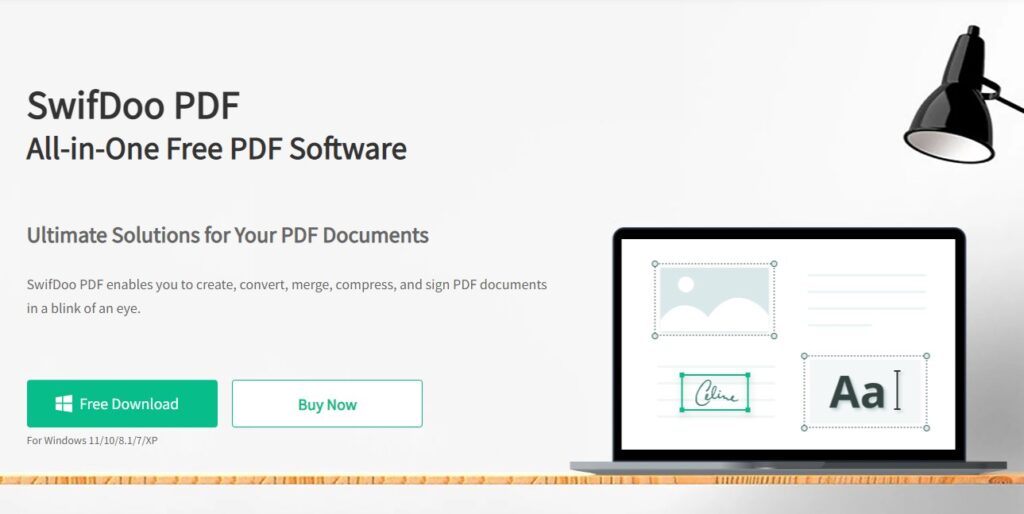 The tool makes PDF files snappy, unlike other popular PDF viewers and tools that take some time to kickstart. Besides, the SwifDoo PDF doesn't use many of the resources on the system, feels quicker, and doesn't stutter.
On the other hand, the tool doesn't skimp on the safety and security of PDF files. The tool lets you keep two-level password protection with differentiated permissions and features a legally binding electronic signature.
Viewing PDFs
The SwifDoo tool's reading experience is fantastic and has features that make it even better. You can see your PDF in two-page or four-page view mode for a larger viewing area when using the page layout option.
Additionally, you can activate the tool's dark mode, which helps you read pages more comfortably. However, the dark mode doesn't entirely turn the tool into a dark theme but only changes the pages' theme in the PDF.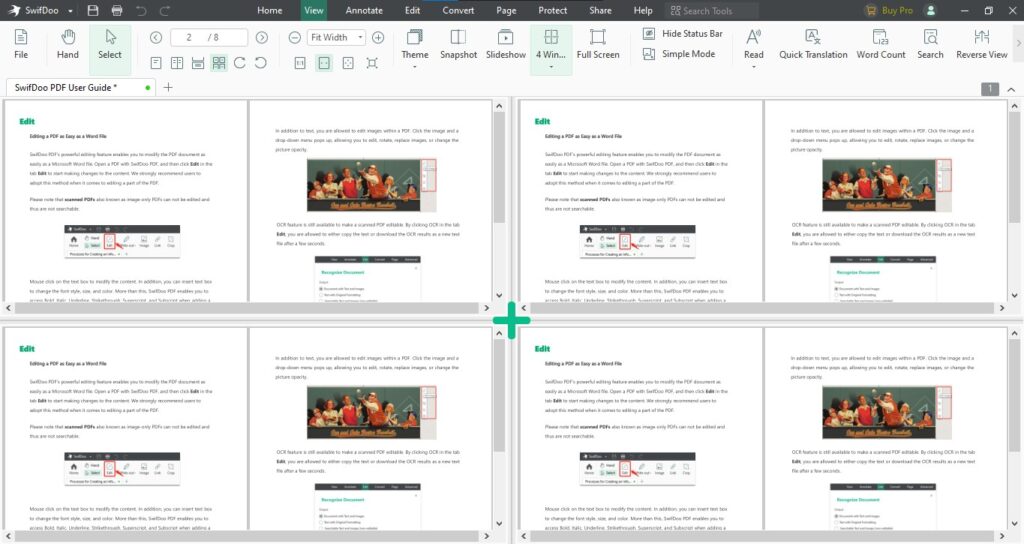 With the tool, you can quickly navigate through sites without tedious scrolling. Adding bookmarks to your PDF is simple; you can search the entire document for a specific word or phrase.
A multi-tab view also organizes your open PDF files into separate tabs across multiple windows. Additionally, a slideshow option enables you to present your file similarly to a presentation.
Editing PDFs
The SwifDoo PDF tool's ability to change text, photos, and links across PDFs makes it stand out from other tools. You have complete freedom to modify any text in the PDF, adjusting things like the text's color and font. You can even cut, change, and erase photos from specific PDF files using the editor's assistance.

The tool allows you to adjust a custom margin or drag a bounding box to handle and crop PDF pages. With SwifDoo PDF, you can easily insert different link actions that allow you to jump to a new page in the same document. Besides, you can even use the link action to redirect viewers to an external web page or a specified file.
Converting PDFs
The SwifDoo PDF can cleverly use its processing resources and convert your PDF files to editable MS office documents. The tool can convert your PDF file into various MS office formats, such as Word – doc/Docx, Excel – XLS/XLSX, PowerPoint – ppt documents, and vice versa.

Conversely, the tool can convert PDF to image files with support for formats like JPG, PNG, BMP, and TIF files. Moreover, SwifDoo PDF can convert PDF files to CAD as well. Additionally, the tool supports batch conversion, which lets you add multiple files and convert them simultaneously.
Merge and Split PDFs
The SwifDoo PDF outshines the PDF Merging and Splitting needs and makes merging and dividing PDF files simpler. The tool can split a large PDF file into several smaller files or combine multiple PDFs.

There's no waiting time as the tool ends up merging or splitting a PDF quickly with its snappy interface and loading times. You can divide large PDF files into smaller ones and a PDF into multiple ones. Additionally, users have control over the exported pages of PDFs.
The Perfect PDF Tool for Quick Edits, Merging, and Conversion
The SwifDoo PDF, with its powerful merging and splitting features to edit text and images as per your personalizations, makes it a go-to software for all PDF needs. Thanks to the robust OCR feature, you can find and recognize text within non-searchable scanned PDFs.
You can directly jump onto their website and download the tool for free, which gives you a 15-day of trial version with all the features unlocked. However, you can buy the full version or Pro, which costs $13.3/month quarterly or $5.7/month yearly. You can even opt for the lifetime plan that gives access to the Pro version to 1-PC at $90.3