What we think about
Surfshark
One VPN for all platforms - Android, iOS, Windows, Mac, Linux, Browser Extensions, Fire TV, and Android TV.
Nowadays, there is no software, app, or website that you can lay down all your trust on. If there is one thing we know at all about the whole web data scene, it is that nothing seems as it is. Everyone is selling you something based on your location, preferences, and web history.
Glady, we have VPNs. Virtual Private Networks that keep a lock over your web and other activities. They protect your privacy so only you have control over where, how, and why your personal data is used or not. These networks help in securing your privacy by channeling all your web movements through an encrypted tunnel.
One of these VPNs is Surfshark and that is what we will be reviewing today.
Surfshark Overview
Founded in the year 2018 by Vytautas Kaziukonis, Surfshark gained quick success and is now one of the most popular VPNs in the global market. On our search, all we found were rave reviews on Surfshrak. About how Surfshark brings a new experience when compared to its competitors.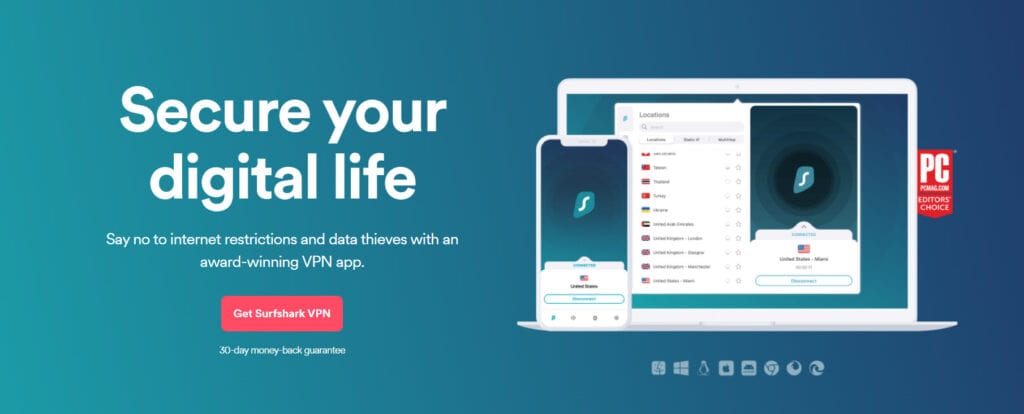 In the first year of the launch of surfshark.com, the company also introduced its apps for Android, iOS, Windows, macOS, Fire TV, and Android TV. Browser extensions were also released that same year. In the next few years, they unveiled more unique and interesting features.
And, in 2020, they took a huge leap ahead of the competitors and became a ram-only server network.
Surfshark's Features

The unique and interesting features we talked about? Let's jump right into them:
1. Antivirus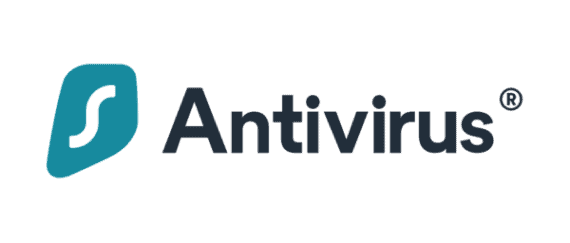 This antivirus tool is not the cheap one provided by most VPNs. It is a packed-with-features antivirus tool that offers two scans:
Full Scan and Quick Scan. You can schedule these antivirus scans to take place on whatever days and times you like.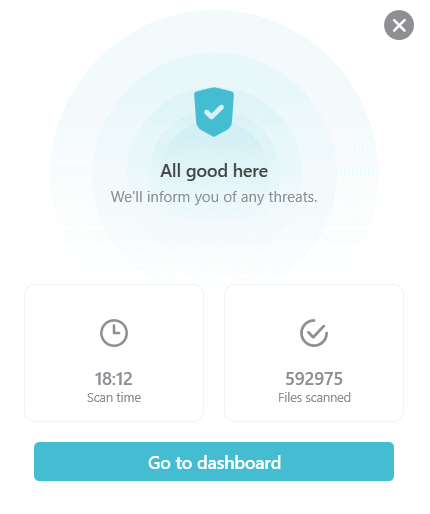 A Real-Time Protection feature is coming soon that will keep your device safe while surfing.
2. NoBorders
This cool feature lets you use your VPN in heavily restricted places. NoBorder bypasses your client when they notice restrictions forced by your network.

3. Camouflage Mode
This mode camouflages your VPN traffic as regular traffic so you can go unnoticed. This is extremely useful when your country prevents VPN traffic. This mode gets mechanically turned on when you are using TCP protocols and OpenVPN UDP.

4. Smart DNS
Smart DNS can be used in more than one device, even in devices that do not work with VPNs. You will have to set it up from your main dashboard first and then you can activate it on other devices. This tool helps you to unblock US/UK libraries that are not available in other places.

5. MultiHop
Another extremely helpful and cool feature by Surfshark is MultiHop. This feature connects you to two countries. It adds a layer of privacy as your identity will be hidden behind the servers of two different countries. There will be a drop in the speed but if privacy is what you are looking for, it will be worth it.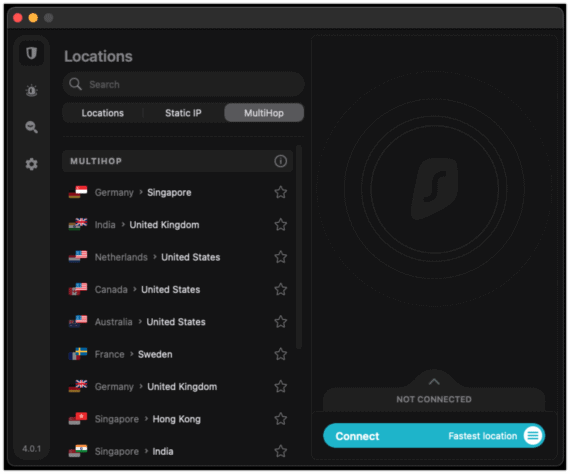 6. Whitelister
Also known as split tunneling, this feature is a necessity. Since your VPN will be turned on at all times, you will have to change the server back and forth when you are accessing the libraries of your own country.

To save that time, you can use Whitelister. This will help you tunnel some sites via VPN or tunnel some sites through your normal connection.
7. Search
This is a completely safe and private search tool that does not ask for any information on your behalf. And the most awesome part is that it is totally ad-free!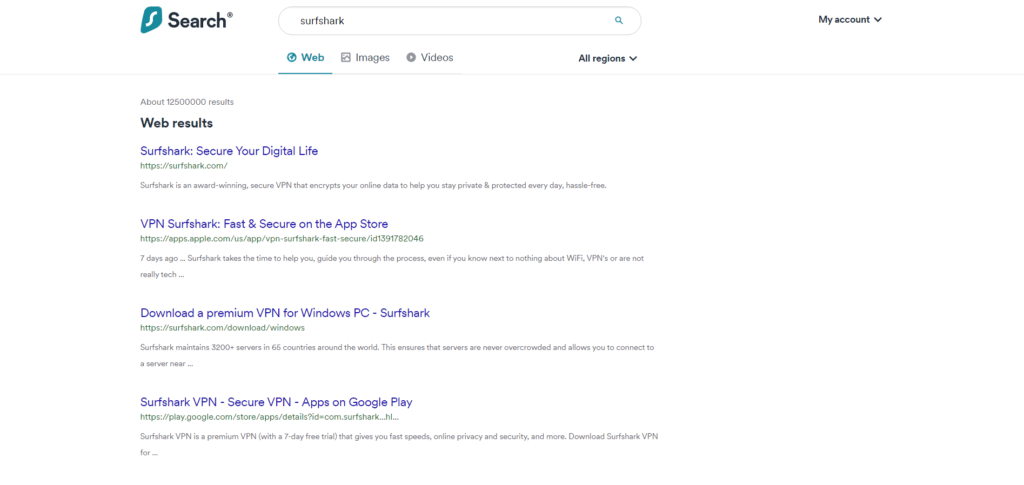 8. Alerts
Alerts send you notifications and timely emails whenever there is a breach of your privacy. If your data gets leaked, you will get notifications or emails based on the severity.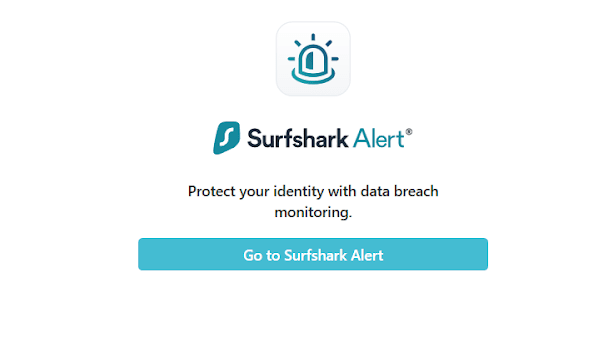 9. CleanWeb
This tool stops ads from loading so that you will not get any unwanted pop-ups. This also blocks the user from getting user data. This is not turned on by default, you can turn it on in the settings.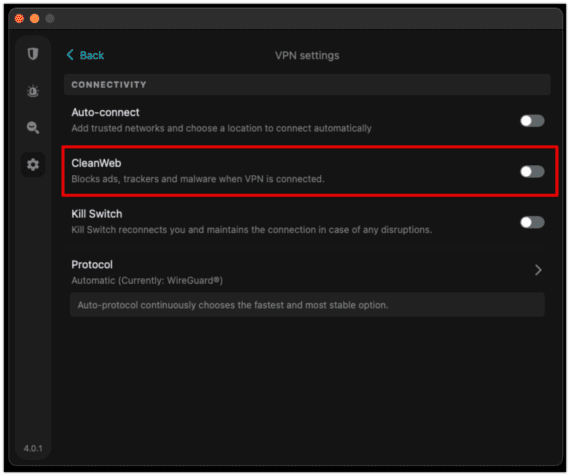 10. GPS Spoofing
This tool allows users to spoof their GPS location and IP address. The location is the most robbed information from the user and this tool will help you change that. This tool is only available in the Android version.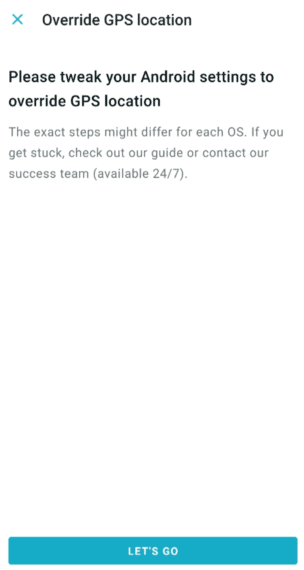 11. Pause VPN Functions
As mentioned before, using a VPN at all times will be a nuisance. Sometimes you will have to use your real location. This tool allows you to stop the VPN connection for a specified period of time like 5 minutes, 30 minutes, or 2 hours. Again, this function is only available in the Android version.
12. IP Rotator
When it is enabled, IP Rotator will constantly change your IP address without disconnecting you making it nearly impossible for your ISP to track your web activity.

13. Automatic Kill Switch
This tool will temporarily disable your internet if your VPN connection drops. This way your data will be kept hidden.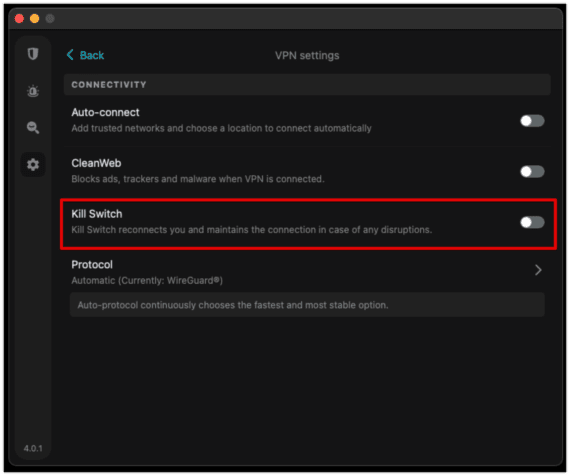 Surfshark Apps
Now that we have talked about the features, we will discuss the apps and features that it offers:
Surfshark for Mobiles (Android and iOS)
Both the Surfshark apps for mobile, Android, and iOS, look almost identical. The differences lie in the features of these applications.
In Android, the GPS Spoofing feature is available and so is the Whitelister Support. The availability of these features speaks volumes as no other leading VPN offers them.

On the other hand, the iOS version does not offer the GPS Spoofing feature or the Whitelister support. Nevertheless, it supports a WireGuard Protocol for improved speed and privacy and also offers killer tools like Kill Switch.
So, even though the Android version has cool features, the iOS is no less in comparison.
Surfshark for Windows
On Windows, Surfshark has a minimal, light-weighted app. The app offers the five main functions in the top left corner: VPN, Alert, Antivirus, Search, and lastly Settings. The UI is as clean as possible; everything is nicely placed and spaced. We can say that even if you are a VPN newbie, you will understand everything easily.
Surfshark for macOS
Surfshark's Mac version looks quite like the Windows one with a few minor differences. One thing it does better than Windows is displaying all the cities' servers in alphabetical order which Windows fails to do. You can download the app from either the Surfshark website or the App Store.
The functions missing are Split Tunnelling and NoBorders to name a few. The NoBorders feature lets you bypass VPN restrictions. You can still perform that task by using the OpenVPN protocol which is only accessible in the macOS version.
Surfshark for Linux
Of all the versions of Surfshark that we have discussed, by far our least favorite is Linux. The only main thing that it lets you do is select your server. And even then, you will have to manually type in the number to connect to the server of your desired place. It does the work but you won't be able to switch quickly between the servers.
Browser Extensions
Keeping the apps aside, Surfshark also has browser extensions. The extensions provided are for Chrome, Firefox, and Edge. These extensions perform functions like unblocking restricted web pages, hiding the user's IP address, and encoding the connection.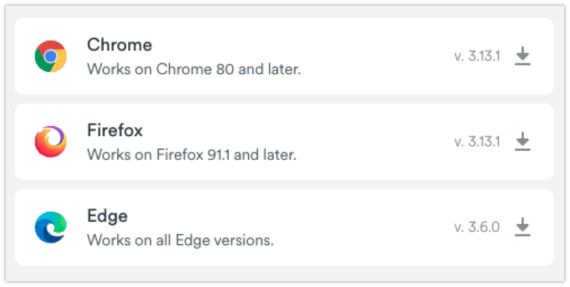 But that's not where it stops, the ring leader is the Cookie Blocker which blocks unwanted cookie pop-ups to make your surfing experience smooth.
Pricing

As you can see, the pricing of Surfshark is pretty low than the market rate of such apps. The bigger the commitment the less you have to pay. You can get the Surfshark subscription for as low as $2.49 per month if you subscribe for 2 years at once. If you are not sure about the performance, you can try the plan at $12.95 for 1 month and take the decision.
These are the basic perks you get on any of the above plans: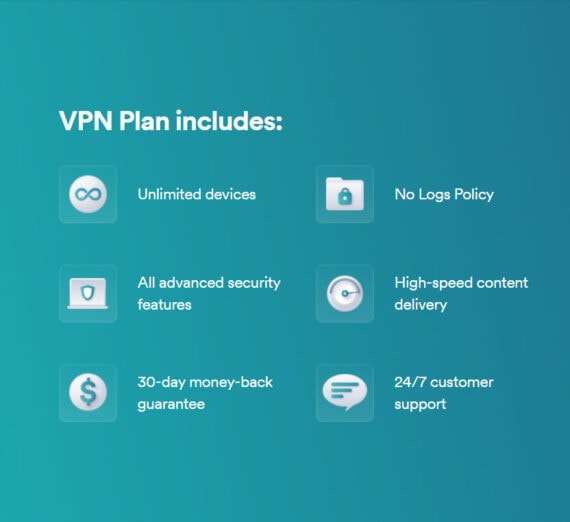 Final Verdict
Having discussed every aspect of Surfshark, we will conclude that the service is completely worthy of your money and does a great job of it too. Surfshark keeps on introducing new features that are unmatched by any of its competitors. And though there are some minor shortcomings, nothing you will not be able to ignore.
All said, we highly recommend Surfshark. It does not only keep your privacy the first priority but it does that while providing you with new experiences and features.
What we think about
Surfshark