Microsoft Outlook users may run into a few errors. Some of the most common ones are with Outlook data files (.pst and .ost). These files may become corrupted, making it impossible to access some of your vital data, especially emails, calendars, contacts, attachments, etc. The way around will be to repair these files, and you may want to employ a tool like Stellar Repair for Outlook.
In this Stellar Repair for Outlook review, we walk you through all the important elements of the application and give you our educated verdict and recommendations. Let's get to it.
Overview of Stellar Repair for Outlook
Stellar Repair for Outlook was created by Stellar, one of the world's leading Data Care companies. The Stellar team is also famous for tools like Stellar Photo Recovery, Data Recovery, and File Manager.
With 100% accuracy and integrity, you may use Stellar Repair for Outlook to restore all mailbox items from a corrupt Outlook PST file, including emails, contacts, attachments, calendars, and notes.

Scenarios You Might Use Stellar Repair for Outlook
You should consider using the repair tool if you fall under any of the following categories:
When you lose mailbox data due to PST file corruption.
When Scanpst.exe cannot resolve PST corruption.
When you must fix common Outlook data file errors, such as "Outlook PST cannot be accessed error 0x80040116" and others.

When you accidentally delete items that can't be retrieved from the "Deleted Items" folder.
Installation and User Interface
We noticed that the Software is generally easy to use, and installing it is also a breeze. You only have to visit the Stellar Repair for Outlook page and click the Free Download button.

Next, double-click the downloaded file, select a language, and click the Next button. Click Next again on the subsequent screen.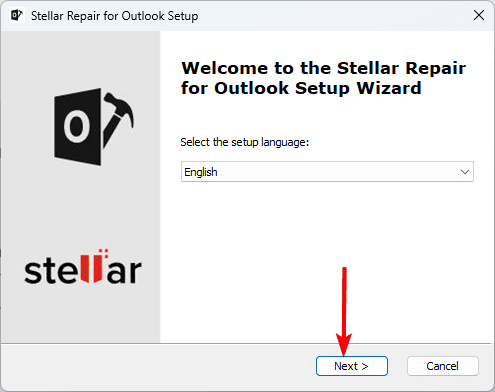 Tick to accept the terms in the license agreement, then click Next.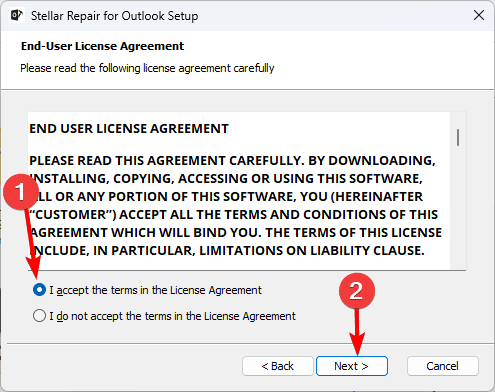 You may choose an installation path by clicking browse and selecting a folder or leave the default and click Next.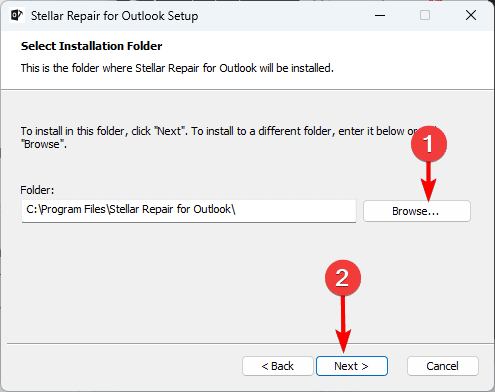 Click the Install button and wait will the installation completes. It will take a few seconds.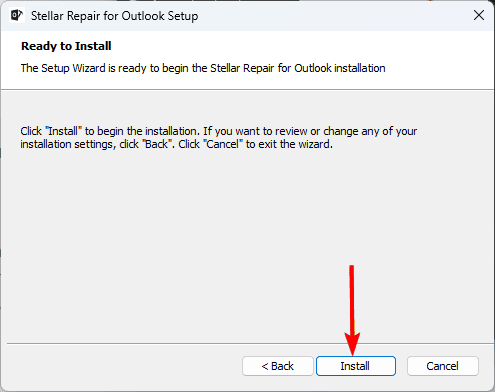 Now you know how to install and get started with the tool, let us explore some of its features.
Key Features of Stellar Repair for Outlook
1. Easy-to-use Interface
From installation to actual use of Stellar Repair for Outlook, the intuitive interface is one of the features that stand out. We like that the interface is not cluttered with multiple features. In fact, at launch, after installation, we got a minimalistic window with options to pick a profile list and a repair button.
Its wizard-based interface lets you know exactly where and what to do if you are a first-time user, offering tips and guidance.
We also love it because it has provisions for different languages, including English, German, French, Italian, Spanish, and Japanese. This means a wider range of people can adopt it.
2. Mailbox Recovery from Large PST file
While many tools may be able to recover small PST files, Stellar Repair for Outlook is able to recover data effortlessly from large corrupted PST files, and it does this promptly as well.
You will be able to scan the large corrupted PST files without noticing limitations or problems, perfectly reconstructing the mailbox content. In addition to large PST files, you may also use it to recover PST files that are locked with passwords.
3. Recover Deleted Outlook Mailbox items
The tool is capable of repairing & recovering deleted emails from your corrupted PST mailbox. To do this, it scans PST files for emails, attachments, contacts, and more.
Stellar Repair for Outlook will retrieve emails from several scenarios, including the following:
Emails deleted by accident
Emails that are deleted from the Deleted Items folder
Emails deleted because of malware infection
Emails that are lost due to hardware failure
Emails deleted from a damaged or corrupt PST file
4. Gives Recovery mailbox items Preview
While we love the tool's email recovery feature, we love that you preview the files for recovery. This feature means you may select what recovered files are eventually saved because you know what each of them contains.
This preview feature is triggered when a scan is completed. You only need to double-click on the recovered files to see the preview. This feature is available for recovered emails, contacts, Calendars, tasks, notes, journals, and attachments.
You may also use this feature to search for specific files by date, name, or the sender and recipient.
5. Multiple Saving Options
The Stellar Repair for Outlook software offers users a robust advanced filter feature. This feature lets you exclude or include specific items when you save your recovered mailbox to a PST, MSG, EML, RTF, PDF, or HTML file.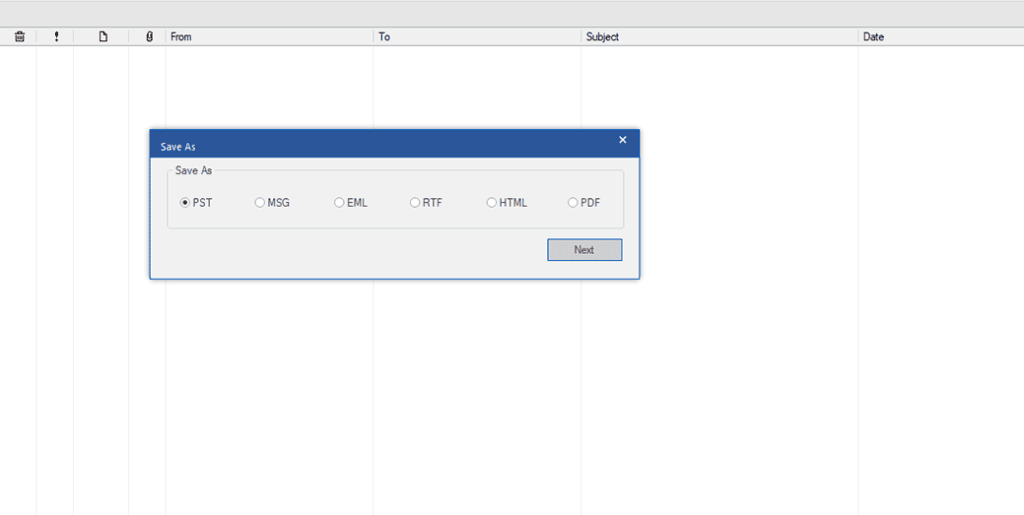 So, with this feature, you may filter emails from a specific address, junk, or email according to a specified send or receive date range.
Steps to Repair PST Files with Stellar Repair for Outlook
At launch, the default screen of the tool gives two options to choose the desired corrupted PST file which are "List profiles" and "Choose manually". All Outlook data files connected to your Outlook profiles will be automatically scanned and listed if you select List profiles. Selecting Choose manually lets you browse for the PST file for repair when it is not in the default location. Below are the exact steps we used to repair our PST Files:
Launch Stellar Repair for Outlook, and click the "List Profiles" button. You may go through the manual route as well. Click the "Choose Manually" button if you know the location of your PST files.


Optionally, if you are not on the initial window shown above during launch, click the File menu and click "Select Outlook data file", after which you will have the option to select a Profile list or Choose mailbox manually.

Click on the profile to be repaired and click the "Repair" button.

Click OK on the pop-up windows, then click the "Save Repaired File" button to save your repaired PST file (You must make sure MS Outlook is not running).

You may now pick any of the multiple saving options and click Next. The options include PST, MSG, EML, RTF, HTML, and PDF.


Choose a destination by clicking Browse and selecting the storage folder, make sure the Recover Deleted Items and Auto split PST file options are selected, then click OK.

Finally, click OK.

Click the Save scan menu, select a path to save the file using the Browse option, and click OK.

Performance and Speed
Stellar Repair for Outlook performs as advertised for the most part and will successfully repair corrupted Outlook data files. While repairing small PST files, it performs similarly to other tools like Microsoft's ScanPST.exe and completes the tasks in a few seconds.
However, Stellar Repair for Outlook is still efficient at completing repairs for large files that will often fail using Microsoft's inbuilt utility (ScanPST.exe) and other tools, as was evident after we tested large PST archives.
However, we must note that you may experience occasional hanging on very large files, and it takes longer to complete the process. It depends on your system configurations and the condition of the corrupt PST file.
Pricing and Licensing
| | | |
| --- | --- | --- |
| Pricing Plans | 1-Year License | Lifetime License |
| Professional | $79 | $99 |
| Technician | $149 | $249 |
| Toolkit | $199 | $299 |
All pricing packages come with the following features:
Repairing Outlook PST files of any size, including encrypted and password-protected files.
Recovering all items, including emails, contacts, attachments, tasks, calendars, notes, journals, and more.
Scanning of all mailbox contents and deleted items before item recovery.
Including or excluding specific emails before saving recovered mail items to a new PST file.
Recovering mailbox data as fresh PST, MSG, EML, RTF, HTML, and PDF.
Repair of PST files for Outlook 2021, 2019, 2016, 2013, 2010, 2007, and earlier versions.
Possibility of resuming PST repair at your convenience.
On the Technician and Toolkit pricing, you get the following extra features:
Directly export your repaired PST files to Microsoft Live Exchange and Office 365.
Splitting of large PST files.
Compact PST files to reduce size Storage location customization for attachments.
The following features are inclusive of the Toolkit pricing plan:
Exporting Offline OST files to PST for all Microsoft Outlook versions.
PST file splitting and compacting by size, date, mail folder, and ID.
Merge Multiple PST files into a Single one
Filtering for redundant, duplicate, redundant & junk in an Outlook data file.
PST file forgotten password recovery.
Password-protected OST/PST attachment recovery.
Stellar Repair for Outlook Pros and Cons
Pros
Effective recovery of files corrupted by a virus infection, hardware failure, and software bugs
Very easy to use and intuitive interface, requiring no technical knowledge
Quick and easy installation process
Great filtering options for corrupt or damaged PST files
Multiple formats for exporting recovered data
Flexible pricing options, including a lifetime package
Cons
In the demo version, you can only view PST mailbox data
You need to install Microsoft Outlook to operate this software
Our Verdict on Stellar Repair for Outlook
We have tested repairing corrupt PST files using Stellar Repair for Outlook and the native MS Outlook utility. Stellar Repair for Outlook has been able to recover the complete mailbox data, offering a smooth process to import back to Microsoft Outlook.
Stellar Repair for Outlook is a robust tool for repairing a corrupt PST file. It is great for email and contact recovery as well and offers a high recovery success rate. Anyone should be able to use it because of its relatively simple user interface. Each feature performs as promised for the most part, and it is simple to update with the press of a button.
In all, this is a very robust and easy-to-use software, and we will recommend it.