What we think about
SpyMyFone
SpyMyFone is an extremely useful app that can help you put your mind at ease by allowing you to easily monitor your child's online activities
The first thing that our parents tell us as kids, is to not talk to strangers and avoid them at any cost. Today we are living in a world where not interacting with a stranger is absolutely impossible. With the advent of the internet, it is now a normal thing.
I am a stranger to you. You as a reader don't know who I am. You just know my name. I also don't know you. You don't know the person you just replied to on YouTube, Facebook or Instagram. Most of the time you'll be fortunate enough to meet "good" strangers on the internet.
The other times, not so much. We as adults can handle a situation where we know our interactions are not going the way we want. But what about our children?
Predators have been lurking around the internet from the day it started. They lurk in the darkest corners of the web and sometimes in plain sight. And one of these predators could attempt some sort of interaction with your gullible child. It's also very easy to get exposed to the indecent side of the internet.
There is a time for everything and you as a parent have a responsibility that your child should not be exposed to such things before it's time. So how do you know who your kid is talking to and is he/she safe from the dangerous aspects of the internet?
Read on to know how you can protect your children using SpyMyFone parental control applications which are available for both Android and iOS devices.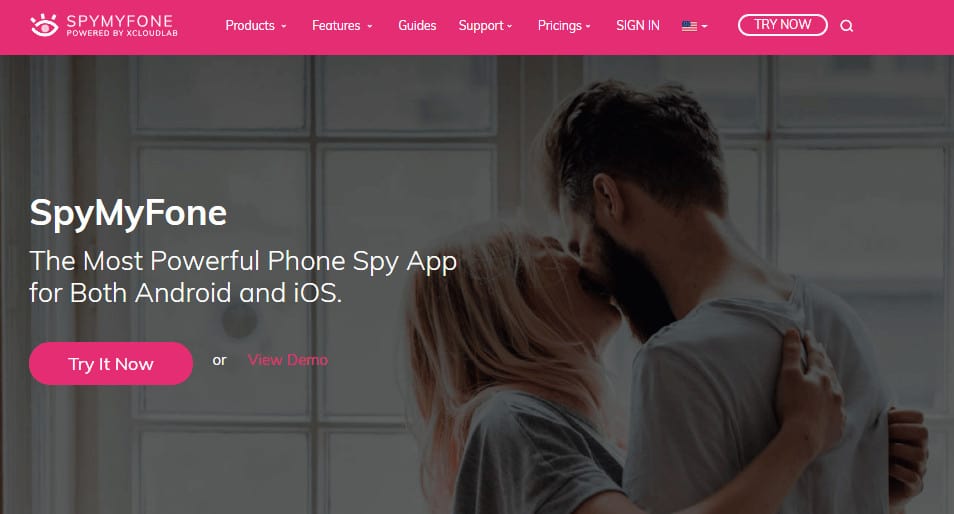 Review of SpyMyFone
SpyMyFone is a very powerful and convenient tool that can help you track the activities of your kids and your family members. It comes with a ton of useful features and is one of the best phone spy apps available on the market. SpyMyFone has its own web version where you can track all the activities of the target phone directly from your web browser on your laptop or desktop computer. They even have an app that you can install on your own phone to monitor the target.
It's important that you use SpyMyFone with your own discretion. Always make sure to take the consent of the other person before installing the device into their phone.
If you are a parent or a guardian make sure that you are protected from your state laws. To be safe you can always tell your kids that you are going to monitor their activities for their own safety and well-being.
Features of SpyMyFone
SpyMyFone comes with a huge library of different tools and features that will help you closely monitor your child's activity. It is available for both iOS devices as well as Android.
You don't have to root your Android phone for SpyMyFone to work. With SpyMyFone you can track the activities of multiple phones at the same time.
Here are some of the versatile and easy-to-use but powerful features of SpyMyFone:
1. Phone Calls and Texts Monitoring

This is the most basic yet the most important arsenal in SpyMyFone's armoury. You can monitor all the incoming and outgoing calls from the target's phone and the exact time the call happened. If you have an employer base, this feature can be specifically useful to prevent your employees from leaking potential data from your company to outside sources.
It also monitors text messages and lets you to even read the contents of the incoming and outgoing texts. SpyMyFone even lets you view all the contacts present in your target's phone so that you can know if there is someone suspicious in your kid's phonebook that shouldn't be there.
2. Monitor Online Messenger apps.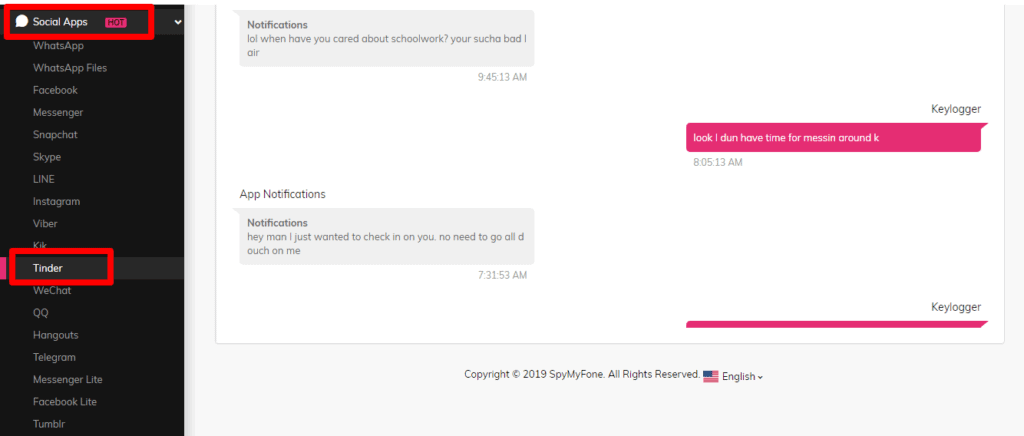 With the advent of social media and ease of use, texting has now become an online affair. With many messenger apps dominating the market, you don't know who your loved one might be talking to. And the reach of social media can easily get your child into contact with an online predator.
SpyMyFone can let you read all the exchanged messages from almost every online messaging app. It even lets you download the media files sent over these messenger apps so that you can prevent your kid from sending some potentially damaging media to someone else or receiving something that is not appropriate for them. Some of the messenger apps supported by SpyMyFone are listed below.
Snapchat
WeChat
Skype Chats
Viber
Kik Messenger
Tinder Messages
3. Location Monitoring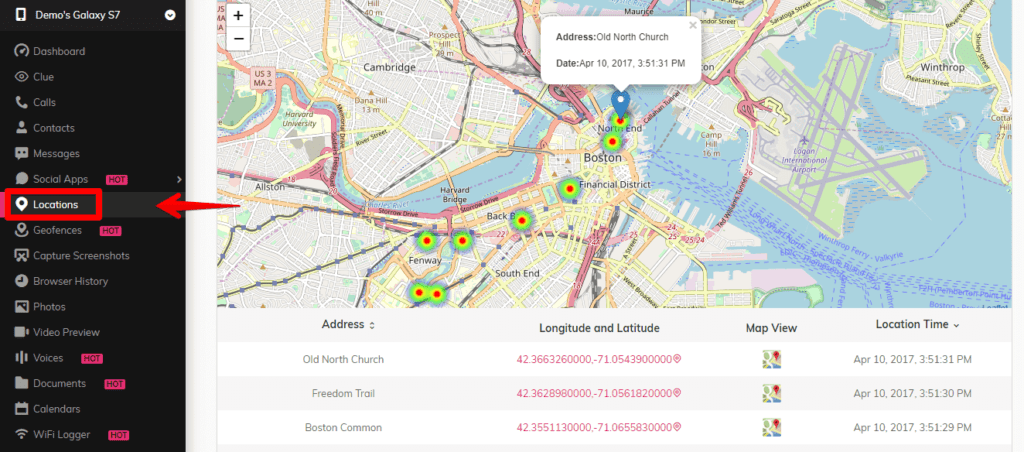 SpyMyFone comes with inbuilt location tracking services. It can track the live GPS location of the target's phone at any given point in time. There is an additional feature called geofencing. With this tool, you can save a predefined area on your map. You'll be notified as soon as the target's phone leaves this predefined area. This tool is very useful in preventing any mishap from happening to your kid. It's one of the most powerful and useful features of SpyMyFone.
4. Remote Control Services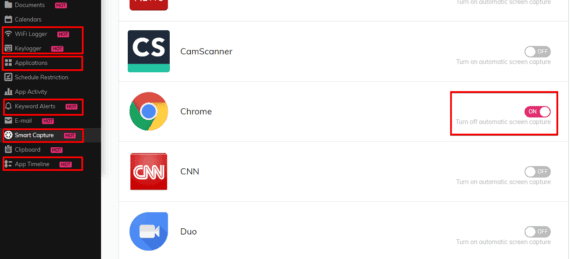 SpyMyFone is one of the best remote controlling services available on your Android device. It can remotely control many aspects of the target's phone and gives you full access to all their settings. You can set up a specific time at which the device will be automatically locked.
This can be used to prevent your children from overindulging in mobile phones. You can view all the apps that are installed on the target's device to prevent any malicious adware from potentially leaking your data. You can block such apps directly from your SpyMyFone control dashboard.
It also allows you to take screenshots directly on your concerned device. SpyMyPhone even has a keylogger that logs every key ever pressed on the device. You get instant notifications for any changes like sim card removal, location triggers, and many other things. This helps you to take immediate decisions and actions based on the alerts.
5. Additional Features
Here are a few more features that are quite handy in the SpyMyFone tool.
Read your target's email: This is especially useful to prevent data theft in your company and prevent potential abuse of confidential information.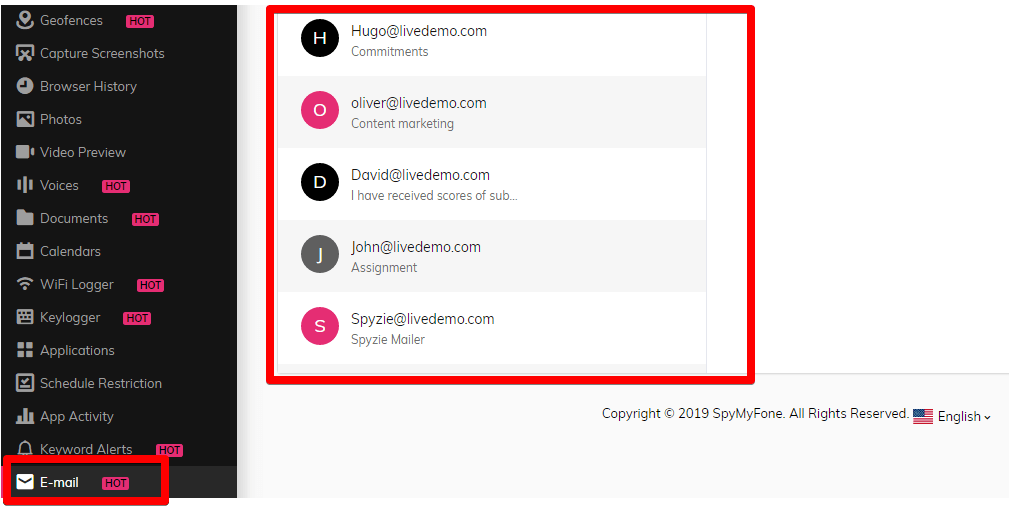 Access to the browsing history. This will help you identify the websites that are visited by your child. You can then make informed decisions about your kid's online practices and prevent misuse.

Access to multimedia files: You can access the photos, videos, and audio on the target's device and look for anything that should not be there.
How to Install and Setup SpyMyFone on Android Device
SpyMyFone for Android requires you to install their APK on the target's phone. You can choose to hide the icon in the target phone if you don't want your child to know that you are monitoring them for safety reasons.
We strictly advise you NOT to use this app without the consent of the respected parties involved. 
SpyMyFone offers a browser control dashboard and its own application that you can install on your own mobile device to access all the features it provides. You can sit at your home, on your laptop, and access all the information from your kid's phone. Or you can go to work and still have access to all the features in your pocket.
To install SpyMyFone and began monitoring your kid's internet practices, follow the steps given below:
1. Sign up for the service
Visit SpyMyFone.com from your web browser. Choose the try now option to create an account and sign up for the service. Give an appropriate email as you will get lots of important notifications directly to your mail account.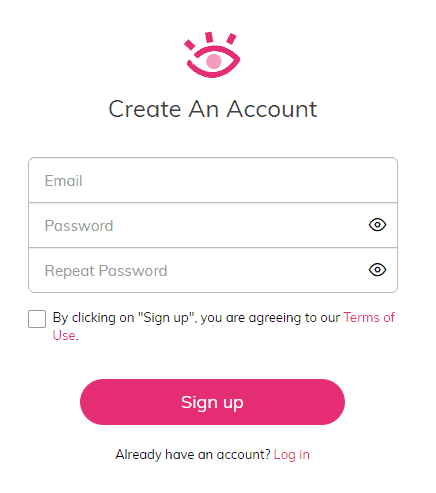 SpyMyFone has a premium edition and an ultimate edition. The premium edition comes with a monthly subscription of $29.99 but it lacks important features like geo-fencing.
The ultimate edition comes with a $39.99 per month subscription and has the full set of features that comes with SpyMyFone. You can opt for the option that fits your requirement and budget.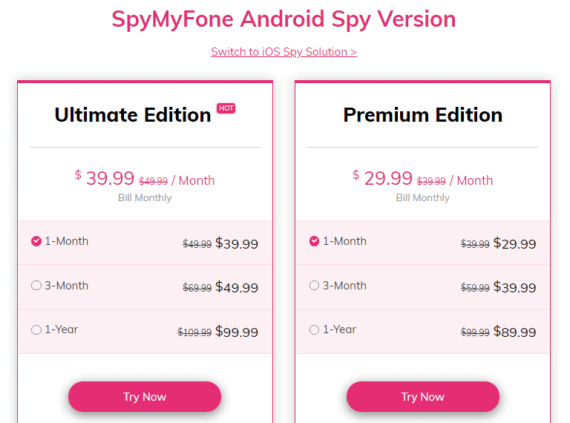 2. SpyMyFone Setup Wizard
After signing up for the service you can now try it out by filling up the information about the phone that you want to monitor. The first step is to provide a nickname for the target device. Then you need to mention the age of the person that has your target device.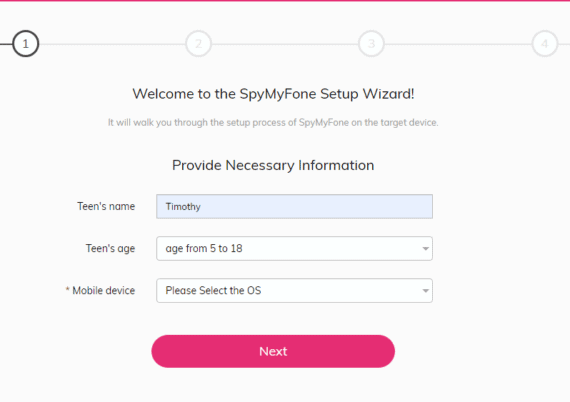 Finally, select the operating system that they use on their phone. If it's an Android phone select Android. Otherwise, if it's an Apple device select iOS (iCloud). Once you have filled in all the options click Next to go to the next step.
3. Install SpyMyFone on the target device
The next step is to install the SpyMyFone app on the phone of your kid. To install an external application you need to toggle and make some changes in the settings option of the target's phone.
First, you need to enable the installation of applications from external sources and disable play protect services. To do this follow the given steps.
Go to the Settings and search "install unknown apps". From the list of apps select the web browser that you use to download the APK file. Enable the "allow from this source" switch and now you are all set to install any application downloaded directly from your web browser.
If you are unsure of the web browser that you use for default, you can enable this option for all the web browsers present on the phone.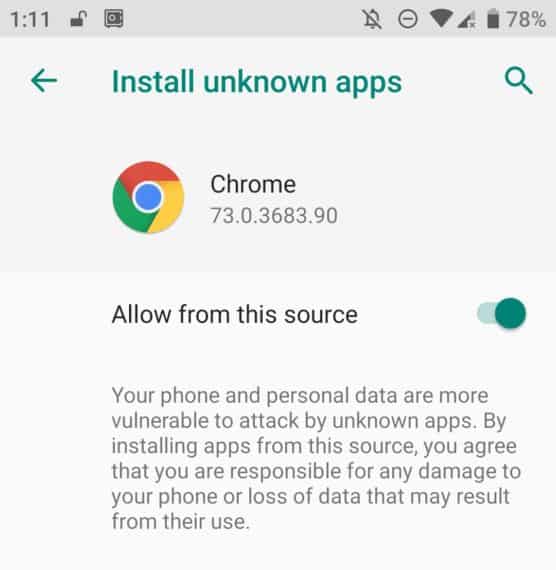 Now again in the settings menu search for "Security" and open Security & Location. Now under the Security status, tap on Google Play Protect.
On the top right corner in the Play Protect menu, click on the Settings icon and uncheck all play protect services.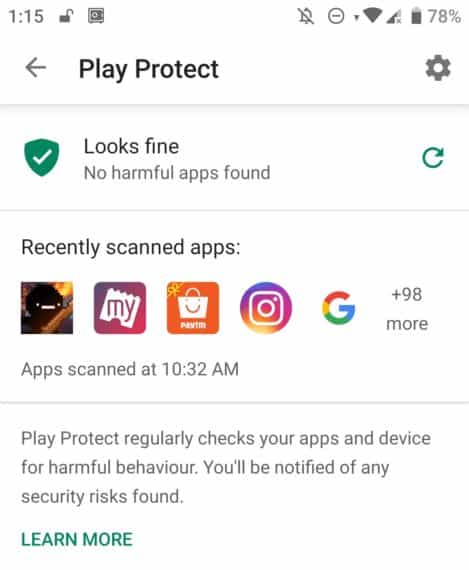 Here you will need to uncheck both the options under the General settings. Disable the "Scan Device for security threats" and the "Improve harmful app detection" options.
Finally, visit fonetrace.com from your child's phone, download the APK file and install it on the device that you wish to monitor.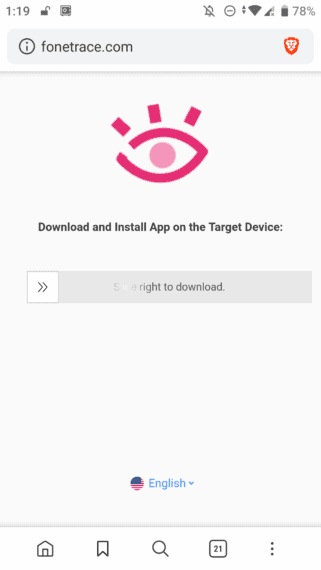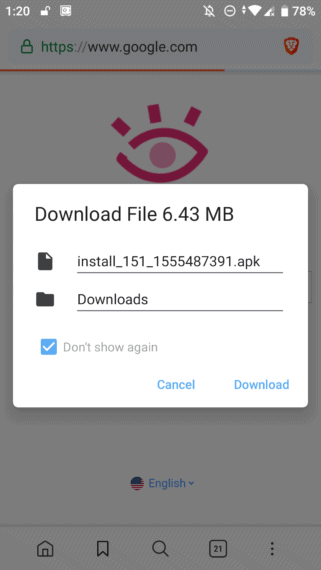 4. Activate SpyMyFone in the target's device.
After you have finished installing the application on your kid's phone, you need to enable a few settings for the app to access all the promised features.
First things first, you need to Agree on the Privacy Policy and EULA of the SpyMyFone application to get started.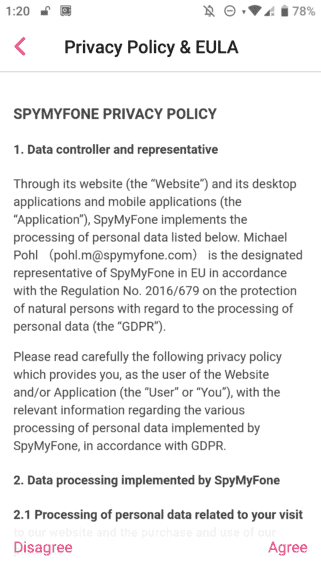 Now sign in to your SpyMyFone account using the email and password.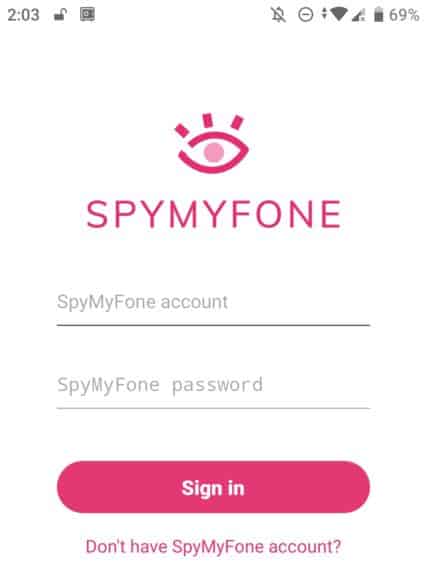 Since we have already disabled play protect, we can skip the next step. Click on the Already Disabled button to proceed with the next steps.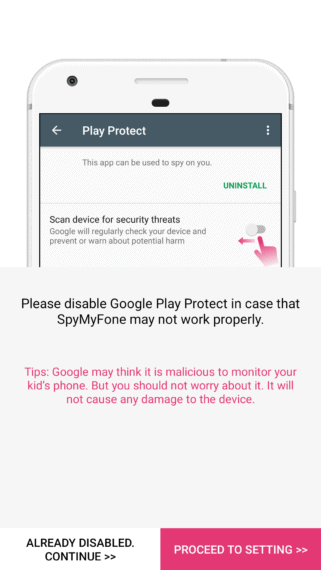 After that, you will be prompted to use WiFi Service to allow SpyMyFone to become a device admin app. Click on OK to give it access.
Note: Here WiFi Service is nothing but SpyMyFone application. They have renamed the app name to trick the target user. Since the WiFi Service term looks relevant to the system key feature, the target user will never dare to turn it off, just in case if they notice this unknown app with the most sensitive permissions enabled.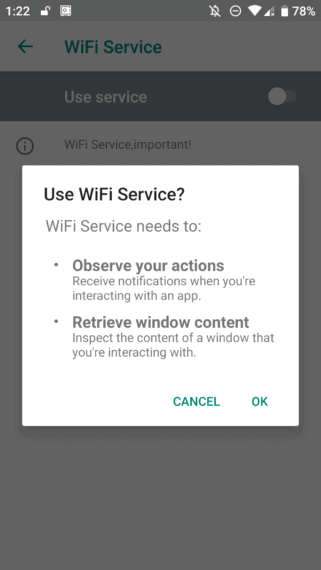 You'll then be prompted to give it Notification access. You can see the Wifi Service app and turn it On to enable notification access for SpyMyFone application.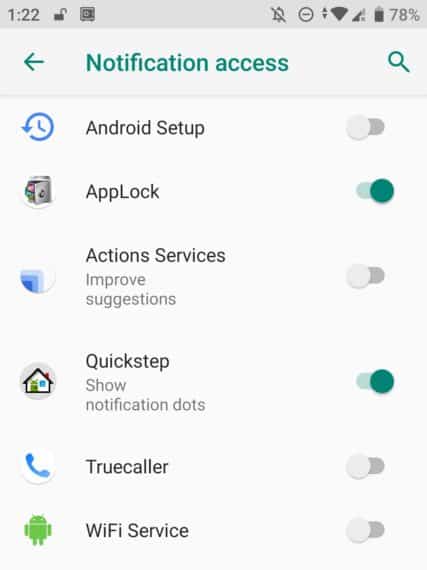 Then you need to activate this app as a device admin app to give SpyMyFone full control of the target's device. Click on the Active this device admin app option to proceed further.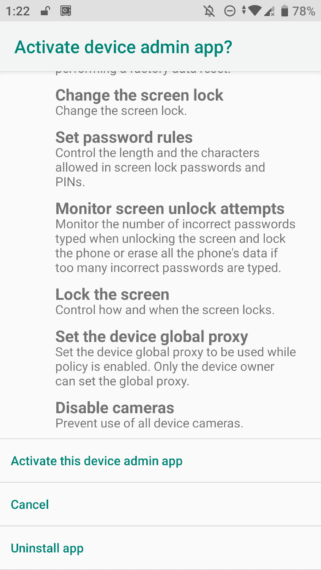 You'll get an alert that WiFi Service which is actually SpyMyFone will start capturing everything that's displayed on the screen. Click on Don't Show Again and then select Start Now to start the service.
Important: You must check the "Don't show again" box to make sure this pop-up never shows up to the target user again.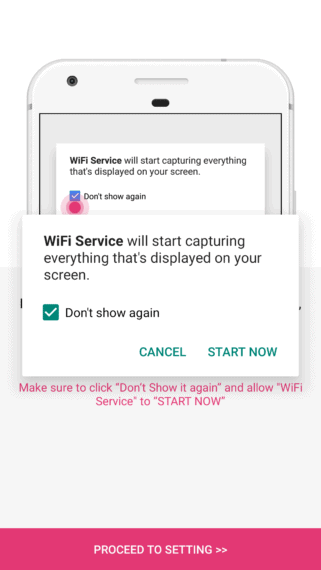 You'll be greeted with another screen where you can grant permission for the different services like location, calendar, call logs, messages, etc. Grant permission to all the services to gain full access to the device and have maximum control.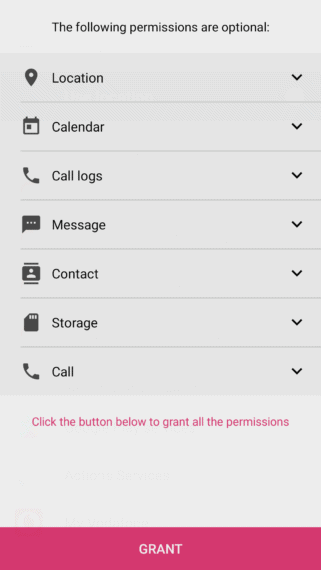 If you are using a Xiaomi device you might need to enable the "Wifi Service" app in "AutoStart", otherwise the app won't run after rebooting the device.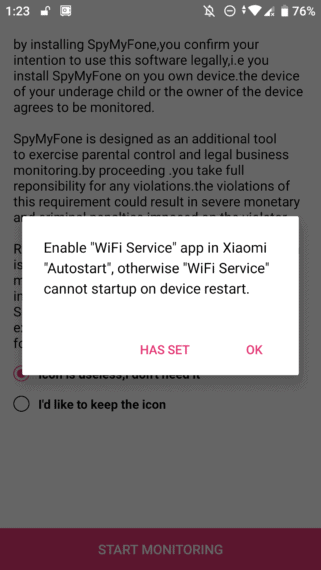 Finally, you'll have the option to choose if you want to display the app icon on the target's phone or not. Choosing the option of hiding the icon will make your child oblivious to the fact that he/she is being monitored. You can choose whichever option you like.
Finally, click on Start Monitoring to get full control of your kid's phone.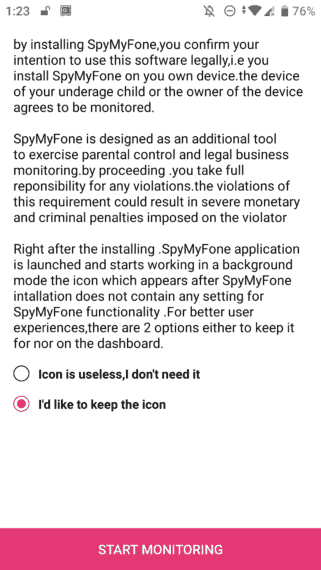 5. Accessing the target device remotely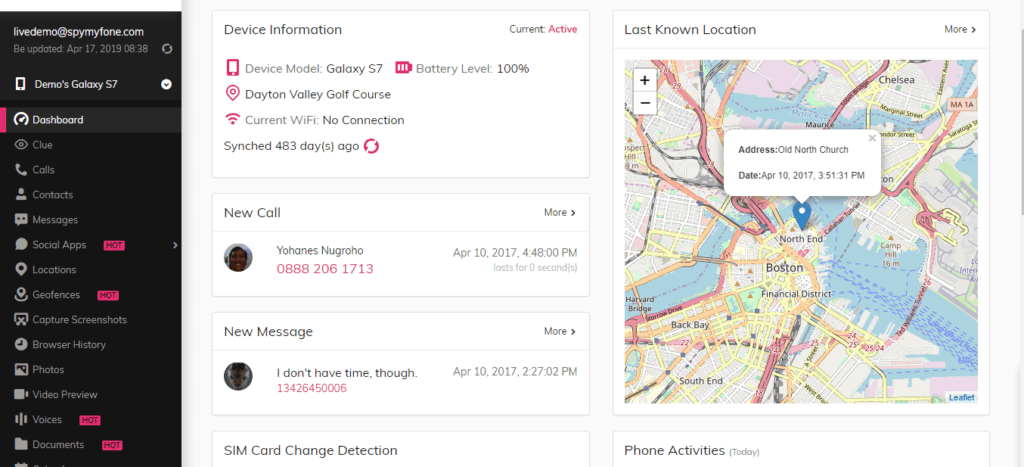 You can access your child's phone using the SpyMyFone dashboard. Once you have successfully installed the SpyMyFone application on the target's phone, you can now log in to your account at SpyMyFone official website.
Save or bookmark the page in your web browser to access and monitor the device anytime and anywhere you want. You can access all the different features and tools from the left side of the dashboard. You can also add new devices to monitor or remove already monitored devices directly from the dashboard itself.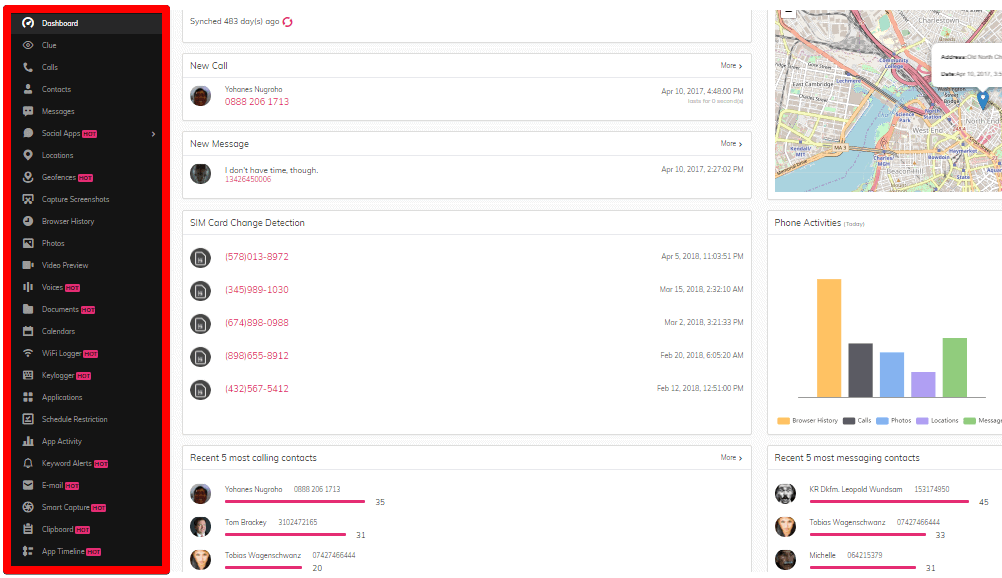 6. Removing the app
If you want to remove the SpyMyFone application from the phone of your kid, you can do that by first disabling the device in your dashboard.
Go to your dashboard and then select the Unbind option. This will unbind the target phone and delete all the data that has been collected. Remember that this step is not reversible so be absolutely sure before you unbind the target phone.
After Unbinding the device, you should uninstall the application from the target's device. You might encounter a notification alert which prevents you from uninstalling the app. This is because SpyMyFone is now an active device admin app and cannot be removed without special permission.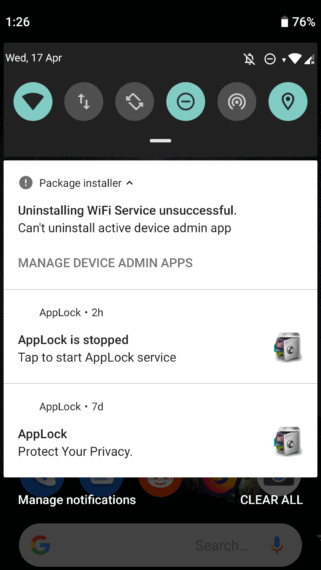 Just click on the notification and toggle the switch beside Wifi Service app to remove SpyMyFone as a device admin app.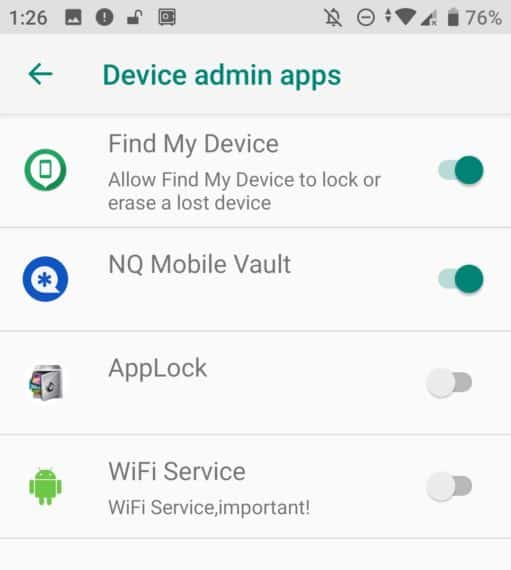 Now try uninstalling the application again and it should be uninstalled successfully.
If you have hidden the app icon while setting up the phone, go to phone Settings and open All Apps. Under this screen, look for SpyMyFone app and uninstall it from your device.
Final thoughts on SpyMyFone
SpyMyFone is an extremely powerful tool to prevent your child or loved one from getting exposed to the indecency of the internet. It can spoil many attacks from an online predator. You can use it to monitor your employee base with their consent so that you can be assured that there is no one in your company leaking data and other private information.
It's important however that you have requested the consent of the other party before using SpyMyFone's services. The dashboard is very handy and easy to navigate. With one click you can access all the different aspects of the target's phone.
It's quick, and handy and the data presented is easily readable as it's presented in the form of easy-to-understand pie charts and graphs. The app gives you regular and live updates so that you are always notified about your child's whereabouts.
What we think about
SpyMyFone