Spotify a streaming service that includes podcasts and music was introduced in India in the year 2019. Spotify has started putting a few restrictions on its free users in India.
The music streaming platform with these new limitations wants the users to pay for their paid subscription. With these new restrictions in place, free users will lose some of the abilities on the streaming application.
These new changes in the music streaming service are only to encourage users to switch to the paid version. The company wants more people from the country to have the premium version of their streaming service. This way, the service has made plans that people will switch to the paid version to have a better experience with the application.
Spotify Makes New Moves to Boost Their Subscriptions in India
Spotify claims that India comes as one of their top five countries in terms of monthly active users on the platform. However, things change when the company looks at the subscribers to free users ratio in the country. Most of the users in India use the ads-included version of the Spotify application which in terms of paid subscription users is quite less.
The new restrictions levied on the free version of Spotify include the disabling of rewind, scrubbing, or repeating songs. Moreover, the users will not be able to play songs in a manual order which the free users had for a long time. Besides, the free users will not have the option the go back to the previous song or select a specific part of the song from now on.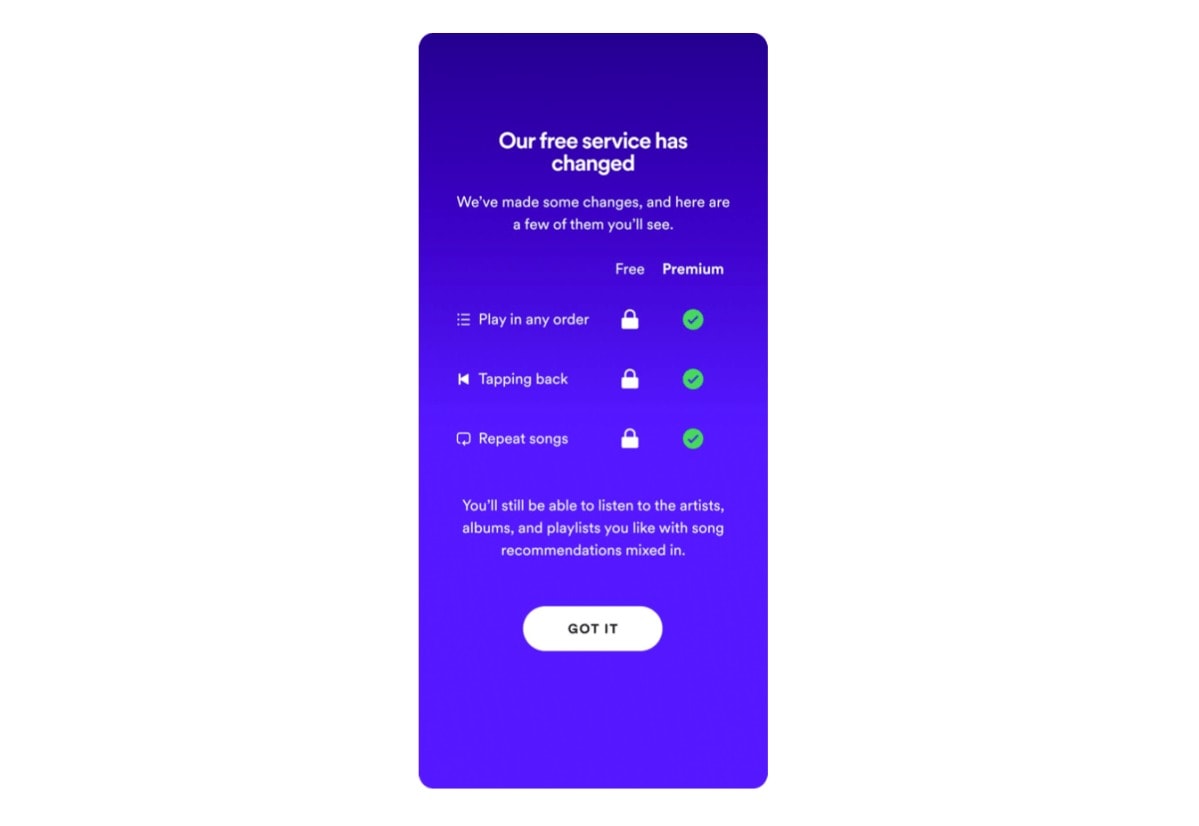 Spotify has taken this drastic decision as they think that the Indian market has matured now. The experience for free users on the music streaming platform in India will now be similar to the other countries.
Users who are subscribed to the Premium version will have no limitations and enjoy the full experience. The version doesn't come with any ads and users can take away all the benefits of the Spotify platform.
In other news, the music streaming platform has made the Smart Shuffle the default listening mode for all users. The Smart Shuffle mode suggests songs based on the users' preferences.
This even includes the repeated songs they are listening to most of the time. However, the traditional shuffle mode options will only be available for premium users as of now.
What's your take on the new changes to Spotify's free version? Feel free to write down your thoughts in the comment section below.