Spotify Greenroom is a direct competitor to the Clubhouse application that launched in December last year. Recently Twitter has brought in the Spaces feature that works in a similar concept. Users have been making engaging and interesting conversations; on these audio chat room applications since the arrival of Clubhouse. Now Spotify joins the club, giving the rise to more competition in the audio room chat market.
Spotify Greenroom is a developed version of their latter acquisition Betty Labs. Even though, the application was a sports-based audio chat platform; Spotify has transformed the same into their new audio chatting application. The competition has raised a lot as now we have a whole spread of applications; from different companies riveting the same idea with unique names and features.
Spotify Greenroom Announcement, Features, and Details
For starters, the Greenroom application is available on iOS and Android platforms in over 135 countries around the world. Apart from Facebook live rooms and Twitter's Spaces, Discord has been doing the audio chat room scenario for a long time. The platform that came into play in 2015 has catered to a user base of 140 million which includes a huge number of gamers and streamers from around the world.
Moreover, Spotify is an audio application in itself that provides Music and Podcasts with a larger user base around the world. Their entry into the audio chat room can make a huge impact on the other fastly growing applications like Clubhouse. Although, there are no claims or reports on how these companies will implement monetizing techniques. While Twitter has brought in their paid subscription and ticketed rooms for creators on their platforms.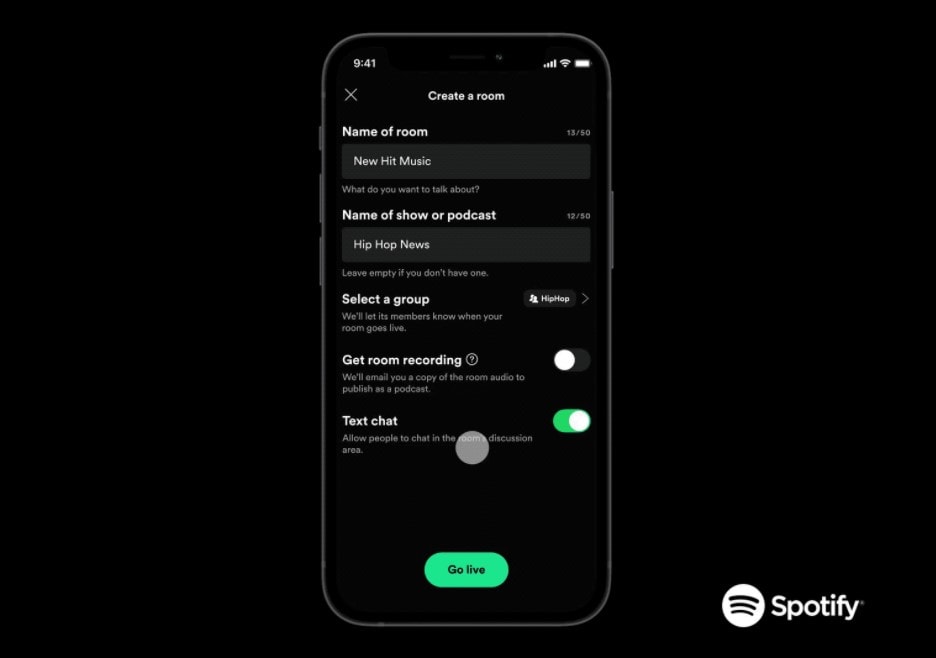 The Greenroom application can be used with their existing Spotify account. The user has full access to become a creator by hosting a room or can participate in the already formed room. Spotify has planned its own way to monetize the audio chat application by introducing Spotify Creator Fund. Spotify has released a blog post that featured the following statements:
We are building Greenroom with the creators and artists in mind who make Spotify great, optimising for interactivity and deep connections between participants in live rooms.
Greenroom has some distinctive features such as recording capabilities that may help creators.
Spotify has introduced new features on their music application that are buttons with increased readability features, options for text resizing, and a beta for podcast transcripts. The next update of Spotify will roll out these new features on both Android and iOS mobile platforms.