Are you unhappy with your TV speakers? If, yes, then you must try out soundbars that come up with a various number of choices. Soundbars are quite affordable and you can easily add this to your living room setup. You can experience a high-quality sound that will make you in love with the soundbars.
Why Should You Opt for a Soundbar for a PS4?
You can perhaps have an amazing experience while playing games through the soundbar. Playing games for hours and listening to the audio of the television can indeed be boring. You should, therefore, opt for a soundbar so that you can experience great sound effects, character voices, and music. In addition, you can also use soundbar to watch movies and listen to the song of your favorite brand.
So, enough talk about soundbars and how they can increase your gaming experience. When it comes to gaming, Sony PlayStation 4 is one of the most popular and loved game console available in the market. There are millions of people using Sony PS4 every day to play high-quality games. How about adding soundbars to Sony PS4 to increase your gaming experience to a much higher level.
This is the reason, in this article, we will talk about the best PS4 soundbars that are available for you to buy. Without further adieu, let us have a look at the best Soundbars for PS4 that you should consider buying.
7 Best Sony PS4 Soundbars
Sonos 5.1 Surround Sound is one of the best PS4 soundbars that comes on top of our list. It is fully Wi-Fi enabled and it has inbuilt Wi-Fi that can help you to connect to the Sonos system. If you will irritate with the rattle and the cabinet buzz then this soundbar can eliminate this with the help of two speakers that are placed opposite to each other. If you want flexibility in terms of placing the Soundbar then this is ideal for you as you can use this at any corner of the room. Also, it comes up with digital amplifiers and you can easily adjust various settings of this soundbar with the help of application known as the companion app.
Pros
It comes up with a great look and feel.
Easy integration with other products.
It is built with great quality and is quite reliable to use.
Cons
Yamaha YSP-2700 is the second best PS4 soundbar that comes on our list. It comes up with 16 28mm drivers having Soundbeam technology. It supports DTS-HD and Dolby TrueHD Audio decoding and supports 10 cinema DSP modes. To make your gaming experience more exciting it comes up with MusicCast Audio. Besides, it has Bluetooth, Spotify connects and Airplay.
Pros
It comes up with a slim design.
Offers great connectivity.
Equipped with very good dynamics.
It offers spacious and wide surround sound.
Cons
It does not offer IR pass-through.
The soundbar offers beam technology, but the fact is that this technology won't work in all the rooms.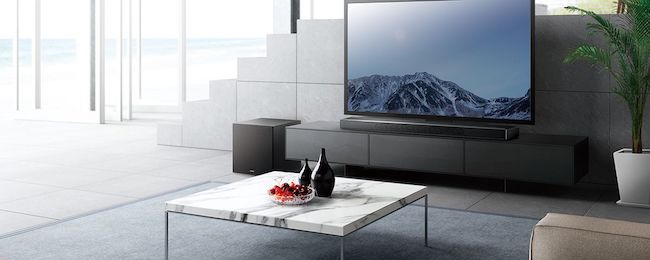 Samsung HW-K950 is the third best soundbar for Sony PS4 which we liked from our personal experience. It is styled in a modern way and it is built robustly. It comes up with 15 speaker drivers having 5.1.4-channel Atmos. Another good feature that needs to be given attention is it's built-in Wi-Fi feature which comes along with music streaming. It also has two HDMI inputs having HDR pass through.
Pros
It comes up with a completely wireless setup.
Offers great support for the streaming process.
It is equipped with Atmos Blu-rays, which gives you a great sound experience.
Cons
It is quite expensive.
You can sometimes experience hissy hear speakers.
Soundtracks are easily decoded in Stereo.
You may come across a problem of overpowering bass.
Buy Samsung HW-K950 Soundbar with Dolby Atmos

How about buying the soundbar from the same company which makes PlayStation. Sony HT-ST9 is equipped with wireless connectivity. It also comes up with NFC, hi-res audio, LDAC Bluetooth, 4k, pass-through to name a few. Sony HT-ST9 can easily fit with the television of 50 inches or higher having a dimension of 44.49 x 3.46 x 5.24 inches and having a weight of 15.7 pounds. It also has seven-speaker drivers and also has super tweeters added to the center driver.
Pros
It offers Wi-Fi connectivity.
Great Streaming capabilities
It offers a great sound experience.
Cons
You can come across too much subwoofer crossover.
The cost can be on a higher side.
It is not the idle soundbar if you want to have great music experience.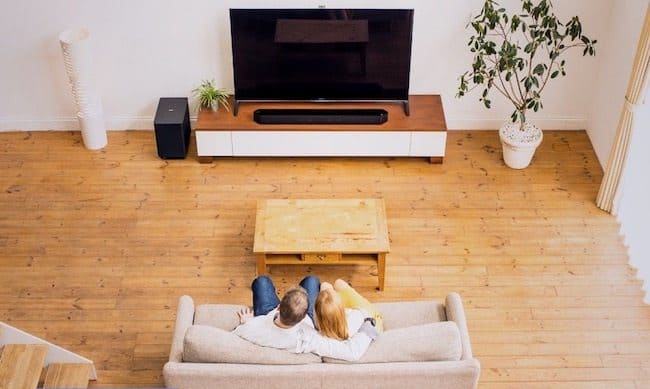 Philips Fidelio B5 is one of the funkiest and cool looking soundbar for Sony PS4. Well, with its funky design and great performance it is worth adding to the list of soundbars. It offers wireless connectivity which comes up with front-firing speakers.it is equipped with a 3-inch driver and a lithium-ion battery which is capable to work for almost 10 hours. Also, it comes up with HDMI outputs which can help you to connect to multiple devices at a go.
Pros
Comes up with very versatile Bluetooth speakers.
Very easy to use.
Equipped with instant surround sound.
Cons
It comes up with quite a massive size.
Higher price bracket
Very weak stereo sound.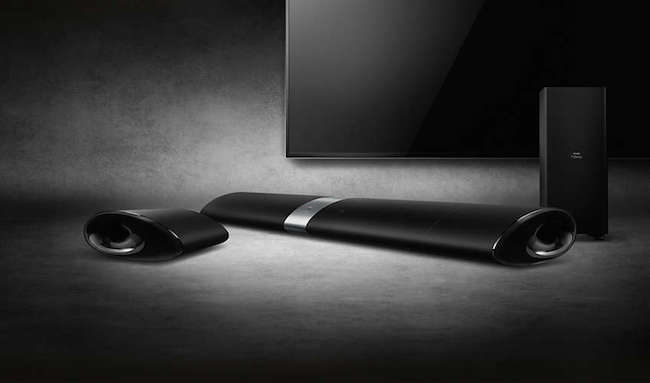 Sony HT-XT1 2.1 Channel SoundBar is the sixth soundbar for PS4 that is on our list and the second one from Sony company. It can produce great sound without cluttering your living room. Sony HT-XT1 2.1 Channel SoundBar has two subwoofers which are built-in and comes up with bass reflex closure. It also supports built-in Bluetooth which comes along with the NFC. In addition, it also supports DTS HD Master as well as Dolby True HD Audio decoding and can support television up to 50 Inches.
Pros
It is built with supreme quality.
Offers a really detailed and dynamic sound.
A very wide pool of feature lists.
Cons
You may face brass trouble.
Bass integration could have been far better.
Buy Sony HT-XT1 2.1 Channel SoundBar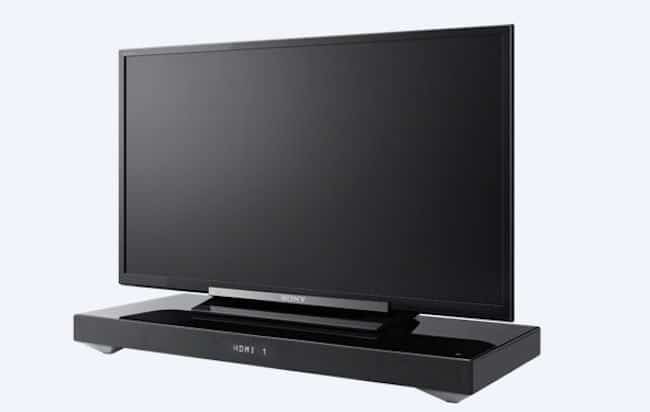 Bose is considered as one of the most popular company when it comes to speakers and sound system and no soundbar list cannot be complete without talking about the entry from Bose. It offers a very superior design that will amaze you. It consists of 4 drivers and a subwoofer which are crafted to support great sound experience. Bose Solo 15 Series II can support a television of 46 inches and has a measurement of 629x356x76.2mm. It offers wireless connectivity as well as Bluetooth connectivity to offer music experience hassle-free.
Pros
It comes up with a very neat look.
Very simple to install.
It is value for money.
Cons
It cannot be mounted on the walls.
Doesn't come up with the display to indicate various aspects such as the bass, treble, or the volume.

It doesn't come up with an external subwoofer.
The Bluetooth in this soundbar doesn't support AAC, which means the sound quality is not that crisp.
Buy Bose Solo 15 Series II TV Sound System
With the last entry in our list of best PS4 soundbars coming from Bose company, we end our article. I hope you like our selection of best soundbars for Sony PS4 game console.
If you know any other soundbar that you think should come in our list, do let us know in our comments section below and we will update our article.