Most of the smartphone companies are drifting apart from SD cards. If you take a list of devices without memory card slot, you will surely see it go long. However, we can't completely deny the use of SD cards because not every company has forgotten it.
Sony has launched two new UHS-II SD cards, which they boast to be the world's toughest and fastest ones. Coming under the banner of SF-G series, they also carry the name, Tough.
Sony Brings Ultra Durable SF-G Series SD Cards to India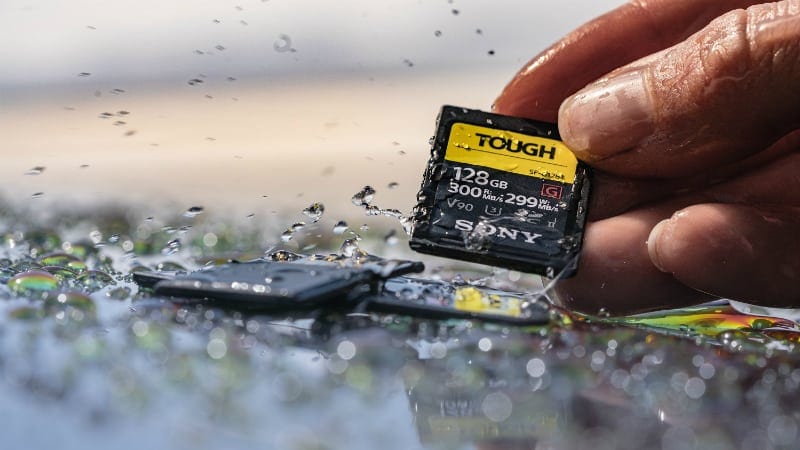 Smartphone users may not find the new SD cards enticing because the company aims professional photographers and videographers with them. As the name (Tough) indicates, the new SD cards are 18 times stronger than the standard SD cards.
Unlike conventional micro SDs with a thin 3-part ensemble, Tough is made out of materials of high hardness. The company has given extra care in enabling the cards to stay away from usual physical damages such as broken connector ribs, broken data protection lock, and broken plastic casing. Meaning, the company removed all the easy to break parts from the cards.
The new UHS-II SD card is the world's first rib-less SD card with no write protection switch. The sealed one-piece molded structure ensures maximum safety. It is the rugged design that makes the cards bend proof to 180N and drop proof to 5 meters. The SF-G series Tough memory cards are water-resistant with an IPX8 rating and dustproof with an IP6X rating.
Apart from the durability, they are also the fastest SD cards ever made in the world. Having a write speed of 299 MB/s, they won't delay storing high-resolution images. Videographers can record videos at any framerate as the cards support V90, the highest standard of video speed class.
Transferring high capacity video and images are not a tough row to hoe here. The 300 MB/s read speed doesn't make you waited for so long. Another remarkable feature is the color Sony chose. The bright yellow color helps the photographers spot the card even in dark shooting conditions.
Apart from all these, the cards offer a few extra features as well. The SD Scan Utility allows the users to check whether or not the card is in good condition. File Rescue Software helps you recover accidentally deleted files from the SD card. Moreover, the new SF-G series Tough cards are magnet proof, X-ray proof, temperature proof, anti-static, and sports UV guard.
You can buy these new cards from Sony Center, Alpha Flagship, and any authorized retail store in India. As for the pricing goes, the SF-G64T (64 GB) bears a price tag of Rs. 13290 whereas the SF-G128T costs Rs. 24590.